As an Amazon Associate, I earn from qualifying purchases with no additional costs for you.
If you are planning a trip to Slovakia, here are some of the things you should know about the country before you go there. Slovakia is a small country between the Czech Republic, Austria, and Hungary is still a relatively unknown Central European destination.
From caves, historic castles, and chateaux to the oldest coin workshop in the world just to name a few.  Slovakia offers many beautiful places for tourists, have rich folk culture, UNESCO heritage sites, treasuries of natural resources, and beautiful nature.
Slovakia is a country of many interesting things. Read more to find out interesting and unusual facts about this beautiful small country that you might have not known!
If you want to buy Slovak gifts or useful Slovak products, you can find them by clicking here (Amazon link).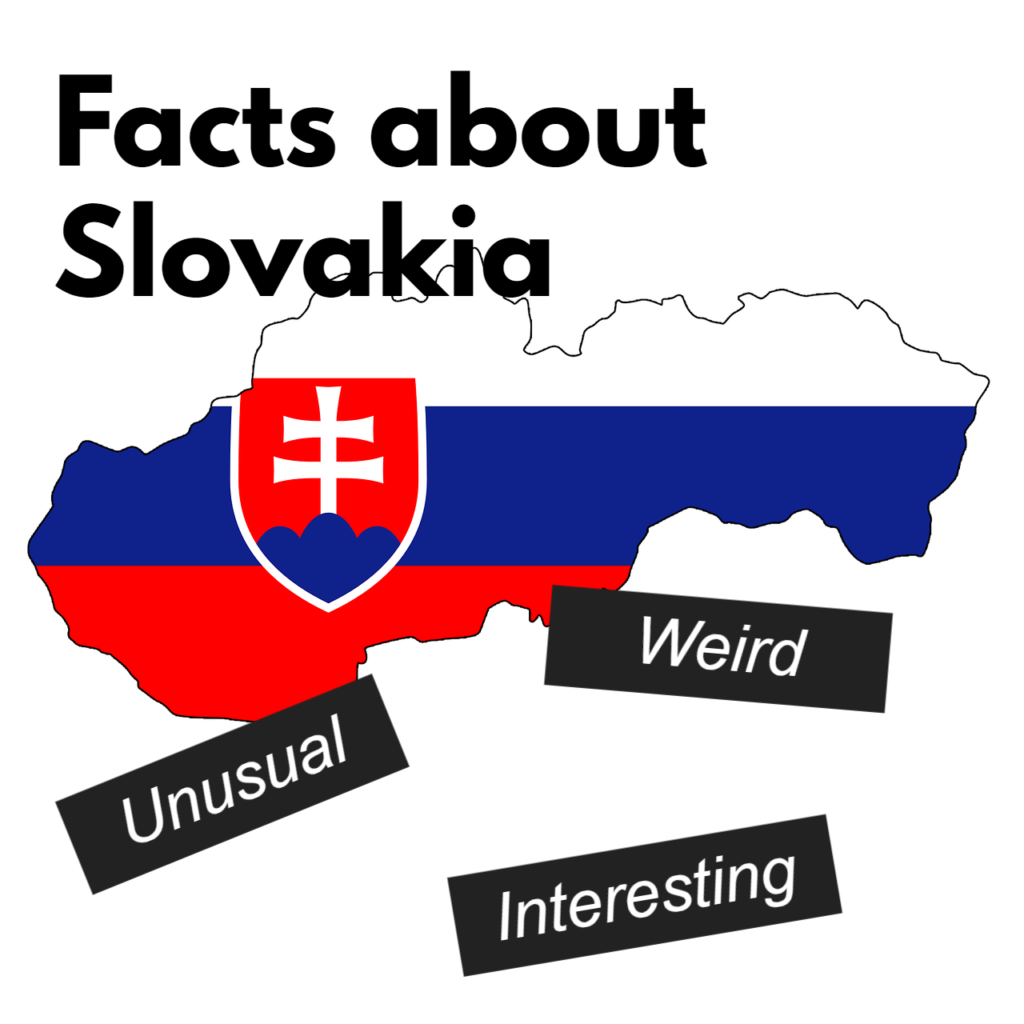 Slovakia is 8th newest country in the World
Since January 1, 1993, when the Velvet Revolution was followed by the Velvet Divorce, Slovakia and the Czech Republic have been split into two separate countries. Eritrea, Palau, Timor-Leste, Montenegro, Serbia, Kosovo, and South Sudan are the only newer countries.
Slovakia was part of one country with the Czech Republic forming Czechoslovakia from the end of World War II.
Slovakia is a mountainous country
Around 80% of Slovakia is 800 meters above sea level, with the Tatras as its most beautiful and biggest mountain. In the highest range of Carpathians, they form a natural border between Slovakia and Poland, are a Unesco Biosphere Reserve, and are home to over 100 high-altitude lakes and a slew of waterfalls. A network of hiking paths can be used to explore them.
Slovakia is gaining popularity as a ski destination as a result of low prices, recent resort investment – and large mountains.
There are several small resorts, but Jasná, with its 49 kilometers of mostly intermediate pistes, is the most popular with international visitors.
Sticking to local drinks and products
Slovakia is one of three countries in the world where Coca-Cola is not the most popular drink. It gives way to Kofola, which was introduced in the 1960s. People in Slovakia tend to stick to more domestic-made products rather than buying what is most popular in the World.
TIP: Do you know what is Slovakia's national alcohol? I bet you will be surprised! Find out more about our national spirit in the article below:
What is the National Slovak Spirit? Borovička, cheers!
Double Cross in a Slovakian Flag
Did you know that the Slovak flag does not feature the "Lorraine cross"? The cross on the Slovak flag is a "double-cross," just like the Lorraine Cross. However, it refers to Saints Cyril and Methodius' evangelization of the Great Moravian region in the 9th century.
TIP: Do you know what are the Slovak National Symbols? Find out more about Slovakia's state symbols in the article below:
What are the Slovak National Symbols? The Four State Symbols
Similar languages with the Czech Republic
Czechs and Slovaks have a special relationship: they understand each other. First and foremost because they are closely related languages, but also because people in Czechoslovakia were exposed to both languages on a daily basis, particularly through the media.
Watching TV shows and movies in the Czech language and vice versa was a normal thing for us since we are children, however, times change, and more people tend to watch movies and TV shows in English.
That is why some of the youngsters do not speak or understand the Slovak language like they used to.
Rich reservation of folk architecture
Vlkolinec is one of the 30 most beautiful towns in Europe, according to the Japanese Association of Travel Agents (JATA). The small hamlet is a remarkably intact settlement of 45 buildings with the traditional features of a central European village, according to Unesco.
It is the most comprehensive collection of traditional log homes in the region. These little hamlets are reserved and protected by authorities and serve as tourist attractions showcasing how people used to live in the past in these regions. The oldest hamlet can be found near the city of Bardejov.
In Northern Slovakia, near the Strážov Hills, is the picturesque village of Čičmany. It is the world's first folk architecture reserve, with the first mention of the village dating back to 1272!
There are over 130 houses in this area, and the wooden houses are painted with various folk ornaments, some of which can be seen in people's folk costumes.
TIP: Check out my list of recommended Slovak products. They are perfect as gifts, or you will use them during your visit to Slovakia (Amazon links)
Home of oldest coin workshop in the world
The oldest coin workshop in the world is still in operation in Kremnica, a small unpretentious town in central Slovakia. Due to the presence of gold ore, the city was built as a mining town. It is a government-run mint.
The predecessor of the current Mincova Kremnica, š. p. (štátny podnik = state company), was founded in the Kingdom of Hungary in 1328 and has been producing mint articles for nearly seven centuries.
Slovaks are passionate about folk dances
Slovak folk dances are one of the most fascinating aspects of Slovakia. Dances and folk costumes vary in style and color, depending on the region and way of life.
In fact, Slovakia has over a hundred folk groups, and the dances are brisk, temperamental, and mostly accompanied by cymbal, violin, and bass.
Many folk performances take place at festivals throughout the summer.
Large reservoirs of water
There are over 1,600 officially registered springs, many of which are used as mineral water sources, and others are thermal springs for relaxing spas.
Every store sells bottled water from Slovak springs, and each type has its own set of health benefits. The largest swimming area is in Bešeňová, where there are 33 springs.
Hot springs in Podhájska are a world rarity; the water is said to have more beneficial effects on health than the famous Dead Seawater.
When it comes to water, Slovakia, after Austria, has the largest natural freshwater reserves, and residents can drink high-quality water directly from the tap.
While thermal springs in the United States are generally considered a luxury and are therefore expensive, Slovakia's spa resorts and aquaparks are affordable due to their long-standing traditions.
Romans, Celts, and even Ludwig van Beethoven paid a visit to Piešťany to enjoy the healing properties of the town's thermal water.
TIP: Slovakia is well-known for its thermal springs. I totally recommend you visit at least one of the many thermal parks in Slovakia. Check out the best thermal parks, spa cities, and natural hot springs in Slovakia in the article below:
12 Best Slovak Thermal Parks, Baths & Natural Hot Springs
Highest number of castles and chateaux per capita in the world
For such a small country, Slovakia has 180 castles and 425 chateaux. As a result, you will see at least one castle or chateau wherever you go.
Spiš Castle is the most famous of them all, as well as one of the largest in Central Europe (it is on the UNESCO List of World Cultural and Natural Heritage).
Slovakia has also a presidential castle located in Bratislava, where political events that involves the President of Slovakia take place. Thousands of people visit the most popular castles each year, such as Bratislava Castle, Orava Castle, and Bojnice Castle.
Home of more than 6 000 caves
In Slovakia, more than 6000 caves have been discovered. The majority of them can be found in the Low Tatras, Slovak Paradise, and Slovak Karst national parks, and they are truly unique natural wonders.
For example, the Ochtinska Aragonite Cave is known as a "natural freak." White aragonite twigs and bushes replace traditional stalagmites and stalactites.
It is a very rare type of cave because only four aragonite caves can be found in the world; the others are in the Czech Republic, Mexico, and Argentina.
World's second-oldest marathon takes place here
The Kosice Peace Marathon is Europe's and the world's second-oldest marathon (after Boston Marathon). It takes place every year on the first Sunday in October in Kosice, Slovakia's heart of East.
The marathon was established in 1924. People from Košice and nearby cities gather and cheer for marathon runners on their way to the finish.
It is a really nice gathering where people enjoy time spent together in connection with sports events that we are very much proud of!
Talented football, ice hockey, and tennis players
Football, ice hockey, and tennis are the most popular sports in Slovakia. Ice hockey is Slovakia's most successful international sport, with the country currently ranked as the tenth best team in the world by the IIHF World Ranking as of 2017.
At least one game in the NHL has been played by 76 Slovak forwards and defensemen since the 1958–59 season.
TIP: Slovaks really like sports. A lot of different sports are played in Slovakia. Check out what the most popular sports in Slovakia are in the article below:
What are the Most Popular Sports in Slovakia? 7 Popular Sports
The capital city with an interesting location
Bratislava, Slovakia's capital, is located near the Austrian and Hungarian borders. As a result, it is the world's only capital that is sharing borders with two independent countries.
Furthermore, the Austrian capital of Vienna is only 60 kilometers away! Both cities are located on the Danube River's banks, and the boat ride from Vienna to Bratislava only takes 90 minutes.
Geographical midpoint of Europe is in Slovakia
The geographical midpoint of Europe is located near the village of Kremnické Bane in Slovakia, right next to the St. John Baptist Church.
Unfortunately, due to various types of calculations, Slovakia is not the only country that is proud of its geographic location in the heart of Europe.
Another seven European villages claim to be the location of this fictitious midpoint. The Centre of Europe is a well-known recreational site in the Krahule ski resort near the village of Kremnické Bane.
Free train rides
Since November 2014, all children, full-time students under the age of 26, widowed or disabled pensioners under the age of 62, and seniors aged 62 and up have been entitled to free train travel on the national railways. It is only available to citizens or permanent residents of countries that are European Union member states.
To obtain your personal customer card, all you need is a quick registration at the cash register. Following that, you request a zero-fare ticket for a specific train and sit back and enjoy the ride.
Highest wooden altar in the world
The highest wooden altar in the world can be found in the old medieval town of Levoča. Master Paul created this magnificent work. It's in the Church of St. James, right in the heart of Levoča's historic district.
Without using a single nail, the 18,6 m high and 6 m wide altar was built! The entire town center has been added to the UNESCO World Heritage List.
One of the most beautiful women live here
Slovakia is one of the top three countries in the world with the most beautiful women, according to U City Guides. They even argue that the country should be particularly proud of the grace with which the Slovak blondes were born.
Nobody who visits Slovakia is likely to be unaffected by the natural beauty of Slovak women. Take a stroll through the streets of Slovakian cities to see why women receive so much attention!
Beautiful sceneries of nature
Slovakia is a stunningly beautiful country. The country's nine national parks and 14 protected landscape areas are proof of this.
Visitors can take a cable car up to Lomnicky Peak in the High Tatras or a traditional wooden raft down the Dunajec River. For the more adventurous individuals, the Slovak-Moravian Carpathians offer the chance to track bears and wolves in one of Europe's last untouched wilderness areas.
Other spectacular locations include Slovak Paradise, with its wild canyons, the Low Tatras, with lush alpine meadows and beautiful valleys in Little Fatra and Pieniny, and the Low Tatras, with lush alpine meadows and beautiful valleys in Little Fatra and Pieniny.
TIP: Slovakia is full of beautiful natural sceneries. You can find here beautiful mountains, valleys, rivers, lakes and more. Check the article with the most beautiful lakes (and glacial lakes) in Slovakia:
13 Best and Most Beautiful Lakes in Slovakia You Must Visit
20 UNESCO-recognized heritage sites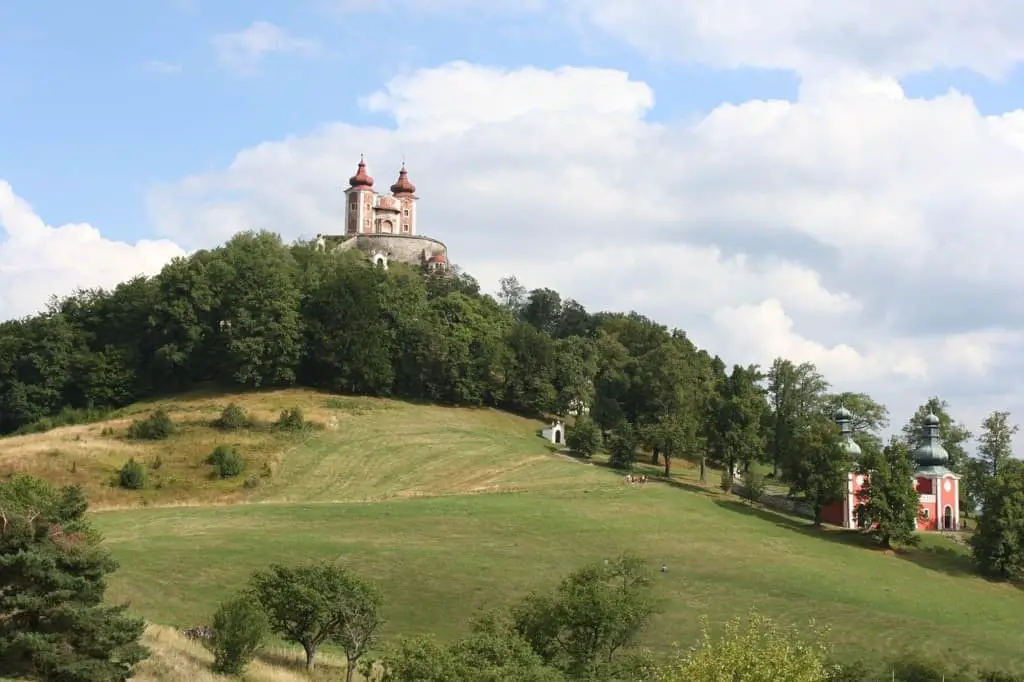 Slovakia has an impressive number of UNESCO-recognized heritage sites in addition to its enviable collection of castles and châteaux.
There is plenty for history and culture buffs to explore, from the historic town of Banska Štiavnica to the country's wooden churches and natural caves. With its fortified city walls, old Burghers' houses, and Gothic Basilica, Bardejov is a near-perfectly preserved medieval town.
We like our drinks not too cold
Slovak people, in general, do not like to drink that much ice as it is used to in the world. In Slovakia, many people consider it normal to drink their drinks without ice.
Drinks are usually served without ice. If we want ice cubes in our drink, we simply ask for it when we place our order (but you can also find some places where they serve cold drinks automatically). 
You can see situations where people specifically request non-chilled drinks from waitresses (mainly mothers for their kids).
During the hot summer, you won't get a sore throat if you store your food at room temperature. We also prefer full-tasting drinks to those that have been diluted with water (ice). There will be no diluted alcohol because that would be a sin!
TIP: It is always good to know if tap water is drinkable in the country you are going to visit. Find out more about the quality of Slovak tap water in the article below: