As an Amazon Associate, I earn from qualifying purchases with no additional costs for you.
From huge aquaparks with countless attractions for children through historical spa villages to little lakes with warm water throughout the whole year, those who appreciate quality swimming in crystal-clear water have an extraordinary amount of choices in Slovakia. Thermal springs are probably the biggest treasure Slovakia has and visitors and their families can enjoy its benefits all year long.
The best thermal parks, baths, spa cities, and natural hot springs in Slovakia are:
Tatralandia
Waterpark Park Bešeňová
AquaCity Poprad
Thermal Swimming Pool Vrbov
Turčianske Teplice
Rajecké Teplice
Kováčová & Sliač
Thermal Springs "Kaďa" Liptovský Ján
Hot Springs Kalameny
Thermal Crater in Vyšné Ružbachy
If you need to sum up your knowledge about thermal springs and put the many Slovak spas and springs on your traveling map, the following resume will help you find your way through all that there is to know.
If you want to buy Slovak gifts or useful Slovak products, you can find them by clicking here (Amazon link).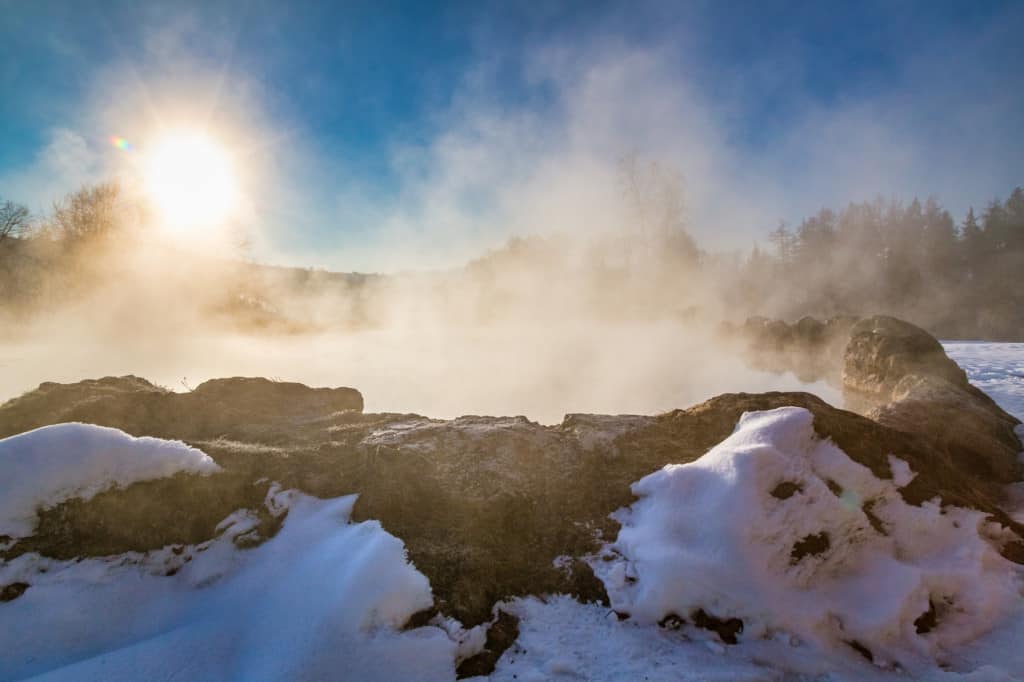 Thermal Aquaparks
Are you a fan of chilling in hot thermal water and enjoy these peaceful moments? Well, then Slovakia will be a great option for your holiday!
You can find thermal aquaparks almost everywhere. Most Slovak thermal aquaparks are located in central Slovakia, in the area around High and Low Tatras. I will tell you more about the best thermal parks in Slovakia in the section below.
Tatralandia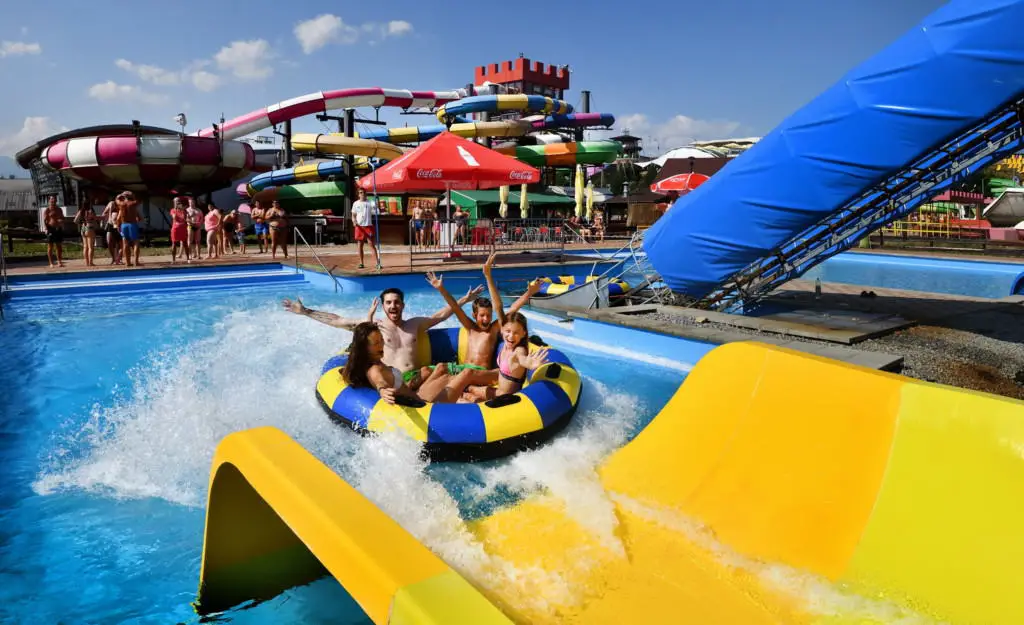 Tatralandia is the most popular and best-known thermal aquapark in Slovakia. It is located near Liptovská Mara lake. The closest city is Liptovský Mikuláš. The official website of aquapark Tatralandia is here.
The source of water for the Tatralandia aquapark is a thermal spring springing from a depth of more than 2500 meters, which is rich in silicon dioxide, strontium, boron, fluorides, and potassium. The water temperature in the thermal pools ranges from 30°C to 40°C.
And what you can expect when you visit Tatralandia? Here are the highlights:
14 pools
28 water slides
seaside paradise Tropical Paradise
surf waves
Celtic sauna world
wellness & spa
themed accommodation in Holiday Village Tatralandia
By the way, you can watch what Tatralandia looks like through these online webcams.
One day is not enough to enjoy all the attractions that Tatralandia offers, so it pays to use the accommodation directly in the water park. You will stay in cozy cottages.
The prices for accommodation range from 99 € to 202 € for one night for a whole cottage. The various cottages can accommodate from 2 to 7 adults + 1 to 3 children extra.
If you are going to spend more days in the Tatralandia aquapark, I highly recommend you look at the special packages that include entrances to the aquapark, accommodation, food, and other activities.
For example, one of the most popular packages is the New Year's Eve in thermal pools package. All offered packages can be found on this official link.
TIP: Next to the aquapark Tatralandia you can visit Zoo Kontakt, where you touch and caress a lot of different animals like small lions, deers, sheep, or exotic parrots. Your kids will love this place! And to be honest, not only them but you will also enjoy the time spent in this amazing and unique zoo. The official website is here (only in Slovak and Polish language). But you can buy tickets to this zoo also in Tatralandia.
Waterpark Park Bešeňová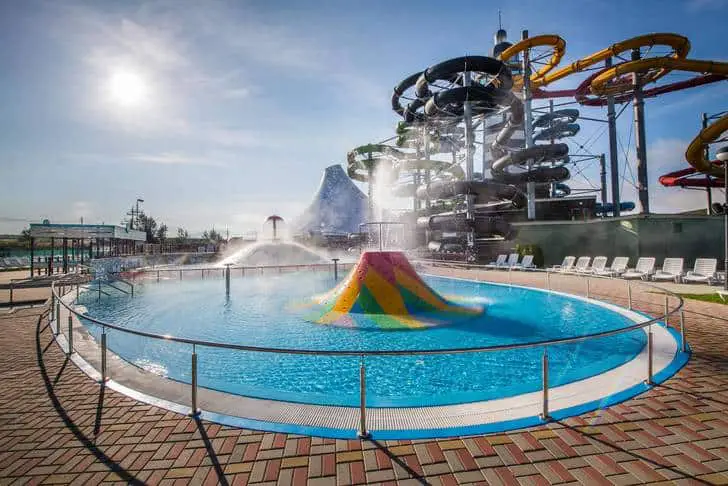 Waterpark Park Bešeňová is located only a few kilometers far from aquapark Tatralandia. In exaggeration, I can say that Park Bešeňová is a smaller sibling of aquapark Tatralandia. But you will be even more pleased with the cozy and pleasant atmosphere and environment. The official website is here.
The hot springs of thermal waters spring from a depth of almost 2000 meters with a temperature of 60.5°C.
The thermal water in the Bešeňová aquapark has a positive effect on the locomotor and respiratory systems and also has positive effects on the human psyche and helps in the treatment of urological problems.
And what you can expect when you visit Park Bešeňová? The highlights are:
13 pools
13 water slides
wild river
sauna rituals
inside and outside wellness & spa
accommodation directly in the area of the aquapark
The water temperature in the thermal pools ranges from 26°C to 40°C. In addition to relaxing on water massage bubble loungers, you can also enjoy various drinks from the aqua bar Cosmopolitan. Isn't that a wonderful idea? 🙂
As in the previous case, you can watch what Park Bešeňová looks like through these online webcams.
And what about accommodation? You can stay directly in the area of the aquapark and you can choose from two options.
The first one is the Bešenová hotel which offers you classic hotel rooms, suites, and apartments. The prices start from 96 € for a night for 2 people. You can book your stay here.
The second is the possibility of accommodation in the first holistic hotel in Slovakia, called Hotel Galeria Thermal Bešeňová. In addition to individual VIP access, the hotel offers its guests private access to outdoor pools and private whirlpools for two in selected rooms.
So if you prefer uncompromising relaxation, Hotel Galeria Thermal Bešeňová is the best place for you. You can make an online reservation here.
AquaCity Poprad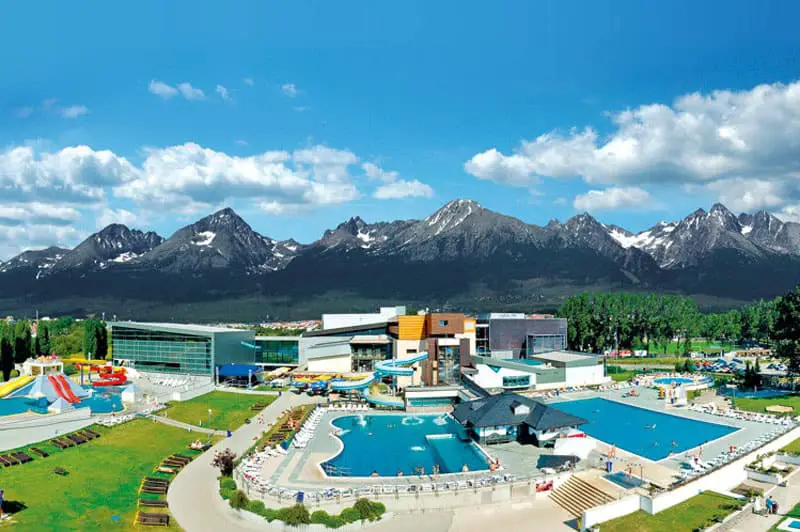 Aquapark AquaCity Poprad is located directly in Poprad city. And where to find the Poprad? It is the largest city located directly below the High Tatras.
The main advantage of this water park is its division into two parts, outdoor and indoor. In both parts, there are pools with thermal as well as normal water. The highlights of the Aquacity Poprad are:
13 outside and inside pools
350 water attractions
2 swimming pools ( 33 and 50 meters long)
Children's pool Treasure Island and Fun Kids zone
Luxury adventure thermal pools Blue Diamonds I & II
Mayan Pyramid thermal pool for children and adults
The water temperature in the thermal pools ranges from 28°C to 38°C and springs from a depth of 1300 meters.
It contains more than 20 different minerals that have a positive effect on human health, specifically for problems with the musculoskeletal and respiratory system, blood circulation, nervous system, and also has beneficial cosmetic effects.
For the needs of accommodation, there are 2 hotels available directly in the area of the aquapark:
Hotel Mountain View
Hotel Seasons
The first offers wonderful views of the High Tatras and the second rooms are decorated according to the season. You can book your stay in these hotels directly on the Aquacity Poprad website here.
My recommendation: visit this thermal water park for one day during your stay in the High Tatras. One day is ideal for you to enjoy Aquacity Poprad to the fullest and gain enough strength for hikes in the High Tatras.
Thermal Swimming Pool Vrbov
Thermal Swimming Pool Vrbov is the fourth and last thermal water park situated below the peaks of the High Tatras. The official website of Thermal Swimming Pool Vrbov is here.
This thermal water park is the smallest of all the water parks listed in this article. However, it has a lot to offer. The biggest advantage is the peace and quiet atmosphere in the closest vicinity of the High Tatras and the entrance price.
The water temperature in the thermal pools ranges from 26°C to 38°C and springs from a depth of 1742 and 2502 meters. This thermal spring is rich in a high content of minerals important for the human body.
And what can you look forward to when visiting the Thermal Swimming Pool Vrbov? The highlights are:
10 pools with thermal and normal water
35 meters long swimming pool with a temperature of 28°C
thermal sitting pools
pools for kids
As you can see from the highlights above, this aquapark doesn't offer so many attractions as the previous ones but it is the perfect place if you go hiking in the High Tatras.
You can go hiking in the morning and relax in the thermal pool in the afternoon. This is exactly what I do whenever I'm in the High Tatras. And that is why I recommend a visit to the Thermal Swimming Pool Vrbov.
TIP: Check out my list of recommended Slovak products. They are perfect as gifts, or you will use them during your visit to Slovakia (Amazon links)
Thermal Aquapark Dunajská Streda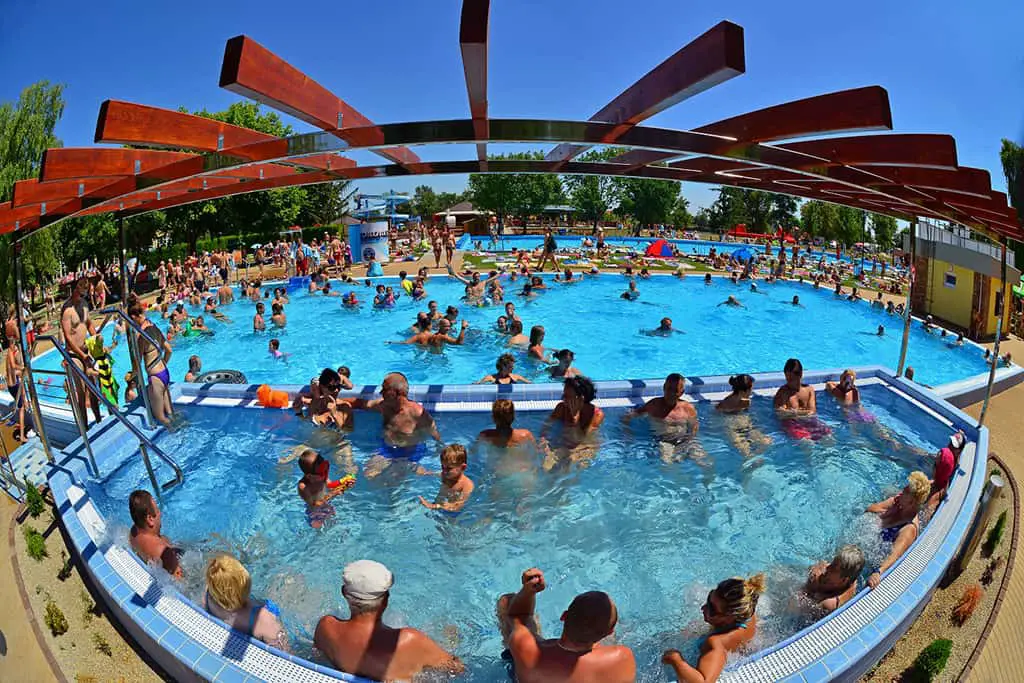 Thermal Aquapark Dunajská Streda is the first aquapark that is not located in the High and Low Tatras region. Actually, it is in South Slovakia and quite close to Bratislava. Here is the official website.
Just like North and Central Slovakia, South Slovakia is also full of thermal springs. And Thermal Aquapark Dunajská Streda is the best option for you in this region.
This aquapark uses thermal water with a high concentration of mineral substances from a borehole springing from a depth of 1,600 meters with water temperature from 26°C to 39°C.
The highlights of Thermal Auqapark Dunajská Streda are:
4 indoor and 6 outdoor pools
7 water slides
massage center and sauna world
various types of sports fields
Thermal Aquapark Dunajská Streda also offers accommodation in a hotel located directly in the aquapark. You can book various types of rooms but all of them are for two people only.
I recommend you visit this aquapark during your stay in Bratislava. It is an hour's ride away from Bratislava only. You can go there by car or even by bus or train.
So if you have a free day in Bratislava or want to spend some time relaxing in thermal water, Thermal Aquapark Dunajská Streda is the best place for you.
Thermal Baths (Spa) Cities
If we say thermal baths in Slovakia, we mean the whole spa town. Not just one water park in a city, but a large number of different spa facilities in the same city.
There are more such thermal baths in Slovakia, each of them is especially suitable for the treatment of various types of diseases and health problems. Below I will tell you more about the most famous thermal baths in Slovakia.
Turčianske Teplice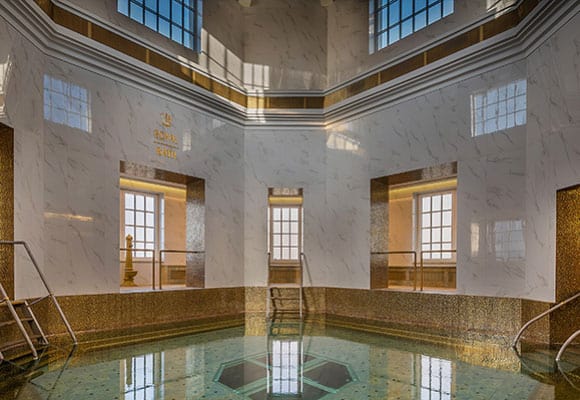 Turčianske Teplice is one of the oldest spa towns in Slovakia. Their history dates back to the 13th century. For such a long history, they have also become one of the most popular and most visited spas in Slovakia.
There are 7 thermal springs in the area, which contain more than 1500 mg of dissolved minerals in 1 liter of water. Mineral water from these springs is used for partial and total baths, but also for drinking cures for certain types of diseases.
And what types of diseases can you treat in Turčianske Teplice? These mineral springs are especially suitable for:
Diseases of the movement system
Renal and urinary tract diseases
Nerve diseases
Diseases of the digestive device
Women's diseases
Oncological diseases
Occupational diseases
Turčianske Teplice is surrounded by mountains. Its unique location makes it a meeting point of two regions – Northern and Central Slovakia.
Easily approachable from any direction, it makes a great holiday destination. Hiking tours and walking are a great complement to the procedures and the hilly panorama helps create a feeling of seclusion and relaxation.
The town is home to one of the most beautiful spa parks in Slovakia where it is easy to retrace the town's past; traditionally home to old aristocratic families, Central Slovakia was one of the first regions to have developed a town culture and commerce.
Rajecké Teplice
Rajecké Teplice, a spa town located in Northern Slovakia, is well known for offering high-quality spa services in the beautiful and well-preserved nature of the Rajec region. It is surrounded by mountains, an important decision-making factor for many visitors.
Its thermal springs have been used by the locals since the 14th century and the 19th century marked the peak of spa tourism in the region. The water is moderately mineralized, hydrogen carbonate, calcium-magnesium, and hypotonic.
There are five thermal springs in the area with a temperature of 39 °C. The spa's wide offer of treatments focuses on the following health problems:
Musculoskeletal disorders
Neurological disorders
Occupational diseases
The town is easy to approach by car or by train and a comfortable and quite picturesque train connection to the town of Žilina, the heart of the region, leading through the valleys and alongside the river Váh, adds a little extra something to the visit.
Even though nowadays it is best-known to visitors from the surrounding towns, eventually from the Czech Republic and Poland, Rajecké Teplice has remained a synonym of a decent combination of first-quality spa services, decent and calm environment of a small town, and beautiful nature.
TIP: I personally recommend you to visit one of the most beautiful spa hotels in Slovakia with amazing treatment procedures to choose from. The name is of this thermal complex is Spa Aphrodite and you will definitely enjoy this stay.
Kováčová & Sliač
Also surrounded by mountains, Kováčová offers a completely different kind of experience. Located in the very center of the country, it offers a peek into medieval Slovakia, its towns, and castles.
The history can be found everywhere and despite having been discovered only at the end of the 19th century, Kováčová's first spring already made the spa famous within the region. 
At the moment there are two springs of 48,5°C. After being cooled down to 39°C, the second spring is used for the spa's thermal pools. The main spring's capacity is one of the highest in Slovakia – 3000 liters of water per single minute.
The hypotonic, sulphuric-hydro carbonate, calcium-magnesium water is mildly mineralized and rich in fluorine. The procedures specialize on diseases affecting mostly:
Musculoskeletal system
Nervous system
Digestive system
Metabolism
Endocrine system
Kidneys
Urinary tract
Female internal organs
Pool and tub baths and poultices are a must but the whole range of the treatments in Kováčová is truly wide, including supplementary treatments like rehabilitation. Kováčová is actually home to the National Rehabilitation Centre.
The location, hidden away from the rush of everyday life, adds other extra points and a wide offer of leisure activities makes Kováčová a place enjoyable also in the need of mere relaxation.
Piešťany
The local nature in the Piešťany region offers not one, but two great gifts: mineral water stands behind the Piešťany's great reputation as firmly as the healing mud rich in sulfur.
Its benefits especially in the field of skincare have been known for thousands of years and made this spa one of the most popular in Slovakia.
Visitors from all over Europe come here every year. It is worth mentioning that Piešťany spa is the only spa island in Europe. It is located on the Váh River, extends into six hotel complexes that together make for an excellent place for relaxation and health treatment.
The local water is extremely rich in minerals. Its temperature of 69°C gives it significant anti-inflammation qualities and helps relieve pain.
Before being used in healing procedures, the mud undergoes a one-year process of marination in thermal water which enhances its healing effects. Both water and mud are mostly used in procedures that help fight:
Musculoskeletal disorders
Neurological disorders
Rheumatism
Arthritis and joint degeneration
Cartilage damage
Low immunity
Piešťany is no doubt one of the synonyms of Slovak spa. It is not only the biggest spa center in the whole country, it has continuously offered professional spa services for 190 years already. Located in the west, it is easily approachable from the highway.
Natural Hot Springs
And the last part of this ultimate guide on thermal springs is the part about natural hot springs. The best thing about them is that you can bathe in them for free. And you know what? Even not all Slovak people don't know where to find all of them.
That's why I attached the maps for each natural hot spring in this article so you know exactly where to look for them. All these natural hot springs are located around High and Low Tatras.
Thermal Springs "Kaďa" Liptovský Ján
You can find the thermal spring called Kaďa at the end of the village of Liptovský Ján. And here is the location on the map.
The scenery is what makes Kaďa different. It gives the sensation of wellness located outdoors, since the spring has visually remained as natural as possible, instead of being let flown to a set of obvious pools.
At the same time it is just one of the many springs in the area, only made more accessible to the visitors. How do you get there?
The spring is located at the end of the village of Litpovský Ján, easily accessible from the highway. 
The spring itself is not directly accessible by car. In order to protect its quality, visitors need to park their cars in a nearby lot and walk for approximately 250 meters.
A great surprise is no entrance fee – at the same time, the area is kept tidy and welcoming.
During the summer, street buffets and smaller pubs are open in the area where you can have a snack. And if you want to eat the real Slovak halušky or other traditional Slovak dishes, then about 10 minutes' easy walk out of the village is an amazing hut with a restaurant. I recommend you to go there and try their dishes.
Hot Springs Kalameny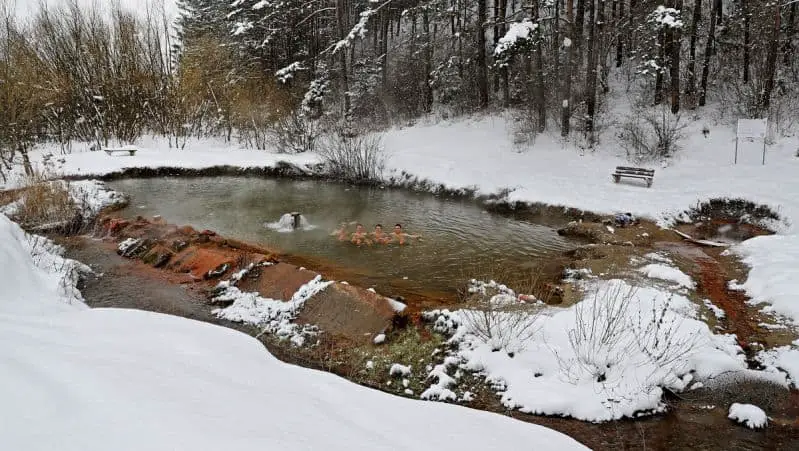 Hot springs Kalameny is located near aquapark Bešeňová and Tatralandia. Here is the location on the map.
Its uniqueness lies in its temperature. Kalameny water has over 30°C even during the strongest winters. The locals call it Močilo, which could vaguely be translated as a place for soaking.
The water is only slightly mineralized (2,5-3g per liter), and it is rich in calcium, magnesium, and sulfur. The last one gives it its characteristic smell – strong, but overall not unpleasant.
Due to its qualities, the spring is beneficial when fighting Musculoskeletal problems.
The spring is located approximately 1km from Kalameny village.
Kalameny village itself doesn't have any restaurant nor any hotel. 
Nearby Benešová is the most common option when booking accommodation.
The bore is relatively young, it was opened to the public only in 2000. The color of the water is orange-ish, a visually appealing detail if you are enjoying your bath during winter when the whole country is covered in snow.
Thermal Crater in Vyšné Ružbachy
Vyšné Ružbachy in the Prešov region offers a different kind of experience. The village is also home to a traditional spa with nine thermal springs.
Nevertheless, the hidden gem of the thermal crater still remains quite unknown, even to many Slovaks. The location of the thermal crater on the map.
The crater was created as a result of a travertine heap sinking in 1967. The temperature of the water is 23°C throughout the whole year – the cracks in the lake's bottom let carbon dioxide constantly in, which prevents the water from freezing. The water comes from Belianske Tatry which means an extra amount of calcium, beneficial for bones.
Despite its smallness, this travertine lake is the biggest one of its type in Central Europe.
Officially protected as a natural monument, swimming is not allowed. Nevertheless, people swim here without any interventions.
A restaurant, a parking lot, and benches with tables are located right next to it.
Despite its surroundings (an open-air sculpture symposium and an old travertine mine), it offers a very peaceful experience, especially at night.
Conclusion
The extraordinary amount of healing thermal springs is one of the reasons to visit Slovakia. While some of them are part of large spa areas with decades of tradition, others remain hidden in seclusion, open only to those visitors who are willing to make an extra effort to find them.
Most of them are beneficial for the musculoskeletal system and when fighting with rheumatism and arthritis, but cardiovascular diseases are another common reason visitors seek after them.
Their healing qualities are highlighted by the fact most nature in Slovakia is still well preserved and offers an experience that has become hard to find these days.
Independently from enjoying their benefits as part of a several days stay in a spa or as a way to relax at the end of an exhausting hiking tour, the thermal springs of Slovakia are surely one of the best ways to experience Slovak nature on your own skin.