As an Amazon Associate, I earn from qualifying purchases with no additional costs for you.
Our little big country is full of surprises and undiscovered treasures. When you say Slovakia, not many people would associate this country with excellent wines and wine traditions. And really, when you visit Slovakia, you shouldn't leave without tasting some of our wonderful wines and visiting some unique wine cellars!
Winemaking in Slovakia has a long tradition of almost 2500 years. Traditional Slovak wine regions include Little Carpathians, South Slovakia, Nitra, Central Slovakia, East Slovakia, and Tokaj. The most famous Slovak wine varieties are Grüner Veltliner, Riesling, Müller-Thurgau, Blaufrankirsch.
In this article, you will learn everything you need to know about the wine-growing tradition in Slovakia, wine regions, varieties, and tips on where to taste the best Slovak wines.
If you want to buy Slovak gifts or useful Slovak products, you can find them by clicking here (Amazon link).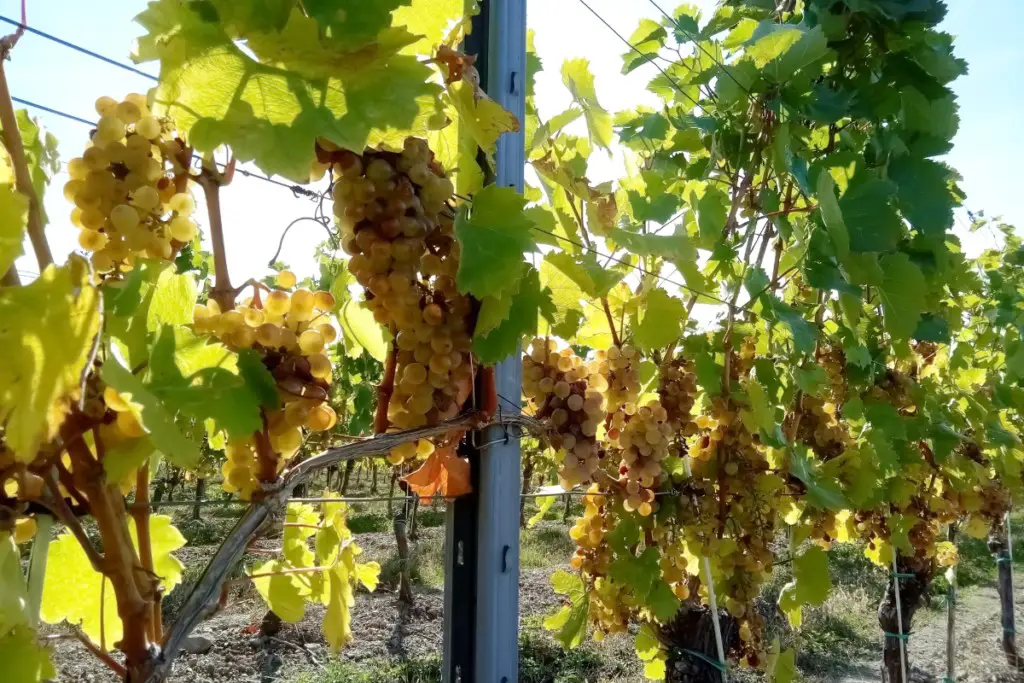 Does Slovakia Make Wine?
Viticulture and winemaking in Slovakia belong among the important traditional industries. With its light wines, Slovakia is making an unexpected breakthrough in the very exclusive world of wine. These wines are unique. They are delicious. They express the territory from which they come.
In the following paragraphs, we will tell you more in detail about the history of Slovak wine, different wine regions and their characteristics, traditional varieties of Slovak wine, new grape varieties, and we will also give you useful tips on where to taste and buy good Slovak wine.
History of Making Wine in Slovakia
Winemaking has a tradition of over 2500 years in Slovakia and is part of the way of life and cultural heritage in the wine-growing regions of Slovakia. The development of these industries has always been linked to the economic and cultural progress of the area and is ultimately an important landscape feature.
The cultivation of vines in Slovakia was probably started by the Celts in the 7th-6th centuries BC, as evidenced by the discovery of 7 vineyard knives at Molpíra. A further boom in viticulture took place in the area of the Small Carpathians during the reign of the Roman Emperor Marcus Aurelius Probus (276-282 AD).
The development of viticulture continued mainly thanks to the church and monks until the 13th century when most of the vineyards were destroyed due to the devastating invasion of the Tatars.
In the 15th century, after the arrival of colonizers – the Germans in the west and the Italians in what is now the Tokaj area – viticulture began to flourish. Vineyards were present in almost all of Slovakia at this time, with the exception of Orava.
Bratislava had a special position in this period, especially thanks to the Danube trade route. Bratislava is considered to be the oldest wine-growing village in Slovakia. Written records of grape growing in the area date back to 997-1038.
However, the real improvement of viticulture and the consolidation of its position in the agricultural activity of the country began under the reigns of Maria Theresa and Joseph II in the 18th century.
This period is considered to be the 'golden age of viticulture' and statistics show that in 1724 there were 72 000 ha of vineyards in Slovakia and 90 varieties of vines were cultivated.
The decline in vineyard production continued throughout the 18th and 19th centuries, also under the influence of newly introduced diseases (perenosphora) and pests (phylloxera) until the 1920s (period of economic crisis) and the interwar period until the 1960s. 
The greatest development of viticulture took place between the 1960s and the 1980s but was marked by collectivization and mass production regardless of quality.
After 1989, cooperative large-scale grape production in Slovakia and wine factories gradually disappeared, were privatized, or became companies. This situation resulted in a sharp decline in viticulture and winemaking in Slovakia with a harvested area of just under 10 000 ha today.
The current producers of Slovak wines have made significant progress in the quality of wine, sensitively combining the winemaking experience of previous generations with the most modern technologies of grape processing and wine production.
For more than 15 years, Slovak wines have been successfully competing at the most prestigious international wine shows, competitions, and winning top awards.
Slovakia Wine Regions
Divided into six regions, the Slovak vineyard is now turning towards a more qualitative production. As proof of this, a system of controlled appellations was set up in 2009.
The map of Slovak wine regions:
Little Carpathians (blue)
South Slovakia (orange)
Nitra (green)
Central Slovakia (brown)
East Slovakia (yellow)
Tokaj (red)
Little Carpathians wine region
The most ancient area – Bratislava is the oldest wine-growing region in Slovakia, with the first records dating back more than 3,000 years. The wines are typical of higher acidity, minerality, and extract – this is due to the temperature difference of over 15 °C.
Soils: Sandy-clay, slightly rocky
Grape varieties: Green Valteliner, Müller-Thurgau, Welschriesling, Rhine Riesling, Saint Laurent
Nitra wine region
The most varied region with a multitude of different and specific vineyards.  The wines are varietal with the highest bouquet. The history goes back to the period of the Great Moravia and the Benedictine monks of the Zobor Abbey.
Soils: Brown earth soils with sandy-clay soils
Grape varieties: Green Valteliner, Welschriesling, Müller-Thurgau, Saint Laurent
South Slovakia wine region
The warmest region. Due to the higher average temperatures, the sugar content of the grapes is higher, which results in wines with a higher alcohol content or residual sugar. They also have a greater minerality.
Soils: Loess soil slopes, with a higher minerality, clayey, retains moisture well also during dry periods
Grape varieties: Cabernet Sauvignon, Green Valteliner, Welschriesling, Saint Laurent, Alibernet, Devin
Central Slovakia wine region
The first mentions date back to 1135 when Béla II of Hungary gave 2 vineyards to the Benedictine abbey of Bzovík. This region produces varietal wines with a strong bouquet.
Soils: Andesite substrate, clayey-clay soils, heat flow from coal deposits  
Grape varieties: Green Valteliner, Rhine Riesling, Pinot blanc, Welschriesling
Wine region of Tokaj
The Tokaj Wine Region is the smallest wine region. It is one of the five regions in the world where grapes can be produced for the production of naturally sweet wines.  
It is both a historical and a territorial part of the large Tokaj region located on the territory of Hungary and Slovakia. In Slovakia, the area is 908 ha, which is 1/6 of the total area. It is a historically based territory, which cannot be divided by the state border.
A long autumn with fog favors the creation of noble rot on the grape berries, to form raisins, which are added to the wine. The wines are then matured in oak barrels in tuff cellars.
Soils: Specific soils of volcanic origin, andesites, and rhyolites
Grape varieties: Furmint, Harslevelu, Small-grained Muscat, Gewurztraminer, Pinot noir
East Slovakia wine region
A more continental climate guarantees more stable weather, favorable to late grape varieties.  The wines produced in this region are more rounded and rich in minerals, thanks to the more mineral soils. First mentions of viticulture date back to the 15th century – wines known as Zemplin wines (region).
Soils: Brown earth soils with sandy-clay lower layers
Grape varieties: Welschriesling, Gewurztraminer, Müller-Thurgau, Rhine Riesling
TIP: Not only wine production has a long tradition in Slovakia. The production of spirits, among which the traditional borovička stands out, also has a long tradition. Find out more about borovička in the article below:
What is the National Slovak Spirit? Borovička, cheers!
Traditional Grape Varieties in Slovakia
You can find a lot of traditional grape varieties in Slovakia. These traditional grape varieties are common in the region of Central Europe. The most common traditional grape varieties in Slovakia are:
VELTLÍN ZELENÝ (Grüner Veltliner) / white wine
Belongs to the wine grape varieties, which are mostly cultivated in the Little Carpathians.  It gives reliable harvests and the wine produced is characterized by a yellowish-green color with a delicate aroma and a taste of green almonds.
It is a wine suitable for aging in the bottle for several years. It goes well with pork and beef, as well as with cold dishes.  
Serving temperature: 10-12°C.
FRANKOVKA MODRÁ (Blaufrankirsch) / red wine
The Frankovka grape variety is widespread in Central Europe and Slovakia. It has a bouquet evoking cherry and pepper, with a slight mineral aroma. Its taste is rich, generous in acids, with a background of cinnamon.
Frankovka is best served with red meat, mutton, and game.
Serving temperature: 16-18°C.
RIZLING RÝNSKY (Riesling) / white wine
This is an extraordinary wine with outstanding qualities, a richer brother of the Riesling family. Considered the king of white wines, it is a wide variety in Slovakia, mostly in the Little Carpathians.
It produces aromatic, lively, and fine dry wines. The ripening of this wine in the bottle significantly improves its qualities.  They can be drunk quickly in the year of production or after a few years of aging. 
Riesling goes perfectly with fish, poultry in sauce, and goat's cheese.
Serving temperature: 10-12°C.
SILVÁN ZELENÝ (Sylvaner) / white wine
Is a grape variety from Central Europe. In Slovakia, it is cultivated mostly in the Little Carpathians. Its grapes are used to make good wine at an affordable price which used to be fruity, velvety, and round.
The taste is full, with a greenish-yellow color and a spicy bouquet, with grassy notes and even redcurrants. 
The wine can accompany friendly evenings, it goes well with white meats such as rabbit or poultry, or dishes with creamy sauces.
Serving temperature: 10-12°C.
Other Traditional Grape Varieties In Slovakia
Other traditional and popular grape varieties in Slovakia are:
Müller-Thurgau,
Welschriesling,
St. Laurent,
Pinot Blanc,
Cabernet Sauvignon,
Gewürztraminer.
New Grape Varieties in Slovakia
New grape varieties are still emerging in Slovakia as wine production is still popular in Slovakia. All new wine varieties were bred directly in Slovakia. The most famous and popular include:
DEVIN / white wine
This is a Slovak grape variety, was created by crossing Tramin cerveny (Gewurztraminer) and Veltlinske cerveno-biele (Veltliner red-white) grapes. 
The author of this grape variety is Dr. Dorota Pospisilova. In 1997, after 39 years of observation and testing, the Devin variety was officially included in the list of authorized varieties in Slovakia. The Devin variety is named after a castle at the confluence of the Dunaj (Danube) and Morava rivers near Bratislava.   
It will seduce you with its golden yellow color, the spicy taste of honey and ripe grapefruit, and the fresh aroma of wild roses and mace. 
It goes well with poultry, lamb and Slovak smoked cheeses. Can also be served with strudels (traditional cakes). 
Serving temperature: 10-12°C.
DUNAJ / red wine (Dunai)
It is a Slovakian grape variety, selected in 1958 at the Institute of Vine and Wine Research in Bratislava by crossing the grape varieties of (Muscat Bouchet x Oporto) x Svätovavrinecké (Saint Laurent). The author of this new breed is Dr. Dorota Pospisilova. The Dunaj grape variety is named after the Danube River /Dunaj.
Aging is done in oak barrels. The wines from this variety have an expressive character with fruity notes in the dark red color and a pronounced roundness. The notes of overripe cherries evolve into interesting chocolate notes.
TIP: Check out my list of recommended Slovak products. They are perfect as gifts, or you will use them during your visit to Slovakia (Amazon links)
TIP: Especially in the past, Slovaks spend a lot of time in nature working in the fields. The adults took the children with them. To shorten their time, the children invented various games. Check out traditional Slovak games in the article below:
10 Traditional Slovak Games for Children, Youth, and Adults
Where to Buy and Taste Slovak Wine?
The cultural serving, tasting, and drinking of wine are gradually becoming a permanent part of our dining and social life.
There are many wineries and family businesses all over the country and not only in the wine regions mentioned above but also in the big cities. It is also possible to visit the vineyards directly and to enjoy a wine tasting in nature.
We know several nice family wineries in the Little Carpathian region. 
For example, the town of Svaty Jur, a short distance from Bratislava, is full of winemaking traditions.
One of our favorite places is micro-winery Víno z kamenného dvora on Prostredna 17, located in a historic vineyard house in the center of Svaty Jur.
They focus on the production of small volumes of quality varietal wines and cuvées with an emphasis on varieties typical of the Little Carpathian wine region. You have the possibility of wine tasting with refreshments in their magnificent historic cellar.
Another place we recommend in the Little Carpathian region is the winery Vinpera in Radošovce. It was founded in 2016 and it is located about an hour's drive from Bratislava in the beautiful surroundings of traditional vineyards. You can buy or taste their own wine in this beautiful environment (check the availability and options here).
The basic philosophy of Vinpera winery is to control the entire process of the birth of great wine, from the preparation of the soil in the vineyard to the shipment of the bottle to the customer, thus guaranteeing the best quality and the typical local character of their wines.
Popular Wine Events in Slovakia
Wine lovers will certainly be interested in the various local wine events associated with wine tastings.
 Little Carpathian Region:
One of the most popular is the Open Cellar Days, which take place in autumn and spring in the Little Carpathian Wine Region. Wine tourists get a Wine Passport and can visit over 140 cellars in the area and taste the delicious wines. This event is organized by www.mvc.sk, where you can buy tickets and get more information.
In other regions, interesting wine events with tastings are also regularly held, which are worth a visit. We have picked out a few of them for you:
Central Slovakia:
Štiavnická vínna špacírka (www.stiavnicavino.sk)
Vulkán- festival vín (www.vulkan.stiavnicavino.sk)
South Slovakia:
Strekovský festival vína (www. strekovin.sk)
Trenčín town:
Víno pod hradom (www.vinopodhradom.sk)
Conclusion
As you have learned in this article, the Slovak wine sector is now booming and full of interesting estates. All those who like good wine and everything around it will find it here. Don't miss out on interesting events connected with wine tastings, visiting wine cellars and vineyards.
TIP: Slovaks are not only skilled winemakers but also very capable inventors. You might be surprised what famous inventions were invented by Slovaks. Check the most famous Slovak inventions in the article below: