As an Amazon Associate, I earn from qualifying purchases with no additional costs for you.
Like other countries, Slovakia is associated with certain products that belong to its hallmark. These Slovak products are known not only in Slovakia but all over the world. So what is Slovakia known for producing?
Slovakia is known for the production of traditional and unique food products, fruit and herbal spirits, cut glass or crystal, outdoor clothing, and the production of Christmas decorations. Slovakia is also known as the largest car producer in the world per capita.
You may already be thinking about which Slovak brands you know from the above industries. You don't have to worry, in this post I will introduce you to individual Slovak brands from these industries.
If you want to buy Slovak gifts or useful Slovak products, you can find them by clicking here (Amazon link).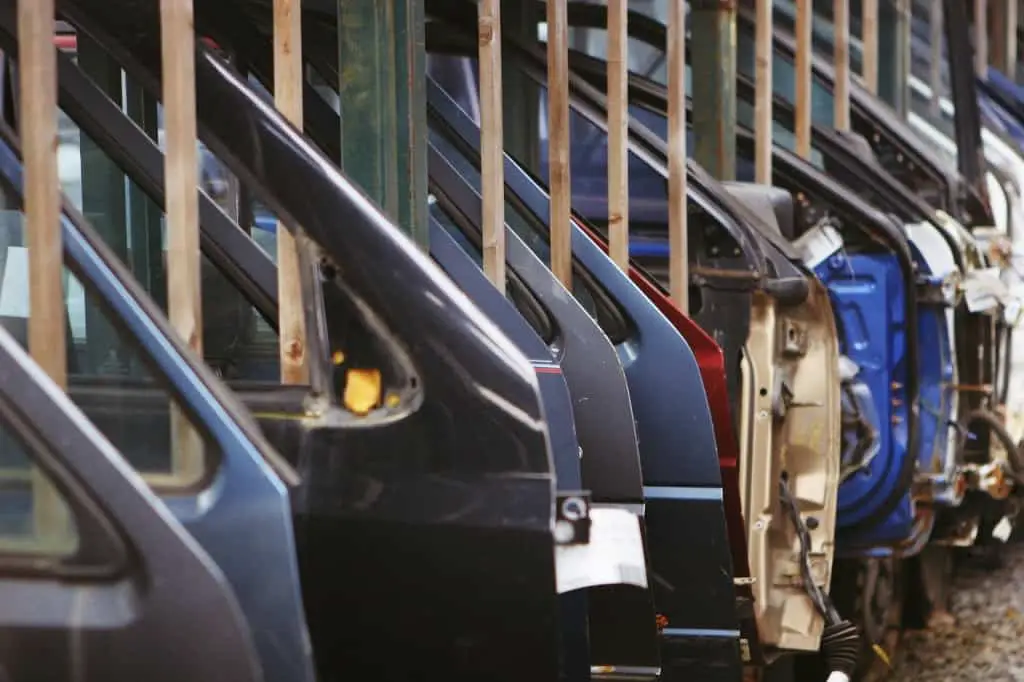 What does Slovakia produce? 5 well-known products
A large number of products are produced in Slovakia that are popular not only at home in Slovakia but also abroad. These products make a good name for Slovakia in the world.
It was difficult to choose a couple of products manufactured or produced in Slovakia, which I will present in this post. Thus, I divided these products into 5 groups and in each group, I will introduce a few world-famous Slovak products to you. So let's start!
Slovak food products
Slovak food products are probably the most famous Slovak products in the world. And these are not only Slovak bryndza and Bryndzové halušky, but also other products that are popular not only in Slovakia but also in the world.
Horalky is the first, world-popular Slovak product. Horalky's traditional recipe was created in 1965, but the exact recipe is, of course, secret. It is a wafer bar with peanut filling and cocoa coating made by Sedita.
You can buy it in every grocery or gas station in Slovakia and Slovaks just love them. You can even buy them on Amazon, here.
Interesting fact: More than 160 million pieces of Horalky are produced annually.
Another popular Slovak food product is Vinea. Vinea is a carbonated soft drink made from grape must. Production of the drink began in 1974 and is popular mainly due to its unmistakable grape taste.
But not only it was an original drink but it was also made from domestic ingredients. It didn't even decide the rules on proper nutrition at all – thanks to the content of vitamins, fruit sugars, and organic acids, the absence of dyes, and at least ten percent of the fruit component.
Vinea is currently exported to the Czech Republic, Poland, Austria, Germany, and Ireland.
Interesting fact: In the eighties of the 20th century, due to excessive exports to the USA, it became a scarce commodity in Slovakia.
Outdoor clothing
Slovakia is a country full of mountains. That is the reason so many manufacturers of outdoor clothing originated here. I will write more about the two of them.
Zajo is personally my favorite Slovak outdoor brand (I already bought more than 10 products from this brand). Their products are world quality. It is possible to buy all kinds of outdoor equipment from them.
Whether it is quality outdoor pants, jackets, sweatshirts, but also tents or sleeping bags. Visit their e-shop and look at their products, I guarantee you will love them.
Another well-known Slovak outdoor brand is NORTHFINDER. The NORTHFINDER brand combines an attractive modern style with universal functional properties with an emphasis on detail and the maximum quality of materials used. You can check the e-shop here.
Interesting fact: The NORTHFINDER brand has become a partner and supplier of clothing for the organizing committee of the AUDI FIS SKI WORLD CUP 2019 in Špindlerův Mlýn in the Czech Republic.
Slovak fruit and herbal alcohol
Alcohol production has a long tradition in Slovakia. Slovakia is known in the world mainly for the production of fruit and herbal spirits. Surely many of you have heard of Slivovica or Borovička. But we have more than these kinds of spirits.

Tatratea is a phenomenon of recent years. Tatratea has its origins in ancient Slovak history. In 2008, Tatra Tea began its new life in the Tatra Liqueur in Kežmarok.
And so Tatratea set out from the Tatras into the world. People around the world can discover its diverse forms and flavors.
The main ingredients of this alcoholic beverage are, in addition to sugar beet alcohol, black tea, oaken scobs, herbs, and spices.
There are 15 types of this Slovak alcohol on offer, with the weakest type containing 17% of alcohol and the strongest 72% of alcohol.
Juniperus Borovička is the uniquely flavored borovička that follows the famous tradition of the original Juniperus borovička, which has been produced in Trenčín since 1905 and has been registered with the Office for Patents and Inventions in Geneva with international protection of origin since 1967.
As you may know, borovička is national Slovak alcohol and therefore everyone who visits Slovakia should try this spirit at least once.
I wrote a whole post about our national spirit, you can read it here:
What is the National Slovak Spirit? Borovička, cheers!
Christmas decorations
I bet you don't know that Slovakia has a long tradition of making Christmas decorations. But yes, it is true. The company named OKRASA specializes in the traditional production of glass Christmas decorations since 1954. The production is focused on manual work without the use of machines, which guarantees the originality of each piece of product.
Watch a video of the production of these traditional glass Christmas decorations.
Slovak cut glass and crystal
Like previous products, the production of cut glass and crystal has a long tradition in Slovakia. Probably the most famous Slovak company in this industry is the company Rona, which has a history of more than 120 years.
96% of the company's production of cut glass and crystal is exported to more than 80 countries around the world. The glassworks' annual production exceeds 60 million pieces of glass.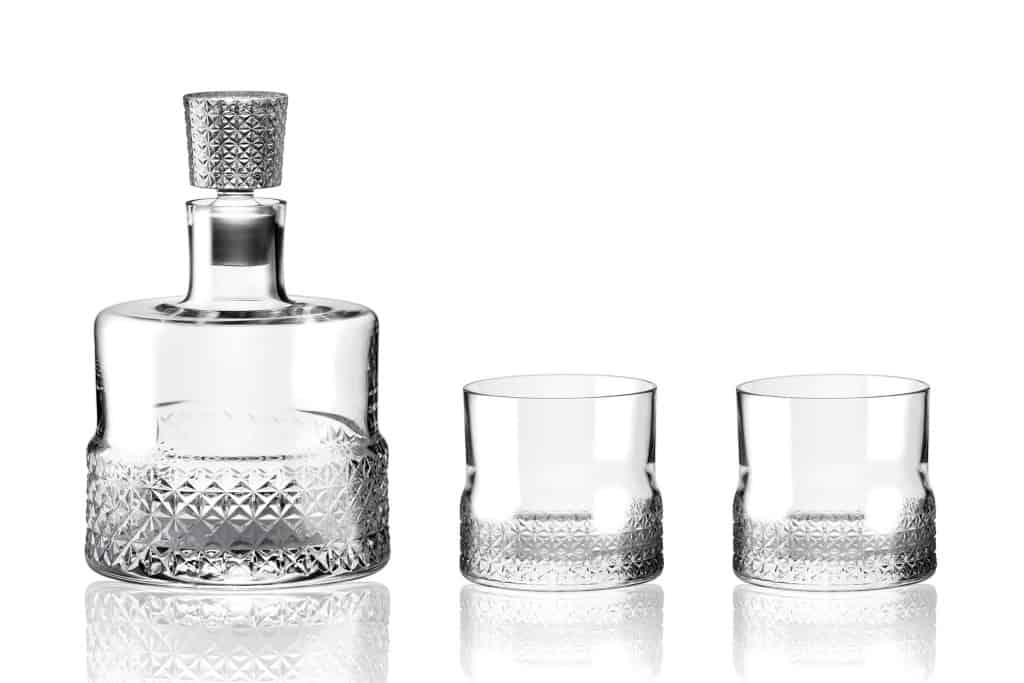 TIP: Check out my list of recommended Slovak products. They are perfect as gifts, or you will use them during your visit to Slovakia (Amazon links)
Slovakia car production
Slovakia is the world leader in the number of produced cars per capita. More than one million cars are produced each year in Slovakia.
The graph below shows the countries with the highest car production per 1000 people. And as you can see, Slovakia is unrivaled in the first place.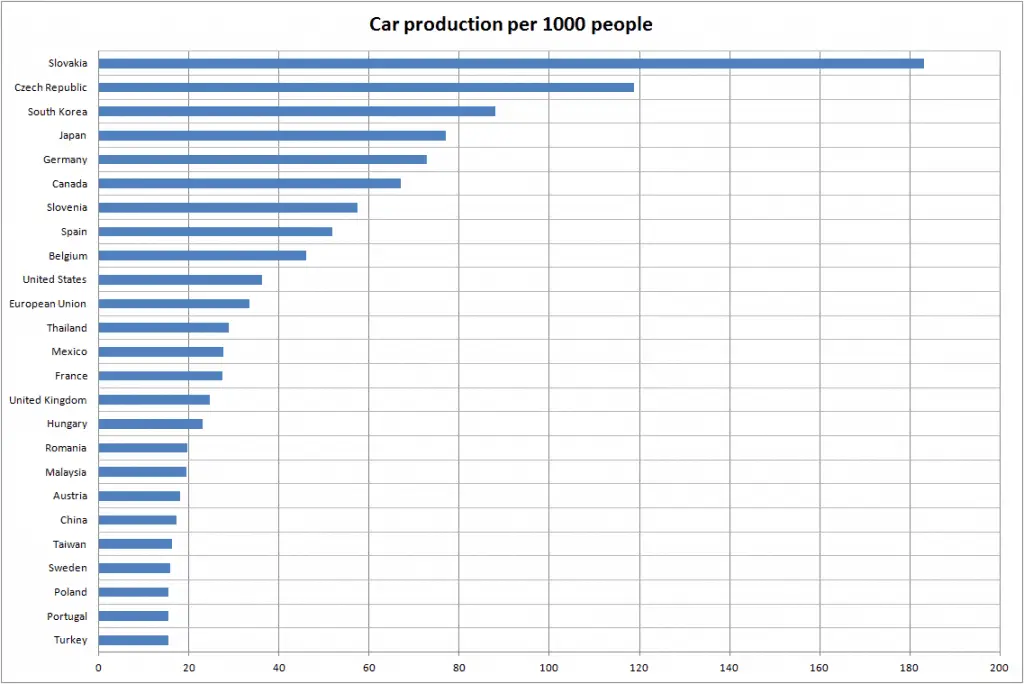 The following car brands produce their cars in Slovakia:
Volkswagen in Bratislava
Peugeot and Citroën in Trnava
Kia in Žilina
Jaguar Land Rover in Nitra
Export products from Slovakia
Slovakia is an export country. This means that more than half of all products produced in Slovakia are exported abroad. These are the 5 most exported products from Slovakia:
1 Motor vehicles and their components
Car production accounts for almost 20% of the total Slovak exports. And when we add other automotive components, we get to the level of up to 28% of exports.
2 Consumer electronics and communication equipment
This product group mainly includes the production of televisions, monitors, computers, mobile phones, or washing machines.
It accounts for 15% of total exports. The most important producers in these sectors are Samsung Electronics in Galanta, Whirlpool Slovakia in Poprad, or Foxconn in Nitra.
3 Base metals and articles from base metals
U. S. Steel Košice, one of the largest employers in eastern Slovakia, has a dominant word in the field of metallurgy.
A substantial part of the production is also exported by Slovalco, Železiarne Podbrezová, or Bekaert Hlohovec. In total, this group of products participates in Slovak exports in the amount of more than 10%.
4 Mechanical Engineering
Engineering production has a long tradition in Slovakia and therefore belongs to the sectors with a high share of Slovak exports. The production of various machines, bearings, or gears participates in Slovak exports in the amount of 10%.
5 Refined petroleum products
This group of products includes refinery products, in particular petrol or heating and mineral oils, but also, for example, briquettes and similar solid fuels.
Their share of exports is around 5%. The absolute market leader is the refinery-petrochemical group Slovnaft.
Conclusion
I am glad that we have products in Slovakia that will go far away. Many of them are among the best in their industries. Whether it is food, alcohol, or technological production.
Slovakia is known for producing these products. Let me know if you already tried some of these products or if you prefer some other Slovak products.