As an Amazon Associate, I earn from qualifying purchases with no additional costs for you.
The production of various kinds of spirits is very popular in Slovakia and has a long tradition here. In Slovakia, we have many kinds of homemade or traditional alcoholic beverages but only one is our national spirit.
Borovička is a Slovak traditional alcoholic drink and national spirit flavored with juniper berries. It belongs to the group of fruit spirits and has a typical taste and aroma of juniper berries. Typical Borovička contains about 40% of alcohol and it is produced mainly in central and eastern Slovakia.
Everyone who ever visits Slovakia must try this amazing national spirit of Slovakia. But Borovička is more than a spirit, so continue reading to learn about the distillation process of Borovička, the most famous brands, and the history of this unique alcoholic beverage!
If you want to buy Slovak gifts or useful Slovak products, you can find them by clicking here (Amazon link).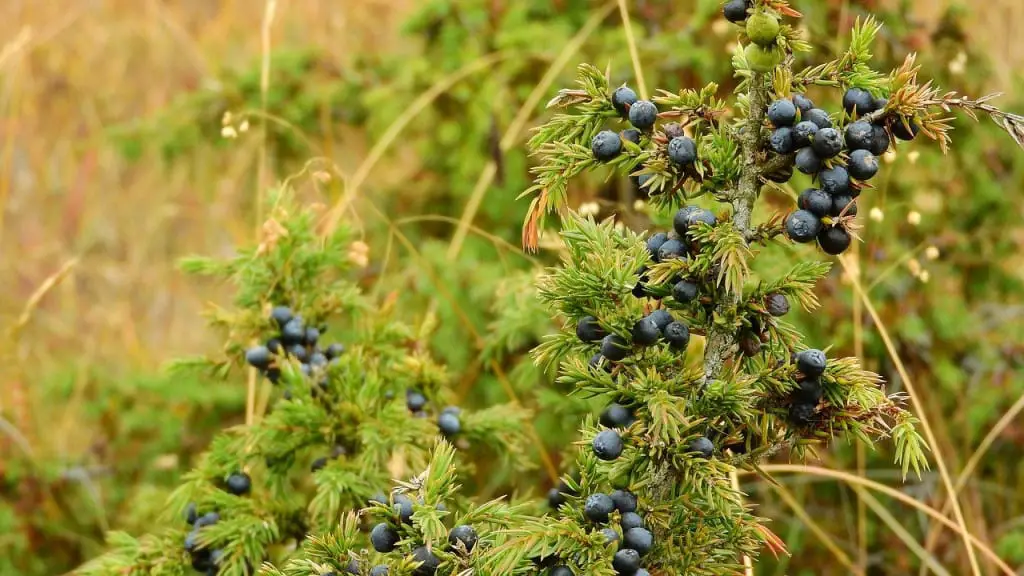 What is the National Slovak Spirit Borovička made of?
As I already wrote at the beginning of this post, the national Slovak spirit Borovička is made of juniper berries. You may not know what the juniper berries are so here is a short explanation.
The Juniper berries are small fruit and come from the small tree or bush which grows in Slovak forests. The Latin name of this tree is Juniperus communis.
You can find images of the tree and fruit below:
The trees grow on dry hillsides and blooms from April to June. Juniper berries have disinfectant, antibacterial, and strongly diuretic effects. They were used in folk medicine. Berries are also used as spices.
When you lift the liqueur-glass with Borovička to your nose, you will smell a strong scent of pine needles. For a better approximation of taste and smell, this spirit is similar to dry gin.
The color of the Borovička is clear or slightly discolored to goldish and depends on its processing. You will learn more about processing in the next chapter.
Interesting fact: International Day of Borovička is celebrated annually on June 24th.
How to make Borovička? Producing process of Borovička
The basis of this exceptional product is a "Juniperus" distillate made from selected Juniperus communis fruits, high-quality grain alcohol, and high-quality purified water.
The juniper berries are harvested in late autumn when they have matured well and when the first frost has come.
Fruits would be difficult to tear off with hands because of sharp prickles on the branches. Therefore, they are plucked by placing a canvas or some sack under the tree and the fruits collide from the tree with a wooden stick.
Then the fruits are washed, ground, and then placed in grain alcohol (spirit), which comes from pre-selected areas. The distillation process is repeated three times to achieve a crystal clear alcoholic beverage, resulting in a 70% distillate formation.
The last step in the production of Borovička is the addition of fine alcohol to the prepared distillate in a precise ratio.
No flavorings are used in the production, the resulting product would be delicate but at the same time typically aromatic with a pungent juniper flavor.
This unique method of production gives the beverage an unmistakable taste and smell.
Warning: do not attempt to make a Borovička at home, improper preparation may produce harmful alcohol.
Different types of Borovička
To confirm that the Slovak Borovička is unique, these brands of juniper spirits are protected as a registered trademark by the European Union:
Spišská borovička
Slovenská borovička
Liptovská borovička
Inovecká borovička
Slovenská borovička Juniperus
Only those made in Slovakia can be sold under these names.
The taste of all these types of Borovička is very similar, but the particular taste depends on the individual recipes, which of course are protected by the production secret.
TIP: Check out my list of recommended Slovak products. They are perfect as gifts, or you will use them during your visit to Slovakia (Amazon links)
TIP: You need to be careful when picking up juniper berries in the forest. And do you know why? Because a bear can be picking up juniper berries on the other side of the bush 🙂 find out more about bears in Slovakia in the article below:
ALL About Bears in Slovakia: Where, How Many & What Kind
Where did "Borovička" come from? A Short History of this National Alcohol
The very first mention of Borovička came from the 15th century from the territory of Spiš (eastern Slovakia) when Sebastian Lam was the first who started to distillate juniper.
The first mention of Borovička can be found in the area of the Tatra Mountains. Here, at the beginning of the 19th century, Slovaks carried out the distillation process of Borovička in copper containers in almost every household.
In 1875 a factory for liqueurs "Kleinberger and son" was established in Spišská Bela, which, among other things, obtained a license for the production of Borovička. In the same year, the company "Borovičkáreň Adolf Gabriel" was founded.
Historical labels of bottles with Borovička, produced in this period, were unique and very beautiful works of art, as you can see from these pictures:
One of the oldest brands of Borovička is the "Juniperus" from Trenčín (Slovak town). Already in 1905, the factory in Trenčín began to produce Borovička. This company is called Old Herold today.
Interesting fact: Juniperus Borovička was exported during the first Czechoslovak Republic not only to Europe but also to the US and since 1952 it has been protected by an international patent granted in Lisbon.
Is it true that Borovička is like natural medicine?
In fact, borovička is also known as a natural medicine for centuries. It is caused by the natural characteristics of juniper berries.
"Juniper berries promote metabolism and have an antioxidant effect. They bind fat in the intestines and help with weight loss. They contain essential oil, sugar, pectin, organic acids, and bitter glycoside juniperin. They are valued for the diuretic and disinfectant effect, especially in the treatment of kidney and urinary tract disorders "

Ján Karkó – Slovak biochemist
But it is certainly appropriate to say that, as with other types of alcohol, it is necessary to drink it appropriately.
TIP: Weddings are one of the social events where you can try traditional Slovak borovička. Do you know what to wear at a Slovak wedding? Check out simple local tips in the article below:
Local Tips on What You Should Wear to a Wedding in Slovakia
How popular is Borovička in Slovakia?
As you probably guess, Borovička is very popular in Slovakia. We have songs, books, film documentaries, or jokes about this beverage.
To help you understand better, let me show you some examples.
The first video is a folk song about borovička when the singer is singing about the beauty of this beverage and how can be dangerous when you drink too much on the other hand.
The second video is a modern and funny song about borovička. The translation of the song title is I can smell the forest (Cítim vôňu lesa) and a large part of the song is sung in English so you can easily understand what this song is about.
So did you like these songs? I think the second song is especially funny. And by the way, they sing "Na zdravie!" which means "Cheers!" in the Slovak language.
Interesting fact (joke): Do you know what is Slovak nickname for borovička? The nickname is Revenge of the forest 🙂
Where to buy high-quality Borovička?
Basically, you can buy high-quality Borovička everywhere. Almost all grocery stores sell this kind of alcohol, but not always of the highest quality.
When you find some of the brands or names stated in the "Types of Borovička" section you can be sure you are buying high-quality alcohol. For example, the price for a 0,7-liter bottle of Spišská borovička is approximately 10€ (Euros).
You can find current and well-known brands in the pictures below:
You can also buy Borovička in specialty stores selling alcohol. These stores sell high-quality alcohol in most cases so you don't need to worry about buying these beverages.
It is also good to know those alcoholic beverages are sold to 18+ years old only.
Interesting fact: The cheapest types of Borovička, however, are not produced by using the Juniper distillate and contain artificial aromas only.
Conclusion
So, did you feel like trying a Borovička one day after reading this post? When you come to Slovakia, you should try this Slovak national spirit, the traditional alcoholic drink of Slovakia. It is one of the must-do things during your visit.
But as I already wrote in one of the previous sections, drink responsibly.
So in conclusion: Na zdravie! (Cheers!)
TIP: When speaking about drinking, a lot of tourists want to know if tap water is drinkable in the country they are going to visit. Find out more about everything you need to know about Slovak tap water in the article below: