As an Amazon Associate, I earn from qualifying purchases with no additional costs for you.
Drinking tap water can be a bit risky in a lot of countries. But when it comes to Slovakia, the quality of Slovak water is extremely high so drinking tap water in our country is not so rare as in other countries in the world. So can you drink tap water in Slovakia?
Drinking tap water in Slovakia is generally safe in the most common places because of the extremely high quality of Slovak water. It is advisable to pay attention to the signs near the sinks or water taps. The text "Pitná voda" means potable water and the text "Nepitná voda" means non-potable water.
By continue reading you will find more details about tap water in Slovakia like the general rules for drinking water in different common places and above all, I'll show you what the signs for potable and non-potable tap water look like. Enjoy the article!
If you want to buy Slovak gifts or useful Slovak products, you can find them by clicking here (Amazon link).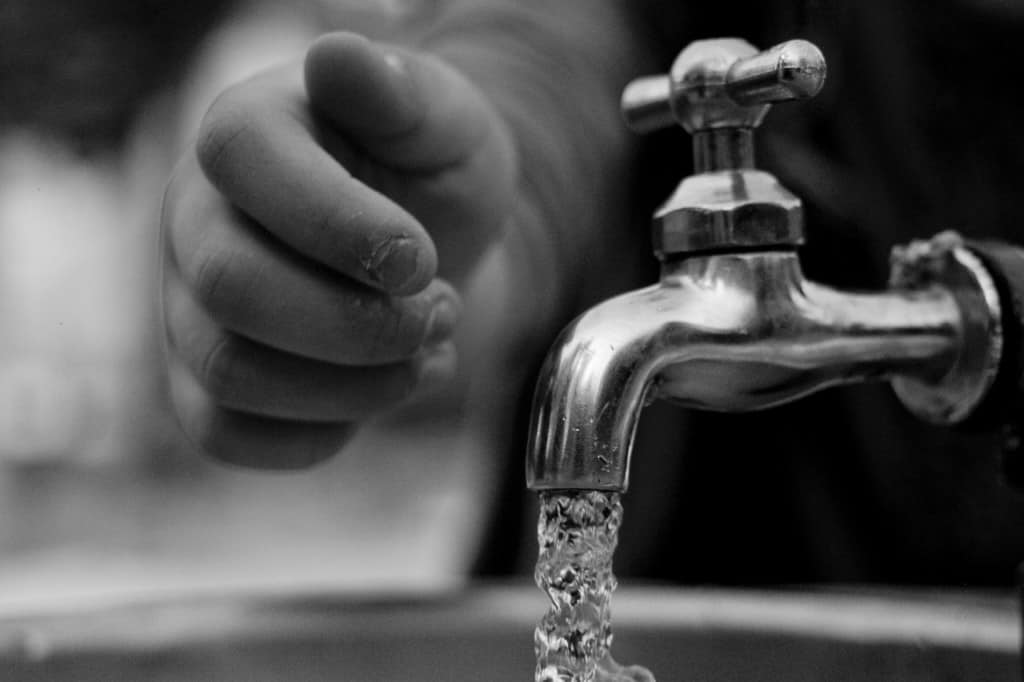 Overall Quality of Slovak Tap Water
The quality of Slovak tap water is extremely high. Why? First of all, most of it comes from the mountains and the natural sources are well-preserved and clean. Other than that:
a relatively huge amount of sources only need disinfection to make their water potable
the only possible damage to its quality can be caused by old pipes – and even that at the end of the pipe, in the consumer´s household
the pipe system is taken care of and only particular places (old edifications with an extremely circulation of people daily like student residences) might content limescale
a stabilized water (has the right calcium-carbon balance) creates an incrustation on the pipe´s surface so the water and the pipe don´t represent any serious threat to each other
due to contemporary technologies, the levels of chlorine are low and it wears out quickly on the air
When talking about possible interventions and modifications, it is worth mentioning that Slovakia has many springs, especially in the mountains, that serve well the purpose of providing potable water for the inhabitants.
That means the water from these springs only needs to be disinfected and that is all. Others undergo only minor processes of filtration and purification.
Interesting fact: The average consumption of tap water per capita is between 100-150 liters per person daily, which puts Slovakia only in the middle of the list when it comes to European countries.
Where is Safe to Drink Tap Water in Slovakia?
Tap water in most common places in Slovakia is potable. But it is always good to be safe so you can find general rules for the drinking tap water in most common places in Slovakia in the table below.
But first of all, you need to understand and know the Slovak signs for potable and non-potable water. So here they are (with the translation of Slovak words):
Pitná voda
=
Potable water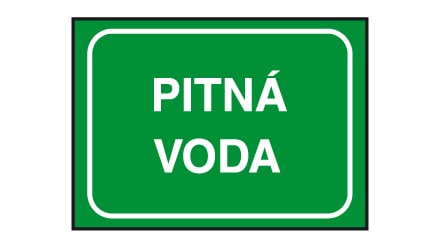 Nepitná voda (Voda nie je pitná)
=
Non-potable water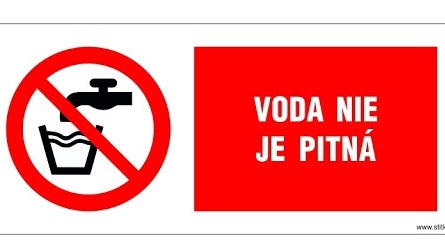 These two signs are crucial. Some signs may be a little different, but in principle, they will all be similar to the signs you see above.
And most importantly, the text will always be the same. Now take a look at the general rules for tap water in the most common Slovak places:
| Place / Location | Is tap water safe? |
| --- | --- |
| Households | Most households have potable tap water. For sure, it is always better to ask the owner. |
| Room in Hotels | Watch for the signs next to the sink or water tap in the bathroom. When there is no sign it means the water is potable. Almost all of the hotels should have potable water in the rooms or their bathrooms. |
| Room in Hostels | Same rules as for hotels. What the signs first, when you do not see any signs – ask the owner or receptionist. |
| Restaurants | You can always ask the waiter for the tap water and you should get it for free (or at a very low price). Tap water on toilets in restaurants should be potable (always look for the sign). |
| Public toilets | It is not recommended to drink tap water in public toilets. But it does not mean it can't be potable water. You should find a sign of whether the water is potable or not on public toilets. |
| Toilets on Gas stations | The same situation as for public toilets. It is not recommended to drink tap water on toilets on gas stations but this tap water can be potable. |
| Natural springs | If the spring is drinkable, you will often find cups or some modified surroundings of the spring. Water in a lot of the natural springs in the mountains is potable. |
| Rivers | The water in the rivers is NOT potable and it is not allowed to drink water from any river in Slovakia. |
| Lakes | The same situation as for rivers. The water in lakes is NOT potable and it is not allowed to drink water from any lake in Slovakia (not even in the High Tatras) |
Where is Safe to Drink Tap Water in Slovakia?
By reading this table you should be able to know where drinking tap water is safe and where it is not safe. So I hope it helps you during your visit to Slovakia. Because if you want to enjoy your stay in Slovakia, the most important thing is to stay safe.
Even though Slovakia´s water is in excellent condition, today´s lifestyle and the fact surface water is easily polluted make it impossible to use Slovak rivers and lakes as an everyday source of drinking water.
TIP: Check out my list of recommended Slovak products. They are perfect as gifts, or you will use them during your visit to Slovakia (Amazon links)
What Makes Slovak Tap Water so High Quality?
Independently of whether the original water is only disinfected, filtrated, or undergoes technological interventions, a quality tap water:
comes from a good source
has low levels of Ferrum and Mangan
has low levels of nitrates
has only a moderate amount of chlorine
is brought to households through good quality pipes, cleaned and not too old
it has undergone disinfection – that´s the minimal requirement
Slovak tap water has all these symptoms controlled and often even comes from such pure sources that it only needs to be disinfected.
Nevertheless, it needs to be mentioned that tap water, even though having been boiled, is not suitable for babies – and that goes for all around the world (it is suitable only after boiling). There are only a few areas in which tap water can be used for nursed babies, even in Slovakia.
That brings us to eighty-six percent of Slovak households having access to clean tap water. Most Slovakians consider it automatic to simply turn on the tap and treat themselves with water whose quality they can rely on.
Tap water in Slovakia maintains a very high level of quality, actually one of the best around the world.
What does it come from? Mountains are home to many water sources and Slovakia proud itself of its mountainous character. Here are some useful facts:
when saying "mountain water", we need to keep in mind that "groundwater" is what we are talking about, since it provides 80 percent of Slovakia´s water reserves
while in most countries, the term "groundwater" refers only to sources that can create a coherent water surface, in Slovakia, "groundwater" refers to any water found other than on the surface in the country´s ground areas, it means terrain or geest, too
the 20 percent of the water that comes from the surface, is concentrated in dams or are subducted straight from the rivers.
TIP: A large part of the underground water supply in Slovakia is formed by thermal or healing springs. A large number of spas and water parks have sprung up in the vicinity of the thermal springs. Read about the best of them in the article below:
12 Best Slovak Thermal Parks, Baths & Natural Hot Springs
The Sources of Tap Water in Slovakia
The biggest groundwater reservoir of potable water in Slovakia is Žitný ostrov, in the south of the country. It is the largest river island in Europe and it is a reliable source of water of excellent quality, actually the biggest one in Central Europe.
it contains 10 billions cubic meters of water
southern Slovakia is mostly agricultural, hence the almost non-existing industrial pollution
fertilizers do affect the water, but not in a significant way
most rivers in the country flow toward the south and contribute to the reservoir with their water
the same fact, however, means a higher concentration of nitrates
The Most Important Reservoirs Dams in Slovakia
Most surface water in the country comes from reservoirs filled with mountain water. Most of these reservoirs were built during the 1960s as part of the industrialization of the country.
People were moving to towns where freshwater was impossible to find and the growing industry required freshwater sources to be led to dams at the population´s disposal.
Starina reservoir
The biggest reservoir is Starina, located on the Cirocha river. It lies in the biospheric natural reserve Bukovské vrchy, protected by UNESCO and situated in Východné Karpaty.
It was built in 1983-1988 and serves for providing the eastern regions of the country with potable water. 
It spreads onto 320 ha (approx. 790 acres)
The dam´s barrier is 50metrs high
The volume of water comes to 60 million cubic meters
The volume of the outflow is 1,300l of water per a second
For its construction, the inhabitants of seven villages had to leave their homesň
Bukovec reservoirs
The Ida river is home to not one, but two reservoir dams. They serve mostly for Košice inhabitants and were built for a particular purpose: Košice´s metalworks brought in many new people and easily accessible potable water was the main condition as much of securing the living standard of the thousand of its workers, but of the construction itself.
Bukovec´s volume is 1,7 million cubic meters of water and was built in 1964-1966.
Bukovec II contains 21, 4 million cubic meters of water, and its construction dates back to 1968-1976. 
They are both located near the Bukovec village near Košice.
Turček reservoir
One of the youngest dams is the Turček reservoir in Štiavnicke vrchy in Central Slovakia. The region is famous for its mining, and a water pipe was built here already in the 15th century to provide water for the mining processes and smelteries.
Local industry has been using its water ever since and in 1992, a reservoir was built here to provide more potable water for the region.
Other notable reservoirs that provide potable water
Hriňová dam on the Slatina river provides potable water for Central Slovakia. It was built in 1960-1965 and contains 7,5 million cubic meters of water.
Klenovec on the Rimava river dates back to 1968-1974 and contains 6,9 cubic meters of water.
Interesting fact: Despite the extraordinary amounts of clean water, to protect it, Slovakia doesn´t export it. Theoretically, the water from Slovakia could serve to tap a whole other country, if not several, but climate change is endangering also Slovak sources, and dry summers are no exception here, either.
TIP: Speaking about mountain water and water reserves in Slovakia, do you know what the most beautiful lakes are? Check out the article below and take a look at the most beautiful lakes (and glacial lakes) in Slovakia:
13 Best and Most Beautiful Lakes in Slovakia You Must Visit
Conclusion – So Is Slovak Tap Water Safe?
To sum up, Slovak tap water is in great condition. It can be drunk by people with cardiovascular diseases or those who suffer from kidney problems.
Bottled water often comes from the tap as well, so when choosing between pouring yourself a glass of water straight from the tap and opening a new plastic bottle, the choice is clear. The first one is way more natural.