As an Amazon Associate, I earn from qualifying purchases with no additional costs for you.
Our little big country offers lots of traditional and tasty dishes for everyone to enjoy. Slovaks have a long history with the food they make, and it is something where everyone can find their favorite meal.
Traditional Slovak meals mostly consist of dumplings, potatoes, cheese, and beef or sausage. Slovakia's signature National Dish is Bryndzové halušky (Potato dumplings with bryndza – a sheep's-milk cheese). Our little big country has lots of meals you can try such as fried cheese, pierogi, segedin goulashes and more! The most common food in Slovakia is probably either traditional chicken soup or segedin goulash. 
Read more about Slovak gastronomy, what foods Slovakia offers and about Slovak traditional dishes and the most common food you can enjoy in the country.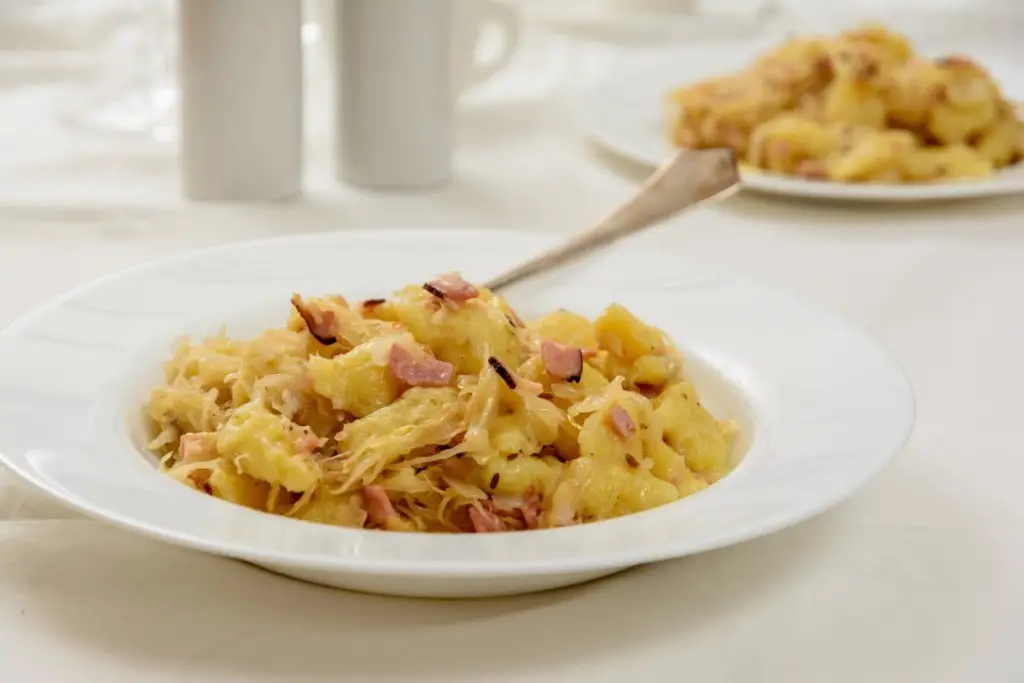 If you want to buy Slovak gifts or useful Slovak products, you can find them by clicking here (Amazon link).
What is the Traditional Food in Slovakia?
Slovak cuisine varies slightly from region to region across the country. It was influenced by the traditional cuisine of its neighbors and it influenced them as well.
The origins of traditional Slovak cuisine can be traced to times when the majority of the population lived self-sufficiently in villages, with very limited food imports and exports and with no modern means of food preservation or processing.
This gave rise to a cuisine heavily dependent on several staple foods that could stand the hot summers and cold winters.
These included wheat, potatoes, milk and milk products, pork meat, sauerkraut, and onion. To a lesser degree beef, poultry, lamb and goat, eggs, a few other local vegetables, fruit, and wild mushrooms were traditionally eaten.
All these were usually produced and processed by families themselves with some local trade at the country markets. Wheat was ground, and bread, dumplings, and noodles were made from it.
Potatoes were mostly boiled or processed into potato dough. Milk was processed into a wide range of products such as butter, cream, sour cream, buttermilk, various types of cheese, etc.
Typical pork products include sausages, smoked bacon, and lard. Spices were not widely used, and animal fats and butter were used instead of cooking oils.
Main beverages included fresh and sour milk and beer. Contemporary Slovak cuisine is widely influenced by various world cuisines and uses many different ingredients, spices, and industrially processed foods.
| Slovak Name | English Translation (Explanation) |
| --- | --- |
| Bryndzové halušky | Potato dumplings with bryndza (sheep's-milk cheese) |
| Strapačky | Dumplings with stewed sauerkraut |
| Lokše | Potato pancakes baked directly on the stove |
| Bryndzové pirohy | Pierogi with bryndza |
| Zemiakové placky | Potato pancakes fried in oil |
| Granadír | Fried leftover pasta and cooked potato |
| Segedínsky guláš | Segedin goulash |
| Rezeň | Schnitzel |
| Vyprážaný syr | Fried cheese |
| Kapustnica | Soup made of sauerkraut with mushrooms, meat, and sausage |
Traditional Slovak Dishes with English Explanation
TIP: Wondering what traditional breakfast Slovaks eat? Traditional Slovak breakfast was one of the most hearty meals of the day. Find out more in the article below:
What are Traditional Slovak Breakfast? 5 Typical Breakfasts
What is the National Dish of Slovakia?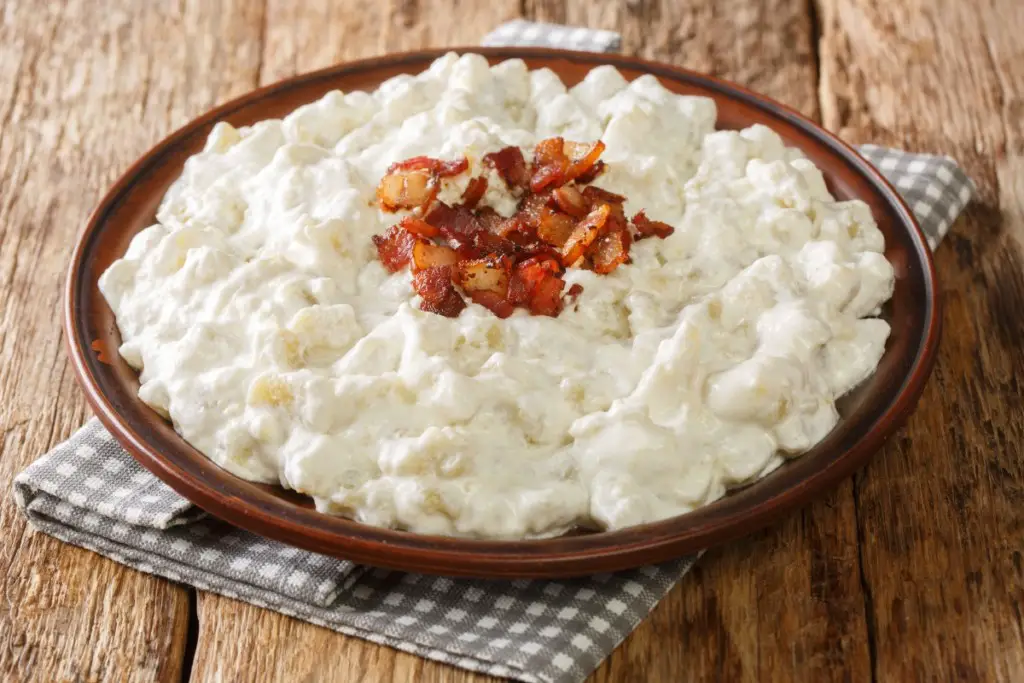 Slovakia is known for its use of dumplings, potatoes, meat, cheese, and sauerkraut in its meals. Such as in Strapačky, Lokše or Pierogi. So it should come as no surprise that Slovakia's national dish also contains potato dumplings. But what makes it so special, is its signature ingredient, bryndza.
Slovakia's national dish is called Bryndzove Halusky. Bryndza is a type of soft cheese made from sheep's milk. It is paired with bacon and potato dumplings called Halušky.
Since most of Slovakia's early inhabitants were farmers, they developed this dish from farmed potatoes and homemade cheeses.
This dish can be found in households and Slovak restaurants. It is typically made for the Halušky Festival held in Turecká. Traditionally, a glass of sour milk or žinčica is drunk with Bryndzove Halusky.
Even though the fact that bryndzove halusky is a national dish of Slovakia, it is not liked by absolutely everyone.
Bryndza has its distinct taste that not all people like, however, it is never bad to try out new things. And you never know, maybe you will fall in love with this meal from our little big country and make it at home. 
TIP: Check out my list of recommended Slovak products. They are perfect as gifts, or you will use them during your visit to Slovakia (Amazon links)
Food to Try in Slovakia
Let's start with the classics, i.e. the most popular Slovak specialties. The first is, of course, the famous fried cheese, a slice of yellow cheese in bread crumbs coating fried on fat.
This vegetarian cutlet tastes best with fries and tartar sauce. You can also try bryndzové halušky, dumplings made by pressing potato and flour dough through a sieve and served with bryndza cheese and greaves.
Slovaks often eat soups, so if you also like two-course dinners you will be delighted. You'll find the classic tomato or potato soup here, but we recommend especially the onion and garlic soups, as well as the very dense bean soup with lots of vegetables. Caring about calories is rather pointless – almost all of them are finished with cream. 
Just like in the Polish Podhale region, on the Slovak side of the Tatra Mountains you can have a soup based on sauerkraut with potatoes and sausage, and sometimes pieces of meat. 
What is typical only for Slovakia, however, is demikát, a cream soup made of bryndza cheese. Depending on the recipe, you can also find in it pieces of potato, fried bacon, and or an egg. The whole is topped off with some chives and crunchy croutons. It is very delicious!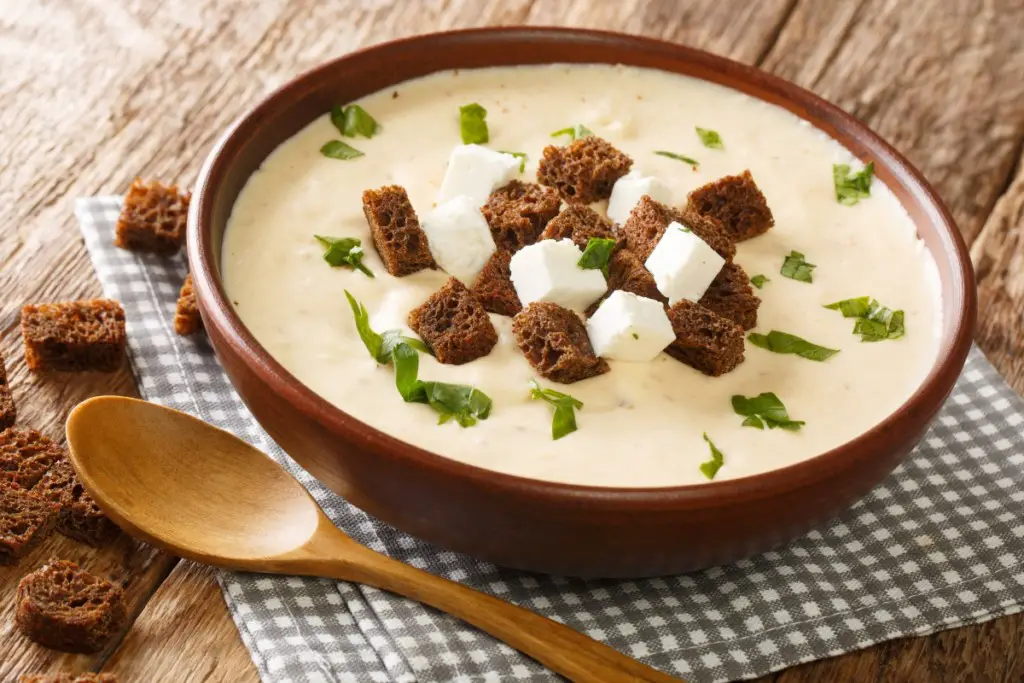 Slovaks appreciate meat of different kinds. If you want to try something original, do order duck with red cabbage, bacon-wrapped sirloins, or beef cheeks braised in wine. Try also the liver, preferably accompanied by fried onions and fruit jam – a combination that may be unusual, but is worth a try.
TIP: When you say Slovakia, not many people would associate this country with excellent wines and wine traditions. Check out the traditional Slovak wine regions and grapes in the article below:
Slovakia Wine Guide: Traditional Regions & Grape Varieties
What do Slovaks Like to Eat?
People's taste for food differs based on which region of Slovakia they live in. However, you can be sure that generally a lot of Slovaks enjoy most traditional foods, as well as many international dishes. 
Foods with dumplings, potatoes, cheese, and beef are a staple of Slovak cuisine. Same with plenty of goulash and many soups. 
You will not be surprised to find Slovaks eating dishes such as mashed potatoes with schnitzel or bryndzove halusky on basically any day of the week. One of the most prevalent soups in Slovakia is certainly traditional chicken soup. 
Slovaks also love to eat lots of dishes from their neighboring countries, or food from all over the world. Slovakia is dotted with many restaurants offering food from all of Europe, America, and Asia. So pretty much anyone can enjoy their favorite food even in our little Central European country.
What do Slovaks Eat for Lunch?
Most Slovaks eat breakfast very early and tuck into different types of Slovak bread with butter, ham, cheese, boiled or fried eggs, salami, vegetables, sausages, and either jam or honey to round the meal off. Some people prefer cereals of various choices or yogurt. 
The main meal of the day is lunch, eaten at about mid-day. Many restaurants in Slovakia offer a daily menu where there is a choice between dishes served between 11 a.m. to 2,30 in the afternoon.
A typical Slovak lunch consists of soup and the main course. The main course is usually meat, pasta or a sweet dish.
As for dinner, Slovaks will often time eat whatever they have had for lunch for dinner as well if they are eating at home. Some might prefer to visit a restaurant here and there also.
What is the Most Common Food in Slovakia?
Food in Slovakia differs between the country's regions. However, there are certain dishes and meals that you can find in any Slovak home at almost all times.
The most common dishes in Slovakia are certain things such as chicken soup, mashed potatoes with schnitzel, segedin goulashes, and more.
If you are visiting during Christmas, you will most likely encounter kapustnica, a traditional soup made out of sauerkraut with mushrooms, sausages, and meat.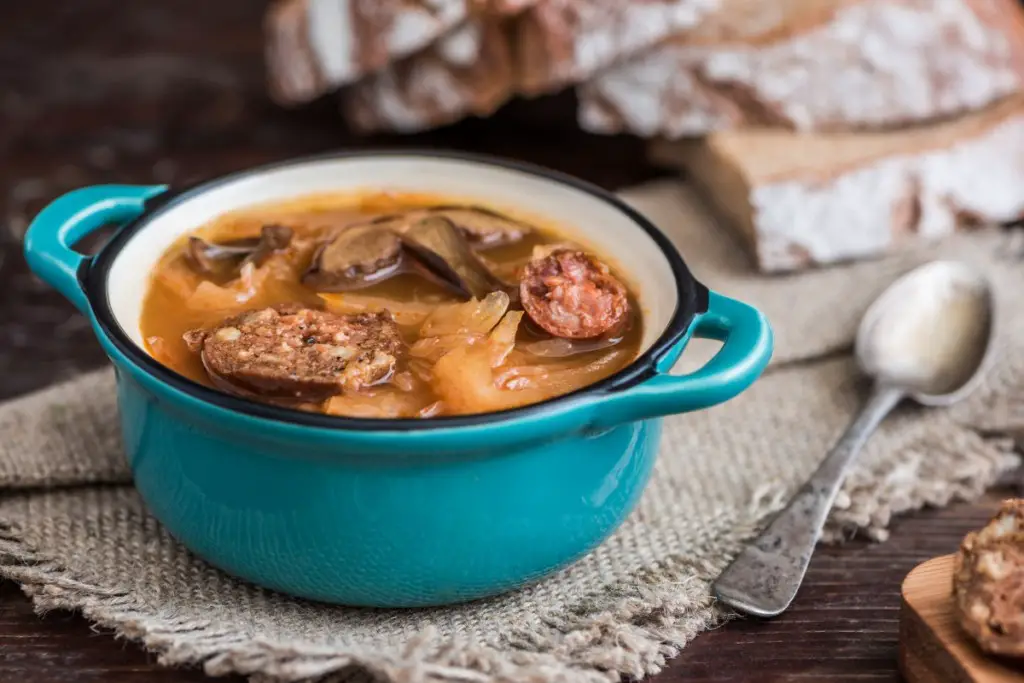 We can definitely say that Slovak food is very delicious, nutritious, and good for any season, day or weather. And we recommend you try it when you visit, as most restaurants have a wide range of traditional foods.
TIP: Kapustnica is a traditional Christmas soup in Slovakia. Do you know what are other traditional Christmas dishes and customs in Slovakia? Find out more in the article below:
How does Slovakia Celebrate Christmas? Dinner, Customs & Traditions
Best Slovak Cookbooks
As this article is aimed at Slovak cuisine, you might be asking yourself by now if there are any good Slovak cookbooks to help you prepare traditional Slovak meals in the comfort of your home. 
And the simplest answer is yes! There are quite a lot of cookbooks offering a wide range of Slovak traditional dishes, most of which are not that hard to prepare and everyone can enjoy them. We have a lot of food that you can prepare regardless of season, and all of it is very delicious.
Below we have chosen a couple of cookbooks for you to consider when trying to get into Slovak cuisine at home. These cookbooks are very well made, and offer tons and tons of recipes with detailed instructions so that you can enjoy whichever Slovak meal you want.
Book 1: The Anniversary Slovak-American Cook Book
First published in 1952 to commemorate the 60th anniversary of the First Catholic Slavic Ladies Association, The Slovak-American Cookbook (Amazon link) remains a classic collection of cultural dishes.
From savory soups, sandwiches, and salads to sweet cookies, cakes, and candies, this cookbook contains the best Slovak-American recipes that the generations have to offer. Some national favorites featured are:
Halusky
Klobasy
Strudel
Fanky
Kolace and more! 
Each recipe provides a glimpse into this fascinating culinary heritage.
In addition to an assortment of traditional, tried-and-true recipes, this cookbook also offers tips on entertaining, cooking, and maintaining your home. With help from The Slovak-American Cookbook, you can bring the Slovak culinary tradition to your table.
If you are interested in this book, you can buy it on Amazon here.
Book 2: Czech & Slovak Food & Cooking
The Czech Republic and Slovakia are noted for their hearty, wholesome meals. The food staples are provided principally by farmland and include milk, cheese, livestock, wheat, fruit, and root vegetables.
Featuring over 340 photographs that show both practical steps and beautiful final dishes, along with complete nutritional information for every recipe. This is an evocative and inspiring guide to a heart-warming and traditional way of cooking.
We recommend this particular cookbook thanks to its very detailed descriptions, offering a lot of recipes for delicious meals you can enjoy yourself or with your family.
If you are interested in this book, you can buy it on Amazon here.
TIP: The production of various kinds of spirits is very popular in Slovakia and has a long tradition here. Do you know what is national Slovak drink? Find out more in the article below:
What is the National Slovak Spirit? Borovička, cheers!
Conclusion
Traditional Slovak meals mostly consist of dumplings, potatoes, cheese, and beef or sausage. 
Slovakia's signature National Dish is Bryndzové halušky (Potato dumplings with bryndza – a sheep's-milk cheese). Our little big country has lots of meals you can try such as fried cheese, pierogi, segedin goulashes and more!
If you visit Slovakia during Christmas, you can also try our traditional soup – Kapustnica. Made out of sauerkraut, mushrooms, and sausages. It is a very delicious Christmas dinner meal that Is part of the tradition in our little big country. 
The most common food in Slovakia is probably either traditional chicken soup or segedin goulash. Most Slovak dishes are easy and quite cheap to make.
This means that anyone can try them out even in the comfort of their home. We have two really great suggestions for Slovak Cookbooks, which have tons of recipes for traditional meals.
TIP: Taking a good relaxation after great traditional Slovak food is a good choice and thermal springs are probably the biggest treasure Slovakia has. Find out the best thermal parks and natural springs in Slovakia in the article below:
12 Best Slovak Thermal Parks, Baths & Natural Hot Springs