As an Amazon Associate, I earn from qualifying purchases with no additional costs for you.
Christmas, the largest and most beautiful Christian holiday of the year, is celebrated in many countries around the world, and this is no different in Slovakia. But do you know how Slovakia celebrates Christmas and when?
Slovaks celebrate Christmas from the evening of December 24, when Christmas Eve dinner is served and Christmas gifts are opened after dinner. At midnight, Slovaks take part in the Christmas Eve Midnight Mass. The celebration of Christmas continues on December 25 with the Feast of the Nativity Jesus.
Slovak Christmas is full of customs and traditions, which are very nice and interesting. In this post, I will describe them all in detail so that you will know everything about Slovak Christmas after reading this post. So let's start!
If you want to buy Slovak gifts or useful Slovak products, you can find them by clicking here (Amazon link).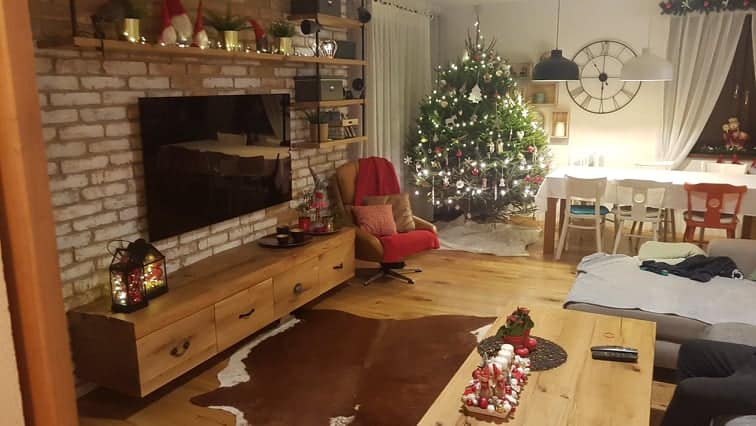 When do Slovakians celebrate Christmas?
In Slovakia, Christmas itself begins to be celebrated on December 24 and continues until December 26. The individual days of the Christmas period are called:
December 24 – Christmas Eve
December 25 – Christmas Day, the feast of the Nativity of the Lord Jesus
December 26 – Boxing Day, Feast of St. Stephen
These three days are non-working days and in Slovakia, it is common for people to take leave from work for the period from Christmas Day to New Year's Eve.
However, the whole Christmas period in Slovakia is not only about these three days and takes much longer. Four weeks before Christmas took place an Advent, the time for Christmas preparation. And Christmas period ends on the Feast of Biblical Magi, on January 6.
So let's look at how Slovaks celebrate Christmas.
How do Slovakians celebrate Christmas?
In Slovakia, we are preparing for Christmas, the feast of the birth of Jesus Christ, four weeks in advance.
During this period called Advent, which carries within us the message of anticipation of the arrival of little Jesus, people go to church, buy or prepare gifts for their loved ones or decorate their homes with Christmas decorations.
Advent
Advent is the period of four weeks before Christmas, during which people prepare physically and spiritually for the Christmas Holidays.
In the past, this period in Slovakia was associated mainly with the spiritual preparation for the joyous celebration of the Nativity of the Lord. Today, however, Advent is used more commercially and is full of Christmas rush, and therefore it cannot be spoken of as a period of calm.
In Slovakia, Advent is mainly associated with two traditional customs.
Advent wreath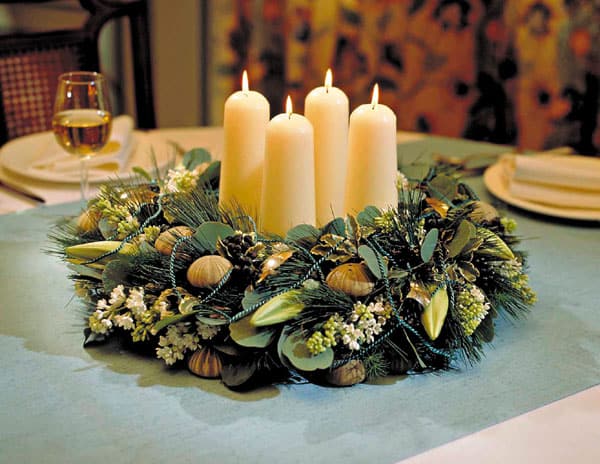 In almost every family, an Advent wreath containing 4 candles is made or bought for this period. During Advent, families have this Advent wreath on the dining table or on the door of the house. One candle is lit every Advent Sunday until Christmas when all four candles are burning on the Advent wreath.
Advent calendar
During Advent, children open the Advent calendar every day, which they usually received from their parents or grandparents. The Advent calendar contains 24 windows with some small sweets (mostly chocolate).
The children then open one window every day from December 1 until Christmas, when they open the last window on Christmas Day. This custom is still very popular in Slovakia.
Slovak Christmas Eve: Customs, Traditions, and Dinner
Christmas Eve in Slovakia is full of folk customs and traditions that Slovaks have observed for many centuries. It is nice that even today most of them are still observed and are an integral part of Slovak culture.
Individual customs and traditions differ in different regions of Slovakia, so I will describe to you the most important folk customs and traditions from each region.
Christmas Tree decoration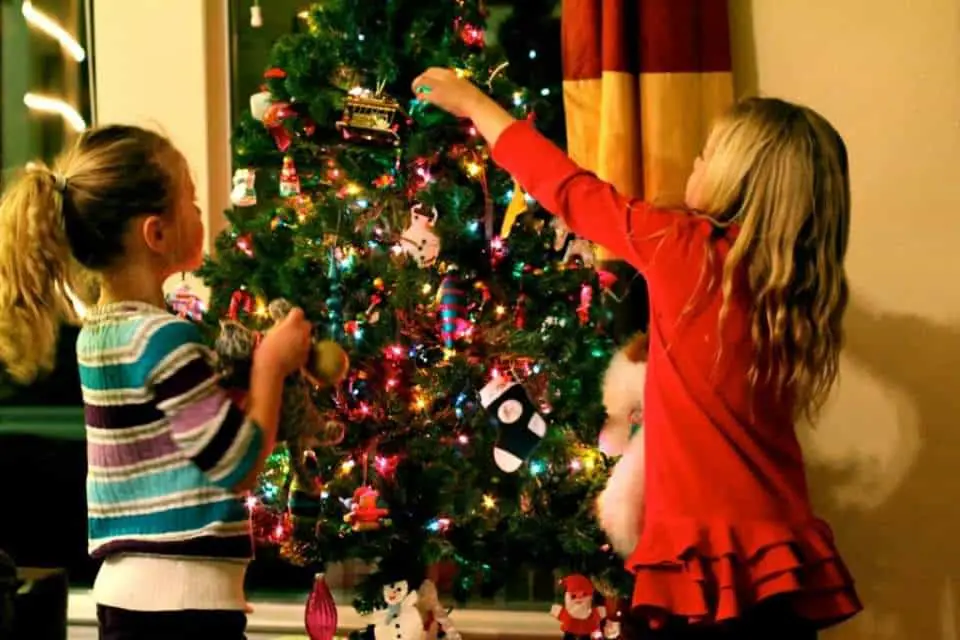 The Christmas tree is one of the symbols of Christmas in Slovakia. You can find it in almost every Slovak family.
And not only there, but also in various public buildings and squares of Slovak towns and villages. It is usually decorated on Christmas Eve, or on the night before Christmas Eve.
Young children in Slovakia believe that The Infant Jesus brings a Christmas tree to their homes the night before Christmas.
Therefore, the parents of these children decorate the Christmas trees in secret and bring them to the house or apartment in the morning before the children wake up. The joy of children finding a Christmas tree is incredible 🙂
When there are older children in the family, they decorate the tree themselves or help their parents decorate it during Christmas Eve.
Peace Light of Bethlehem
An important part of Christmas for many people in Slovakia is the tradition of the Peace Light of Bethlehem, which has been spread in our country since 1990 by Slovak scouts. The message of the Peace Light of Bethlehem is to bring a bit of Bethlehem, human unity, and friendship to families.
Even today, every year, Slovak scouts bring the consecrated Peace Light of Bethlehem directly from Bethlehem to Slovakia.
On Christmas Eve, people in Slovakia usually go to church for this Light and bring it to their homes as a symbol of peace and human unity.
They also share this light with other people in the neighborhood, especially the elderly, who are not able to bring the Light home themselves.
Christmas Eve Dinner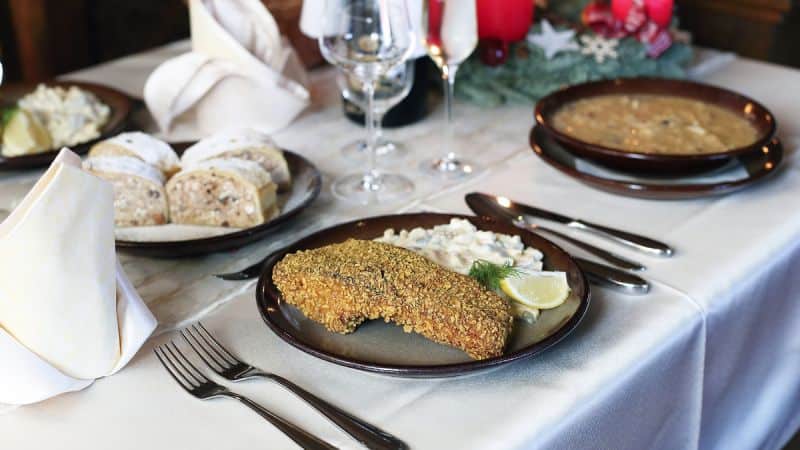 Mainly in the past, people fasted during the whole Christmas Eve, and this fast ended with the rising of the first star. The children were told that if they endured eating nothing until dinner, they would see a gold star or a gold piglet.
Christmas Eve includes many folk customs, many of which are still observed today. These Christmas Eve customs differ across individual regions of Slovakia. Below I will describe the most famous customs from individual parts of Slovakia.
In all regions of Slovakia, it is a common custom for the family to stand before Christmas dinner and pray together.
The Christmas dinner consists of several courses and varies across individual Slovak regions. The only identical dish for the whole of Slovakia is homemade Christmas waffles. They are eaten mainly with honey. Other dishes vary but are often quite similar.
TIP: Check out my list of recommended Slovak products. They are perfect as gifts, or you will use them during your visit to Slovakia (Amazon links)
Christmas Food, Customs, and Traditions of Western Slovakia
As you already know, the first dish of Christmas dinner is Christmas waffles and this dish is followed by sweet poppy seed-based bread dessert so-called Pupáky.
Christmas soups are a specialty of western Slovakia. On almost every table you will find a different soup – sauerkraut soup, different kinds of teat soups or halászlé, which is popular especially in southern Slovakia.
The main course of the Christmas dinner is fish and potato salad. Carp is the traditional and most common Christmas fish in Slovakia. But salmon has also become popular in recent years.
In western Slovakia, honeycombs cannot be missing from the Christmas table either. Also other cakes, especially the one so-called Štedrák, which is baked only at Christmas and is full of walnuts, poppy seeds, and plum jam.
The most common Christmas Eve traditions of Western Slovakia are:
Slicing an apple. If the nucleus is star-shaped, the family will be healthy all year round.
Carp scales are placed under the tablecloth of the Christmas table, or money directly, so that the family has enough money throughout the year.
During Christmas Eve candles are lit as a symbol of Christmas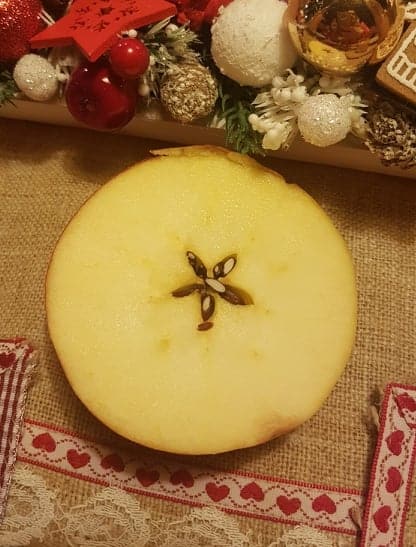 Christmas Food, Customs, and Traditions of Central Slovakia
In central Slovakia, a slice of garlic for health is consumed after Christmas wafers. Eating garlic is followed as in western Slovakia by sweet poppy seed-based bread dessert.
The next Christmas course is sauerkraut soup. Pork cutlets or even roast goose with potato salad are served as the main course in this Slovak region.
Of course, fried carp can be also the main course of Christmas dinner in Central Slovakia. The final course is fruit and traditional Christmas cakes.
The most common Christmas Eve traditions of Central Slovakia are:
The father of the family makes a Cross with honey on the forehead of all family members before dinner.
An apple is cut at the Christmas table for good luck, which is then cut for everyone at the table.
Christmas Dinner is completely in the dark, only one candle is lit at the table.
Christmas Food, Customs, and Traditions of Northern Slovakia
After the Christmas wafers, in northern Slovakia, either pea soup with plums or sauerkraut soup is served, which is also served with mashed potatoes in this part of Slovakia.
This course is often followed by another soup, this time a mushroom milk soup with smoked knee or sausage. The main course is, as in other parts of Slovakia, fried fish and potato salad.
The most common Christmas Eve traditions of Northen Slovakia are:
Families from the Kysuce region (northern Slovakia) leave the lights on in all rooms.
Blowing out the candle – when the smoke from a candle rises straight up, the person will be healthy all year round. However, if the smoke rises crookedly or sideways, it is possible to fear health problems.
Christmas Food, Customs, and Traditions of Eastern Slovakia
Of all corners of Slovakia, the east of the country is the most devoted to traditions.
As part of the first course, in addition to Christmas wafers, a piece of bread with salt is also consumed. Then, as in western Slovakia, sweet poppy seed-based bread dessert comes to the table, which is called Bobaľky in this region.
Sauerkraut soup is mainly served as a soup, to which rice is added and consumed with traditional Pirohy (pasty). The main course is either traditional fried fish with potato salad and Pirohy with lentil or bean sauce.
Interesting fact: In eastern Slovakia lives a national minority of Ruthenians who are Orthodox. These inhabitants of Slovakia celebrate Christmas on January 6, according to Orthodox custom.
The most common Christmas Eve traditions of Eastern Slovakia are:
Before dinner, everyone washes the hands in water with coins to keep them healthy and rich for the next year
On the Christmas Eve table, there is one extra plate, which is prepared for those who could not attend this dinner or travelers.
A chain is tied around the table to keep the family together for a whole year.
Christmas gifts
First of all, you should know that The Infant Jesus brings Christmas gifts to Slovak children. No Santa Claus, no Ded Moroz.
Christmas gifts are distributed in Slovakia after the Christmas Eve dinner. In some families, it is customary for gifts to be stored under the Christmas tree since morning. In other families, gifts are brought under the Christmas tree only after Christmas dinner.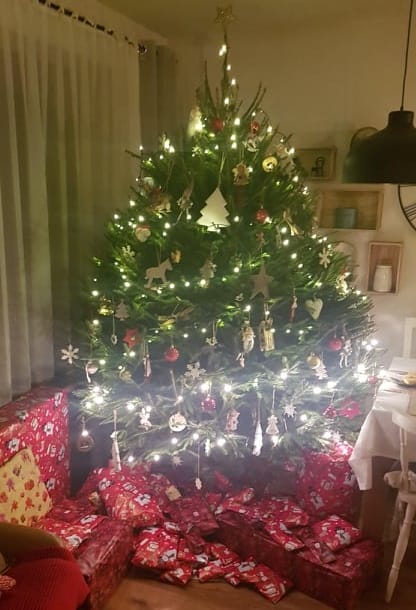 Unwrapping the gift is then mostly directed by children, for whom this moment was the most beautiful moment of the whole year, especially in the past. In Slovakia, it is customary to sing Christmas carols while unwrapping a gift.
And what are the traditional Christmas gifts in Slovakia?
At present, almost everything can be found under the Christmas tree in Slovakia. From electronics to clothes or various toys for children. You could say that there are often more gifts than needed.
In the past, however, Christmas presents were more modest. People were presented mainly with small things or some useful things they needed at home or for work.
Of course, children used to receive toys or books under the Christmas tree in the past, but there were far fewer of them than now.
Slovak Christmas movies
You may be surprised, but in Slovakia, the same fairytale is broadcast on TV every Christmas Eve. Yes, the same fairytale every year. It's called Tri oriešky pre popolušku (in English: Three Gifts for Cinderella) and was filmed in 1973 in Czechoslovakia (by Czech and German actors).
The story is based on a short story by the important Czech writer Božena Nemcová. This Christmas fairytale is popular among all age categories of Slovaks.
Another classic Christmas movie is the movie Pelíšky (in English: Cozy Dens). It is one of the most popular movies made in the Czech Republic after the fall of communism in 1989.
This film was filmed in 1999 by director Jan Hřebejk. Pelíšky is a bittersweet coming-of-age story set in the months from Christmas 1967 leading up to the ill-fated 1968 Prague Spring. A lot of catchphrases from this movie have become legendary and everyone in Slovakia knows them.
Interesting fact: The Christmas fairytale Tri oriešky pre popolušku is still popular not only in Slovakia but also in other European countries. Every year at Christmas, it is broadcast on television in the Czech Republic, Germany, Austria, Switzerland, Spain, and Norway.
Christmas Eve Midnight Mass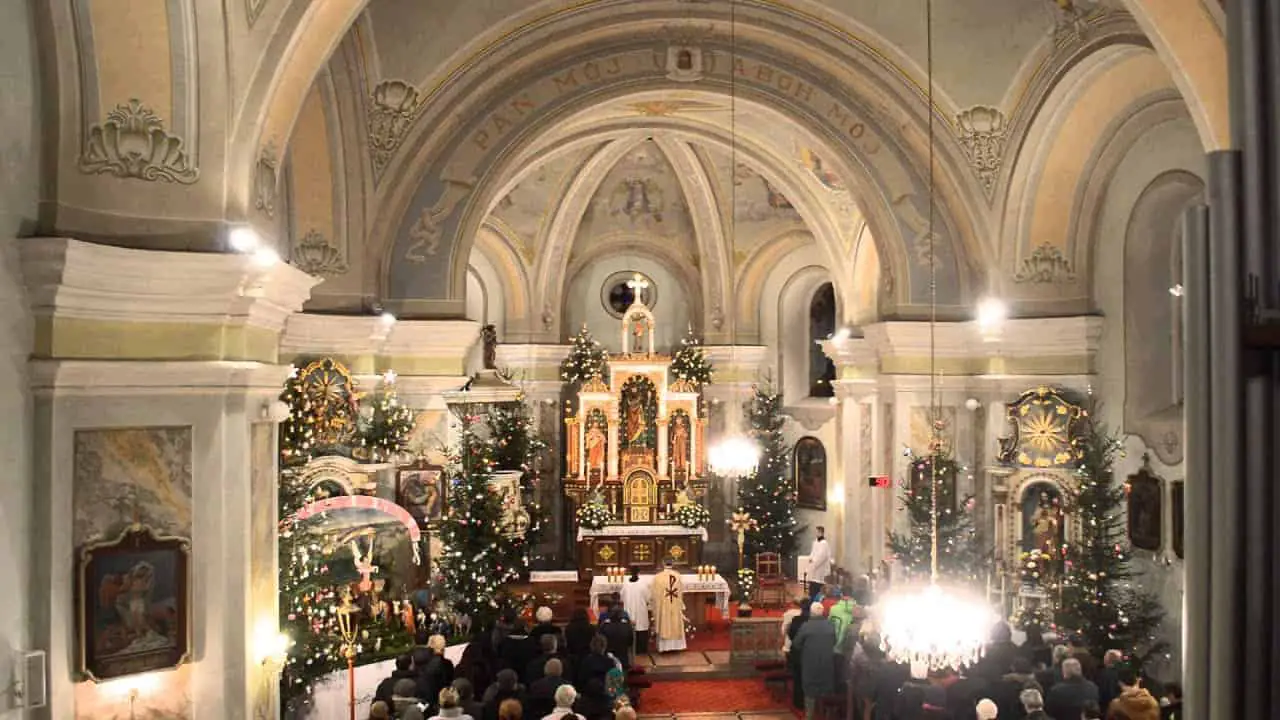 The last Christmas Eve custom in Slovakia is to attend the Christmas Midnight Mass.
This Mass has been a tradition in Slovakia for many centuries and it is a celebration of the birth of Jesus Christ. In the past, the whole village met at this Mass and it was an important social event.
At present, not as many people take part in the Christmas Midnight Mass as in the past. However, it is common for not only Christians to attend this Mass, but also people who do not normally go to church or are not of the Christian faith.
At the end of this Mass, tradition tends to turn off the light in the church and sing a song Tichá noc (in English: Silent Night) only when the Christmas tree is lit.
I personally recommend everyone to experience the festive and spiritual atmosphere of the Christmas Midnight Mass, even if you are not Christian.
Christmas Day and Boxing Day
As I already wrote at the beginning of this post, after Christmas Eve, the Christmas holidays in Slovakia continue with Christmas Day and Boxing Day.
On December 25 and December 26, families often stay together, go to church, or visit their relatives and friends. As Slovakia is a small country, it often happens that people travel to their relatives from one end of Slovakia to the other. During these days, the neighbors wish each other a Merry Christmas.
By the way, do you know how to say Happy and Merry Christmas in Slovak?
Merry Christmas in Slovak is: Šťastné a veselé Vianoce! 🙂
Conclusion
Christmas holidays in Slovakia are among the most traditional and beautiful times of the year in the life of Slovaks. It is a holiday of joy, peace, spiritual experiences, and moments together with the family.
I hope that Christmas is and will always be more about intangible values than about gifts and the Christmas rush for all of us. It is a short time of year when we should find time for our loved ones and inner silence and peace.
TIP: Christmas markets are also an integral part of the Christmas holidays. I wrote two posts about the best Christmas markets in Slovakia and Bratislava. You can read them here:
Best Christmas Markets in Slovakia
Best Christmas Markets in Bratislava
Let me know in the comment section below how do you like the Slovak Christmas customs and traditions and what are the customs and traditions in your country. I am looking forward to your experiences.