As an Amazon Associate, I earn from qualifying purchases with no additional costs for you.
This article focuses on the Spis Castle in Slovakia. It provides basic information about it's history, facts and opening hours with prices for those who want to visit it.
Spis Castle was built in the 12th century in Eastern Slovakia. It's situated above the town of Spišské Podhradie. It was originally owned by the kings of Hungary. It's open from May to November every year. Entry price is 8€ for Adults, 6€ for students (age 16-26) and 4€ for kids (age 6-15).
Read more for a comprehensive history of the castle and its surrounding areas as well as facts and tips on how to get to the castle itself and the prices for entry.
If you are interested in buying perfect Slovak gifts or useful Slovak products you can find them by clicking here (Amazon link).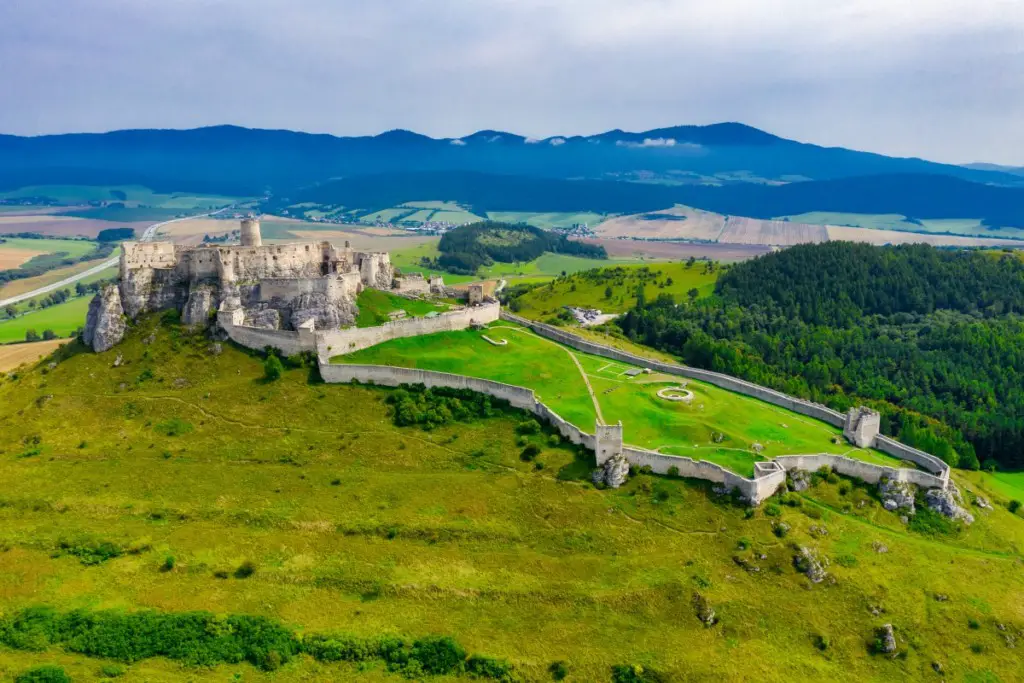 History of Spis Castle
Archeological studies have proven that the castle has been here since the 12th century, as it was first mentioned in a document from the year 1214.
The castle was situated in a strategically important place where it protected a major trade route. It was owned by Hungarian kings, then 3 bourgeois families and finally it became a property of Slovakia.
Where is the Spis Castle?
The castle is situated above the town of Spisske Podhradie and near the village of Zehra, in the region known as Spis in Eastern Slovakia.
This region was known as Szepes County in the Kingdom of Hungary. It's also the origin of the castle's name. 
When was the Spis Castle built?
The castle itself was built around the end of the 12th century and maintained by the Kingdom of Hungary. It was used for over 500 years, changing it's ownership to many different monarch families.
Originally owned by the Hungarian kings, the castle was given as a gift to the Zápolya family in 1465 for their battle achievements and loyalty to the king Matthias Corvinus. They ruled over the castle until the 17th century, where after many disputes over it's ownership, it was given to the Thurzó family.
Not even a century later, by the order of the king, the castle's ownership was finally given to the Csáky family. The castle under their rule had many renovations and additional construction which ended in 1780 when a major part of it caught fire rendering it useless. 
What was the Spis Castle used for?
It's purpose was to guard important trade routes as well as the state's borders. It was also the residence of the Spiš district administrator. Later monarchs extended the walls and support of the castle, thus they created large, heavily fortified barracks. 
These were strong enough to survive the incursion of Mongol Tatars in the 13th century or even rebellions against Habsburgs in the 17th and 18th century. As time passed, slowly but surely the castle lost its purpose and began to deteriorate.
TIP: Check out my list of recommended Slovak products. They are perfect as gifts or you will use them during your visit to Slovakia (Amazon links)
Interesting Facts about Spis Castle
The entire complex covers an area of 4 hectares, making it the largest medieval castle complex in Central Europe and it is also one of the largest medieval castle ruins in the world.
In the beginning, the purpose of the structure was solely for protection, then later it became the residence of Spiš district administrator. Based on multiple sources, Spiš castle supposedly is the birthplace of one of the Hungarian kings, John Zápolya.
The main part of the castle complex is a three story palace, which was built in a Romanesque style. It is the most well kept part of the structure and definitely has its charm. First archeological work started in the 1970s and visitors were only allowed in the 1980s.
It might come as a surprise that the Spiš Castle was never conquered. Largely thanks to its positioning, as the harsh terrain didn't allow for full scale attacks. Also contributing to this were the large supporting and defensive modifications made by the families who resided there.
The castle complex can also be seen in various movies, as the production of DragonHeart, Kull the Conqueror and even The Last Legion took place there.
It wouldn't really be a castle with a long history if there were no legends tied to it. Spiš Castle has a legend about Mad Hedviga. The legend goes that the wife of King Filip died after birth so he assigned his sister Hedviga to take care of his daughter, Barbora.
One day he accidentally shot the son of a Polish Lord. The lord then sneaked into the castle and kidnapped Filip's daughter. Because of that Filip punished the guards and his sister couldn't handle it and became insane.
TIP: Do you want to know more interesting facts about Slovakia? Check out facts about Slovakia by locals in the article below:
Slovakia by Locals: 21 Interesting, Weird & Unusual Facts
Spis Castle: How to get there
Depending on your place of stay in Slovakia, there are multiple ways to access the Spis Castle. The easiest one is by car, although you can get there with a mix of bus and train as well.
Bratislava to Spis Castle
If you're staying in Bratislava while visiting Slovakia there are many options to access the Spis Castle. The easiest and most efficient one is by car. The castle is located 370 kilometers from Bratislava and the trip there usually lasts around 4 hours. 
Mind you that is only one-way, so if you plan to come back it will take around 8 or so hours. So unless you plan to wake up very early, it is recommended you spend the night there in a hotel and drive back the next day.
The only other option is a mix of train and bus transportation, as there are no direct bus or train lines to it.
Starting from the Bratislava train station, you get on a train to Levoca. Once you arrive you look for a bus that goes directly into Spisske Podhradie.
This mixed trip will take on average 5 and half or 6 hours for both the trip there and back.
| Type of transport | Route & Distance | Time | Costs |
| --- | --- | --- | --- |
| Car | Bratislava –> Spisske Podhradie [364 km] | 4 hours | € 60 |
| Train & Bus | Bratislava (Train) –> Levoča (Bus) –> Spišské Podhradie  | 5+ hours | €32 (train) + €4 (Bus) |
Available transport options from Bratislava to Spis Castle as well as their time consumption and approximate cost
The average price for a train ticket (Bratislava to Levoča) is around €16. I'd strongly recommend you reserve at least €40 out of your budget for this alone, as prices can change and depend on the amount of people and their age. When it comes to the price of the bus, you are looking at around €2.
Kosice to Spis Castle
If you plan to travel to the castle from Kosice, the best bet is once again going by car. The castle itself is located only 75 kilometres from the city, and the trip will take around 45 minutes (90 minutes if you count the trip back). 
In this case, you're looking at a easy drive on D1 (E50) highway northbound from the city until you reach Spisske Podhradie. 
Other options once again include bus and train travel. Since there are no direct transportation options, you will have to go by a combination of train and a bus. 
You can take a train going from Kosice to Poprad, once you reach Krompachy, leave the train and go onto a bus going directly to Spisske Podhradie. The entire trip should take around 1 and a half hours. Which adds up to around 3 hours together with a trip back. 
The train will cost you only around €2.50, while the bus cost will be around €1.
| Type of transport | Route & Distance | Time | Costs |
| --- | --- | --- | --- |
| Car | Kosice –> Spisske Podhradie [74km] | 1.5 hours | € 20 |
| Train & Bus | Kosice –> Krompachy –> Spisske Podhradie | 3 hours | €2.50 (train) + €1 (Bus) |
Available transport options from Kosice to Spis Castle as well as their time consumption and approximate cost
TIP: Speaking about prices of transport in Slovakia, check out complete cost breakdown of visiting Slovakia in the article below:
Is Slovakia Expensive to Visit? A Locals Break It Down
Spis Castle Opening Hours & Prices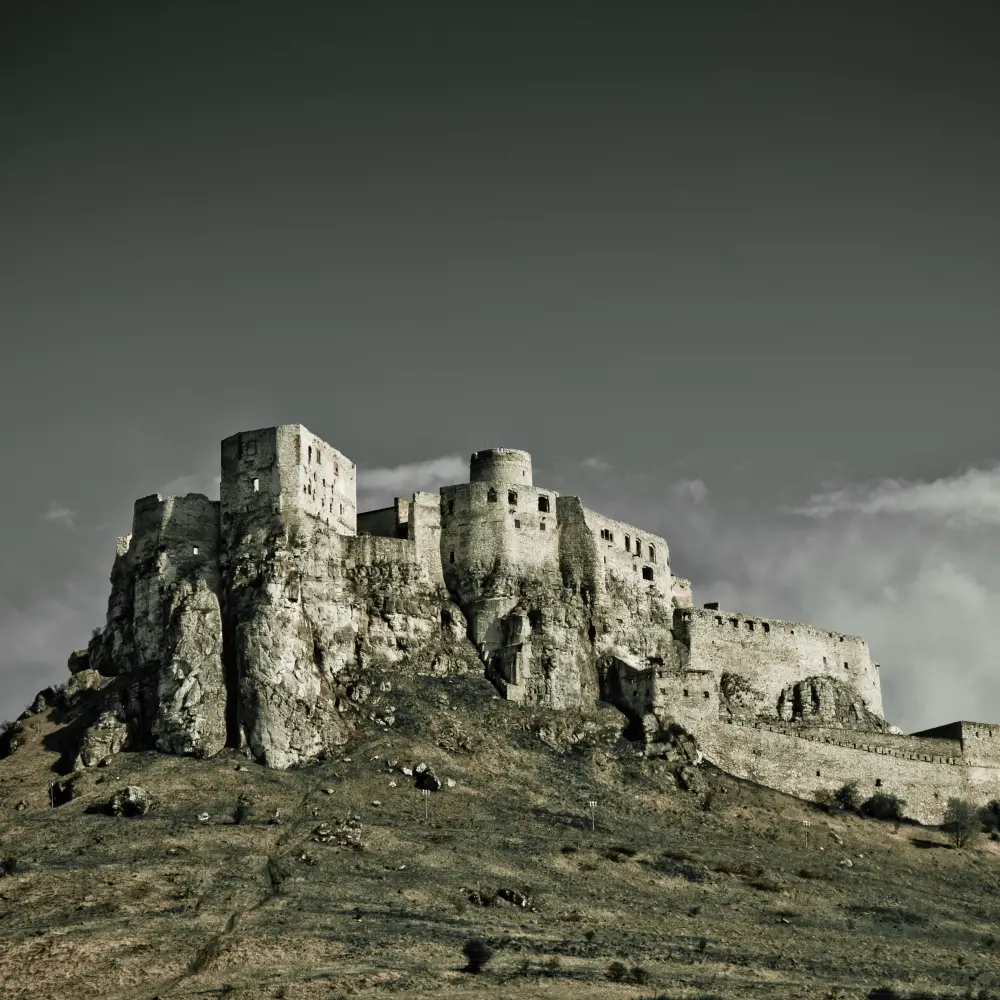 Opening hours for the Spis Castle are dependent on the time of year. It's open from May to November and closed from December to March every year.
The opening schedule is as follows:
| Month | Opening Hours | Last Allowed Entry |
| --- | --- | --- |
| May – September | 9am – 7pm | 6pm |
| October and April | 9am – 5pm | 4pm |
| November | 10am – 4pm | 3pm |
| December – March | CLOSED | CLOSED |
Spis Castle Opening Hours
There is also an option for attending nighttime tours of the castle; these are available in the summer months of July and August. These tours start at 8:30pm. 
| Nighttime tours | Beginning at |
| --- | --- |
| Every holiday Saturday (July and August) | 8:30pm |
Special nighttime tours of the Spis castle and their beginning time
Entry fee is dependent on your age as well as disability and student status. See the tables below for prices for the basic enterence fee into the Spis Castle:
| Age | Price |
| --- | --- |
| Adults (19+) | 8 € |
| Kids (6-18y) | 4 € |
| Seniors (60+) | 6 € |
| Family (max. 4 people) | 19 € |
| Kids (0-6y) | FREE |
Entry fees for the Spis Castle
If you want to visit castle tower, you need to pay additional fee for this enterence. This fee is not expensive and you will have a really great view of castle surroundings and if you will be lucky, you can even see High Tatras mountains.
| Castle Tower | Entry fee |
| --- | --- |
| Anyone (7-80y)  | € 1 |
| Kids (0-6y) | FREE |
Entry fee for the Spis castle tower
Spis castle offers night tours too. They are especially suitable for people who like more excitement and want to see the castle ghosts 🙂
| Night Tours | Price |
| --- | --- |
| Basic entry fee | € 10 |
| Kids (6y+) | € 8 |
| Seniors (60-80y) | € 8 |
| Family (max. 4 people) | € 25 |
| Kids (0-6y)  | FREE |
Entry fee for night Spis castle tours
Conclusion
The Spis Castle, located near the village of Zehra in eastern Slovakia has a broad and long history spanning back to 12th century. It's historical significance has been well recognized by UNESCO as well as other sources.
The castle itself was built primarily as a guarding post for one of the main trade routes in the Kingdom of Hungary. Owned by Hungarian kings and later by the Zapolya, Thurzó and Csáky families. Later, it became a property of Czechoslovakia and after the splitting of the nation, it was turned in to the ownership of Slovakia.
You can access the castle from May to November, usually from 9am till 5pm. As well as this, there are also special nighttime tours available. You can enjoy them in the months of July and August, specifically every Saturday in these months starting at 8:30pm. Entry fee
Travelling to the castle is fairly simple, you can either use a car or a combination of train and bus. The trip from Bratislava will usually take you around 6 hours altogether and a trip from Kosice will be around 3 hours.
Prices for these vary and you can see the tables for them above, although it's only an approximation and I strongly advise you to check prices beforehand.
TIP: Slovak lakes are one of the beautiful lakes in the Europe. A lot of beautiful lakes are located not so far from Spis castle so it is worth to visit them. Check out the most beautiful Slovak lakes in the article below: