As an Amazon Associate, I earn from qualifying purchases with no additional costs for you.
Have you ever wondered how much it can cost to go for a trip to Slovakia and enjoy a fun vacation there? This article serves this exact purpose. It was created by locals to give you an approximate view of the prices of the places and activities you can do in Slovakia as well as prices for living and transportation.
Slovakia is not a very expensive country to visit. You do not have to be afraid to spend a fortune since the prices in Slovakia are very budget-friendly. Travel from one side of the country to another for just 27 €, rent a room for 20 € per night, and enjoy Slovakia's food and entertainment for only a few € per night!
Visiting Slovakia and have no clue what the budget for this trip should be? Then this article is made for you! Check out how much you are going to pay for accommodation, transportation, and entertainment in Slovakia with a few local tips to save some money!
If you want to buy Slovak gifts or useful Slovak products, you can find them by clicking here (Amazon link).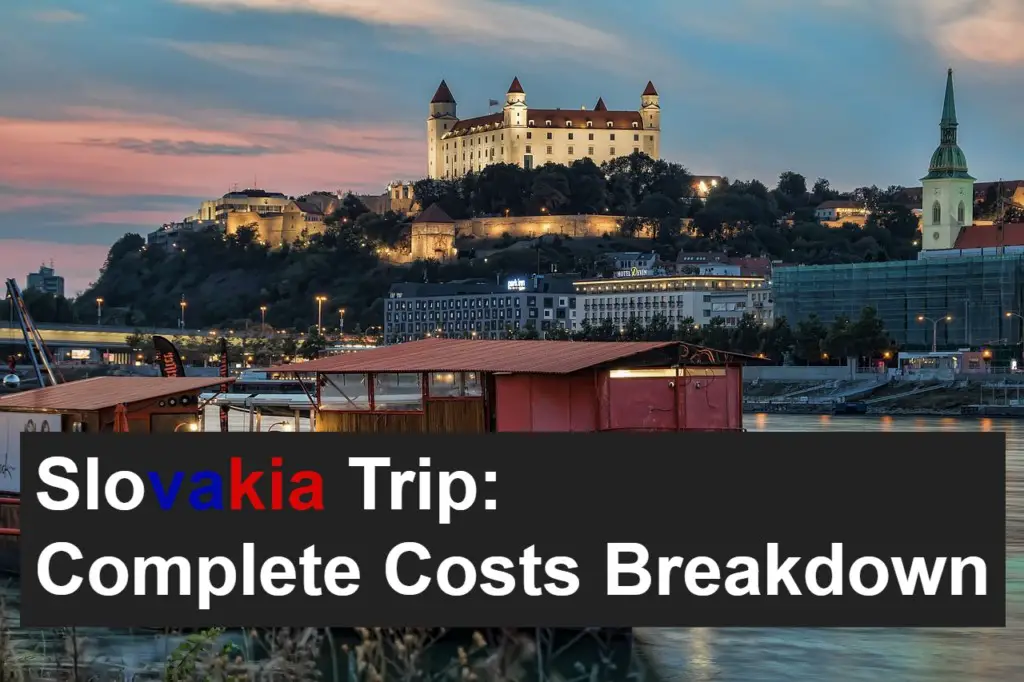 Slovakia Trip: Complete Costs Breakdown
During your visit to Slovakia, you will pay for several different types of costs. Therefore, I have divided this article into sections where each section will address one specific type of cost. So let's get started!
Transportation
Taxis in Slovakia are significantly more expensive than public transportation. In Slovakia, past visitors have spent an average of € 6.10 per person, per day on local transportation.
Let's take a look at the state of public transportation in Slovakia. It is not necessary to own a car in Slovakia to get around the city or between European cities because public transportation is excellent.
Public Transportation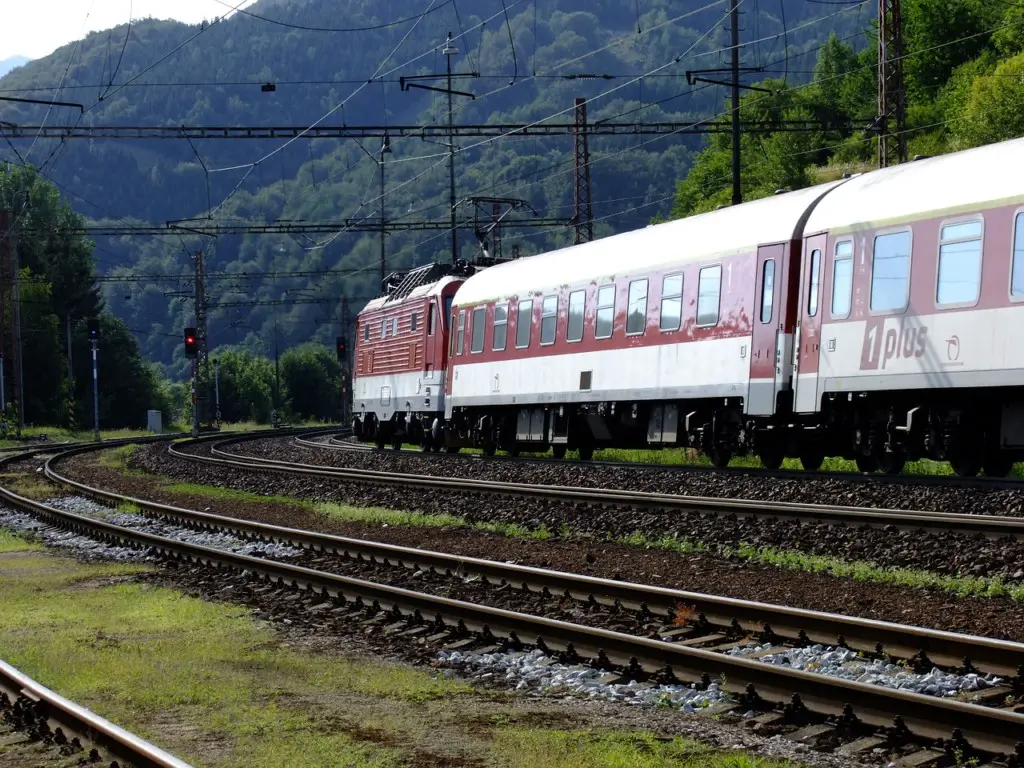 In Slovakia, public transportation runs on a minute-by-minute basis, making it extremely convenient, environmentally friendly, and simple to use.
Each city owns its own public transportation company which provides people with buses and in Bratislava and Košice with trams as well. It is very cheap to travel around the city.
For example, in Košice, the price for a 30 minutes ride is 1€ with which you can easily travel everywhere around the city. The same goes for Bratislava which costs around 1€.
Prices for each city vary but these two are the most expensive cities in Slovakia. Therefore, prices for public transportation in other cities will cost a bit less than in those two.
In Slovakia, the cost of transportation between cities and towns is between €3 – €30. Prices vary depending on the length of the journey, the mode of transportation used, and the date.
You can travel between cities using 2 ways of transportation. You can either go by train which is not expensive at all.
For example, the main route is from Košice (which is in the East part of the country) to the capital Bratislava (located in the Western part of the country).
Going there by train would cost you around 19 euros. If you want to travel by bus, it will cost around 19 euros as well for an adult person.
You can find a table below with costs for common public routes in Slovakia:
| Route | Train | Bus |
| --- | --- | --- |
| Bratislava – Košice | 19 € | 19 € |
| Bratislava – Starý Smokovec (High Tatras) | 16 € | – |
| Bratislava – Žilina (North Slovakia) | 9.30 € | – |
| Žilina – Terchová (Unesco village) | – | 1.90 € |
| Bratislava – Banská Bystrica (Central Slovakia) | 10.50 € | 12.50 € |
| Bratislava – Bardejov (Eastern Slovakia) | 20.50 € | – |
| Bratislava – Liptovský Mikuláš (Low Tatras) | 13 € | – |
| Košice – Starý Smokovec (High Tatras) | 6.80 € | 7.50 € |
Costs of Public Transports in Slovakia
TIP: One tip from locals is to use cp.hnonline.sk to find your bus and train tickets and check the time. You can also use it to buy the tickets.
Taxis
Another way to travel and transport yourself around the cities is by using taxi services. We have prepared a basic comparison of some of the taxi companies in Bratislava.
It is comparing their prices for starting fees, the price for kilometers inside and outside of the city, the waiting fee per minute, and the minimum fee.
| | VB Taxi | Taxi Bratislava | HelloTaxi | Tik-Tak-Taxi |
| --- | --- | --- | --- | --- |
| Starting fee | 1,50€ | 1,20€ | 1,30€ | 1,20€ |
| Price/Km inside the city | 0,69€ | 0,55€ | 1,10€ (-50% via phone order) | 0,33€ |
| Price/Km outside the city | 1,29€ | 1,10€ | 1,10€ (-50% via phone order) | 0,90€ |
| Waiting Fee per min. | 0,29€ | 0,26€ | 0,25€ | 0,33€ |
| Minimum Fee | 3,90€ | 4€ | 4,50€ | 4,50€ |
Taxi fees in Bratislava
Most of the taxi companies have starting fees. Price is after that added up by the number of the kilometers a taxi has to drive if it is inside the city or outside if he has to wait for you (waiting time) and there is also a minimum fee that you have to pay even if you do not travel that far with a taxi. Some of the cheapest starting fees start at 1,20 euro.
SMART TIP: Use this discount code for Bolt and get a 3€ discount for your first ride!

The Bolt Discount Code: HTPEZV
Some of the taxi companies give you a discount if you order the taxi via phone call. Since Bratislava is the most expensive city in Slovakia you can expect lower fees and prices in smaller cities.
TIP: If you want to know more about taxis in Bratislava (local tips included), check out the article below:
All about Taxis in Bratislava: Costs, Examples & Local Tips
Car Rental
If you want to rent a car you can find some cheap prices here. For example, Škova Fabia will cost you only around 30 € per day for up to 5 days. Of course, the longer your rent is the cheaper the price for it.
The price of diesel and gasoline is pretty cheap. Prepare around 1.30 € for a liter of gasoline 95, around 1,50 € for a liter of gasoline 98 which is a bit more premium gas. Diesel costs around 1,13 € per liter and LPG around 0.59€ per liter.
Accommodation
In Slovakia, there are 7264 hotel rooms in 440 cities. Bratislava has the most hotels in Slovakia, with 666 out of 7264 total.
The cheapest hotel rooms here start at €23, while the most expensive hotel room in Slovakia costs €686. Even in small towns like Vrable or Vrbove, however, there are up to 7 hotels with low rates: the average price per room here starts at €13.
In Slovakia, the average cost of accommodation for one person is €40. The average price of a hotel room in Slovakia for two people sharing a standard double-occupancy room is €81.
You can either choose to accommodate yourself in hotels or you can book your room using Airbnb and services similar to that.
Hotels and Airbnb are available in every city or destination where tourism is present. Prices change according to the location and level of luxury apartments offered.
Prices also change based on the season for some locations. For example, apartments and hotel rooms in the Tatra Mountains are going to cost much more during the winter when people travel there to enjoy skiing and spas than during other times of the year.
Again, if you want to book a room that is close to the city center it is going to cost more than if you book it further away from an important part of the city. 
| Accommodation Type | Classic Room | Higher class room | Single room |
| --- | --- | --- | --- |
| 2* hotel | Starting at 15 € | Starting at 25 € | Starting at 10 € |
| 3* hotel  | Starting at 20 € | Starting at 30 € | Starting at 20 € |
| 4* hotel | Starting at 40 € | Starting at 50 € | Starting at 30 € |
| Hostel | Starting at 10 € | Starting at 25 € | Starting at 5 € |
| Pension | Starting at 20 € | Starting at 30 € | Starting at 5 € |
| Airbnb | Starting at 25 € | Starting at 50 € | – |
Prices for Different Types of Accommodation in Slovakia
This table represents approximate prices for accommodation in Slovakia. The prices in Classic Room and Higher Class room are for 2 people. Please be aware that these prices are just approximate, and you will find the differences based on the city and location you are accommodated at.
The next thing that hotels offer is extra services that can help you with for example borrowing sports equipment, breakfast, wellness, etc.
Sometimes these costs are in the price of accommodation, but you might encounter hotels that might charge prices for these services so be sure that you read what is included in the price when you are booking a room!
Also, be aware of the prices for the products that are in the mini-fridge located in rooms. Sometimes these prices might reach a ridiculous amount which you will have to pay when you leave the hotel.
| Service | Approximate Price |
| --- | --- |
| Breakfast (if not included in price) | 5 € |
| Wellness | 10 € per person |
| Borrowing sports equipment (e.g., tennis rackets) | 4 € per 2 hours |
| Borrowing climbing equipment | 15 € per day |
| Laundry | 3 € per laundry |
| Pet (if allowed) | 19 € per night |
Prices for Hotel Services in Slovakia
TIP: Check out my list of recommended Slovak products. They are perfect as gifts, or you will use them during your visit to Slovakia (Amazon links)
Food & Drinks
While meal prices vary based on the location you want to visit in Slovakia, the average cost of food in Slovakia is around 25 € per day.
Based on previous travelers' spending habits, an average meal in Slovakia should cost around 6 to 7 € per person when dining out.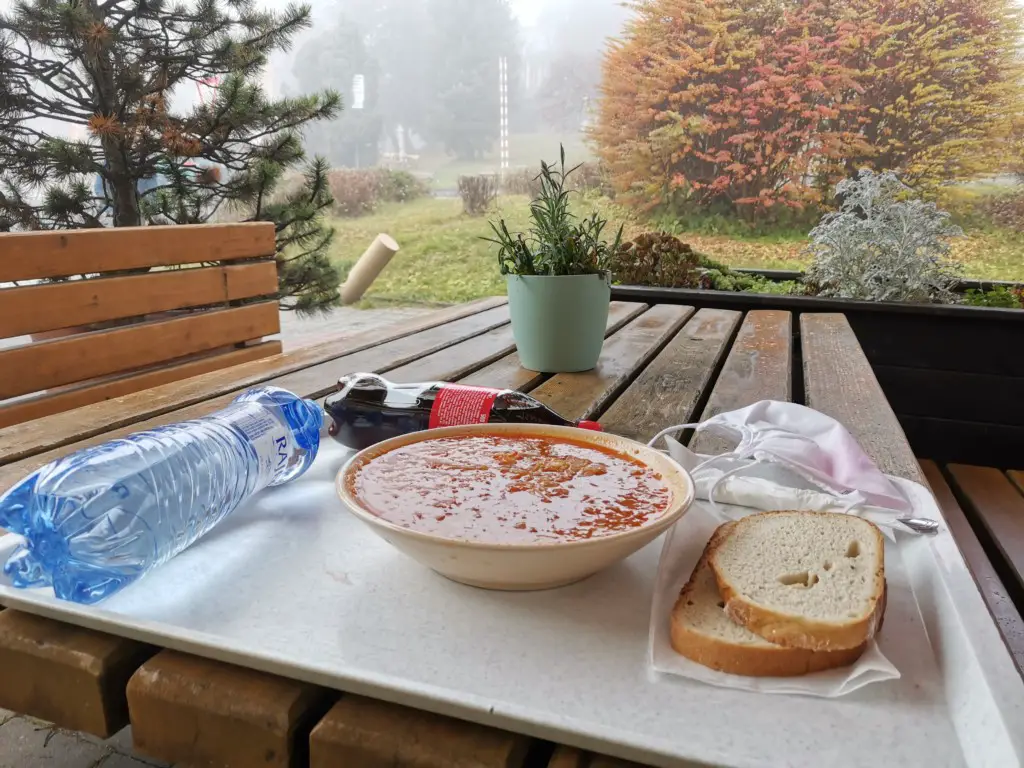 Breakfast is usually less expensive than lunch or dinner. In Slovakia, sit-down restaurant prices are frequently higher than fast food or street food prices.
Local TIP: Read this related article about 5 traditional Slovak breakfasts and try at least some of them during your stay in Slovakia.
The following is a list of typical food prices in Slovakia. These real-world prices are from real travelers and can help you get a sense of how much food costs in Slovakia, but your costs will vary depending on your travel style.
| Restaurants | Price | Range |
| --- | --- | --- |
| Meal, inexpensive restaurant | 5.00 € | 4.00 – 7.00 € |
| Meal, 2 people, Mid-range restaurant, 3 course | 25.00 € | 15.00 – 30.00 € |
| Meal at McDonald's | 5.20 € | 5.00 – 6.00 € |
| Domestic beer (0.5 liters) | 1.50 € | 1.10 – 1.80 € |
| Imported beer (0.33-liter bottle) | 1.50 € | 1.20 – 2.00 € |
| Cappuccino | 1.69 € | 1.20 – 2.00 € |
| Coke/Pepsi (0.33 liter bottle) | 1.27 € | 1.00 – 1.80 € |
| Water (0.33 liter bottle) | 0.98 € | 0.60 – 1.50 € |
Food & Drink Prices in Slovak Restaurants
When it comes to groceries, prices in Slovakia are pretty low. Here is a table which will give you an overview of how much you are going to pay for groceries in Slovakia.
| Item | Price |
| --- | --- |
| Bread | 1 € for 1 kg |
| Cheese | 1,40 € for 250 mg pack |
| Ham | 1,50 € for 250 mg pack |
| Chicken Meat | 2,5 to 4 € for 1 kg |
| Beef Meat | 4 € to 8 € for 1 kg |
| Pasta | 1,50 € per pack |
| Rice | 1 € per pack |
| Cucumber | 0,70 € for 1 cucumber |
| Tomatoes | 0,50 € per kg |
| Bananas | 0,8 € per 1 kg |
| Apples | 0,9 € per 1 kg |
| Mineral Water | 0,7 € for 1 bottle |
| Orange Juice | 1,2 € for 1 l bottle |
| Beer | 1€ per 0,5 l bottle |
| Wine | 3 € per 1 l bottle |
| Liquor | 10 € per 1 l bottle |
| Cigarettes | Around 5 € per pack |
Prices in Slovak Groceries
Please be aware that the shops in the villages are often closed much earlier than classic supermarkets and they are also closed in the smaller villages every Sunday!
TIP: Do you know what the national Slovak drink (spirit) is? You definitely have to try it during your stay in Slovakia. Find out more about this unique national drink in the article below:
What is the National Slovak Spirit? Borovička, cheers!
Sport Activities
As you already know, Slovakia is a mountainous country. Therefore, there is no surprise that there are a lot of hiking trails and destinations you can visit.
You can either plan your trip to our beautiful mountains by yourself or you can order a tourist guide which will guide you safely through the mountains.
However, the cost of this specialist can cost you up to 250 € per person. They can take you to our tallest mountains such as Gerlachovský štít, Kriváň and even to Veľká Svišťovka and Zelené Pleso where you can take a cable car to get up to the top.
However, during the warmer months, people love to go cycling to nature. You can rent a normal mountain bicycle for around 40 € for one day.
If you are looking for a more exclusive option and would like to rent an electric bicycle, prices can go up to almost 30 € per hour.
You can also rent a bike in the bigger cities using the mobile phone apps that are operating in the cities. For example, in Košice, a privately owned company offers bikes for a few cents per kilometer.
A lot of people are using it as a way of transport to work or school and it costs them only maybe 50 cents per day!
Slovakia is also a very good place for skiing and snowboarding. We have amazing ski centers that you can visit for relatively cheap prices.
However, most of the best skiing trails and ski centers have expensive prices suited for tourists. Therefore, you are going to pay more for renting the ski or snowboard with shoes in there.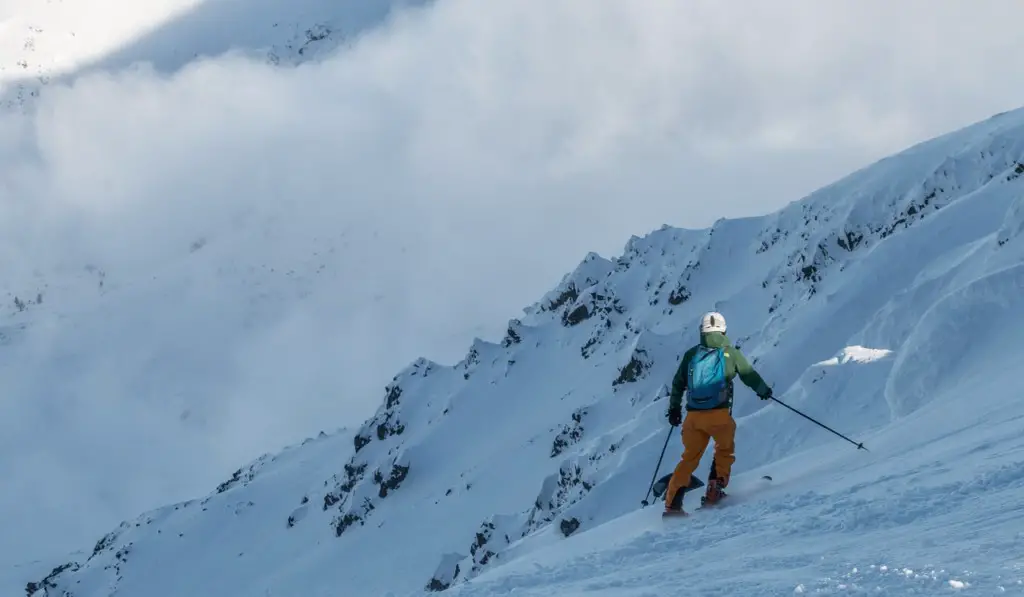 Prices in a cheaper ski resort for renting a ski set go for around 20 € for one day. For the more expensive ski resorts, it can go up to 50 €.
During wintertime, there are a lot of ice skating activities. People go to frozen lakes and ice skate there, play hockey or just enjoy their time with family.
Most of these rings are free to skate but not everyone has ice skates. You can however easily borrow them for usually around 3 € per 2 hours.
TIP: Sport is very popular in Slovakia. Almost all people do some kind of sport. But do you know what the most popular sports in Slovakia are? Find out more in the article below:
What are the Most Popular Sports in Slovakia? 7 Popular Sports
Entertainment
When it comes to entertainment in Slovakia, you can easily find something fun to do in every corner of the country. You will find a more traditional kind of fun the further you go from big cities.
You can go hiking, take a boat trip, go to thermal and aqua parks or visit Slovakia's beautiful castles and manors.
However, smaller cities have wonderful old churches and monasteries that you can visit for cheap prices and see the amazing view of architecture and folk culture.
When you visit cities, your options are a bit more voluminous. You can visit movie theaters, art theaters, nightclubs, go-karts, paintball arenas, and much more.
Entertainment is more expensive the bigger city you visit. For example, there is a price difference when you visit the capital city Bratislava, and the second biggest city Košice.
You can expect cheaper prices in less-visited cities and vice versa, even some smaller cities are expensive due to the number of tourists visiting the cities. 
Some small tips from locals are that if you are a student, always make sure to carry your student card or ISIC with you because most of the attractions and places where you need to buy entry tickets sometimes offer an almost 50 % discount for students and elderly people.
| Activity | Price Range |
| --- | --- |
| Admission to castles and manors | 2.60 € – 6.50 € |
| Admission to monasteries and churches | Free to 3.90 € |
| Boat trip on Poland border | 13 € |
| Bike rental | 6.20 € per half day |
| One day ski pass | 17 € up to 45 € |
| Movie ticket | 4 € up to 10€ |
| Paintball arena | 5 € per person for an hour |
| Go-karts  | 8 € per 10 minutes |
| Jet ski rent | 42 € per 20 minutes |
| Entry to a disco club | Around 5 € |
| Entry to an aqua park | 25 € |
| Public pool entry | Around 5 € |
Prices for Entertainment in Slovakia
You can have an overview of approximately what you can expect price-wise when you want to enjoy some entertainment in Slovakia by looking at this table.
The places and attractions are split into few areas so you can expect something from not only city activities but also from what nature has to give you.
Conslusion
So after reading this article, do you find Slovakia expensive to visit? I think Slovakia is an amazing place for visiting with reasonable to low prices and you don't have to spend a fortune to enjoy Slovakia to the fullest.
The final table contains average costs based on the preferences of the way of your traveling and your budget:
| Way of traveling | Average daily costs in Slovakia |
| --- | --- |
| Budget | 30 – 50 € |
| Mid-range | 50 – 80 € |
| Luxury | 100  – 500 € |
Average daily costs during traveling in Slovakia
TIP: Did you know that Slovakia is full of thermal parks and natural hot springs? In no other country can you find so many thermal springs in such a small area as in Slovakia. Check out the best ones you have visited in the article below: