As an Amazon Associate, I earn from qualifying purchases with no additional costs for you.
This article serves as kind of a guideline for people that are going to attend their first wedding in Slovakia and do not know how to dress properly.
The wedding dress code in Slovakia is not very different from other countries' weddings- be sure to dress formally, elegantly, and with respect to the other people at the wedding. Men should wear suits and women usually wear a long dress or cocktail dress with an elegant haircut and jewelry.
Read further to find out about how weddings in Slovakia take place, what people in general wear at weddings, tips for men, women, and children but also what is taboo to wear. In the end, you will find few tips on how to make your experience enjoyable and how to impress other attendants!
If you want to buy Slovak gifts or useful Slovak products, you can find them by clicking here (Amazon link).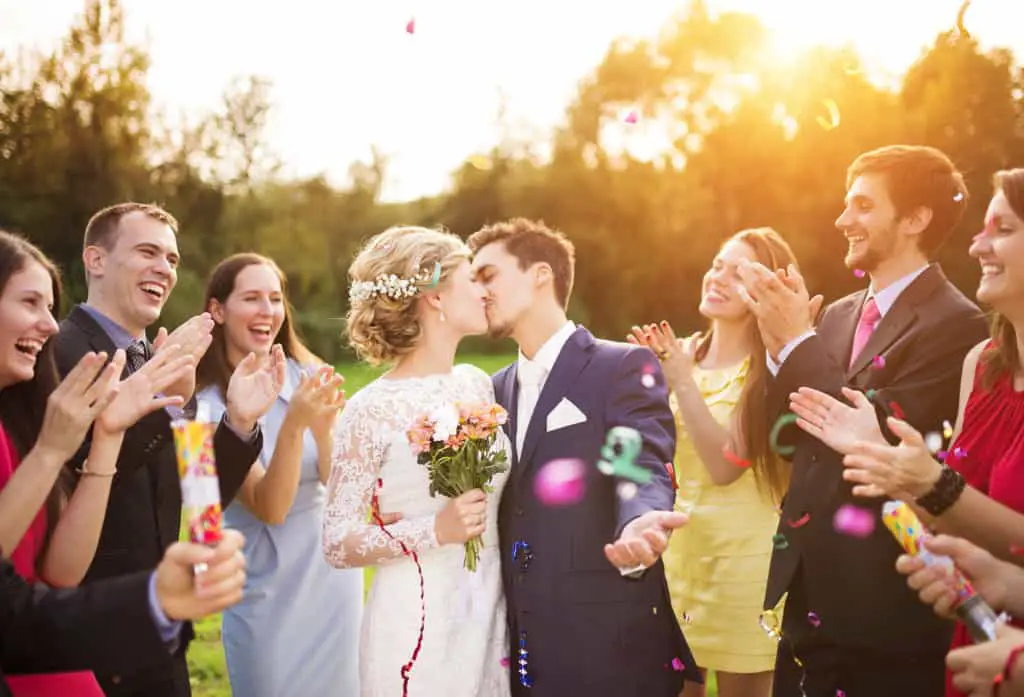 Weddings in Slovakia
Weddings in Slovakia usually start in the morning where both- groom and bride ask the other person's parents for blessings. After that, everyone moves to the Church for the wedding ceremony.
After the ceremony is over, people move to the wedding reception which is for most of the people the main part of the wedding. Here is where people celebrate, eat, drink, dance, and value Slovak wedding traditions until the early morning.
After the reception, the groom returns home or to their new home with his new bride. To save her from "evil spirits," he carries her over the threshold.
What People in Slovakia Wear at Weddings
Choosing what to wear to a wedding could be a very stressful thing. It is difficult to know what to wear as a wedding guest, especially if the invitation is not specific and you have never been to a wedding in Slovakia.
If you have been invited to a wedding and are not sure what to wear, keep in mind that certain rules apply depending on the time of day and the formality of the ceremony.
Women should wear dresses and men should wear suits as a general rule. It is not appropriate to wear a black suit or a white dress.
When you include dress code requirements such as "black tie optional" or "cocktail attire," however, you have a much more specific look to achieve.
What Men Wear at Slovakian Wedding
Men's attire is not very much different from other countries' weddings. No matter what, a suit and tie will always look appropriate. But, before we get into specifics, there are a few rules that men should follow in order to look their best at a wedding.
A summer or spring wedding, for example, allows you to wear a suit with lighter fabrics and colors. You might want to wear a dark grey or charcoal wool or wool-blend suit to a fall or winter wedding.
Stick to a traditional tuxedo and avoid experimenting too much if the wedding is strictly black tie. A black bowtie and black dress shoes are a must at this kind of event.
What Women Wear at Slovakian Wedding
Women nowadays have a lot of freedom and almost infinite options when it comes to wedding guest attire. For women, the most important rule is to avoid wearing white, off-white, or ivory. You do not want to outshine the bride on her special day, so this is an old-school rule that still applies.
Women usually wear formal dresses or cocktail dresses that are not too short for weddings in Slovakia. Simple short dresses are not suitable for large luxury weddings, and vice versa, at a garden wedding party you will feel "overdressed" in a large evening gown.
If you know that the wedding ceremony will take place in a church, women should bring a jacket or scarf to cover their exposed shoulders. This is not necessary for sleeved dresses.
Since a wedding is a formal event, women should choose to wear appropriate, elegant, and respectable jewelry and haircut.
Clothing of Children at Slovakian Wedding
Children at weddings usually dress as the cute mini version of adults. Children are active, they like to run and play, so they need clothes that will not bother them, but at the same time, they are suitable for a wedding.
Do not forget to put comfortable shoes on for the kids so their feet will not hurt after running around the whole day. 
Boys wear a little suit or some formal pants with a shirt and blazer. Girls are dressed in small dresses usually very similar to the brides' dresses.
They usually go around the wedding ceremony and throw around flower leaves that they carry in little cute baskets. Cheerful colors are ideal and fairy-tale or other cheerful patterns are also allowed. It is important that your child feels really good in the chosen clothes.
TIP: Check out my list of recommended Slovak products. They are perfect as gifts, or you will use them during your visit to Slovakia (Amazon links)
What is not Advised to Wear on Weddings in Slovakia
Even if you are attending the wedding of a young friend, keep in mind that many wedding guests, including the bride and groom's families — especially those who paid for it — are older.
Overly sexy, low-cut, revealing, or high-hemmed outfits should be avoided out of respect for the occasion and those closest to the couple. This applies to men as well. Try to avoid clothing with rude printing or colors out of respect for people at the wedding. 
Again, avoid wearing too casual clothing out of the respect for newlyweds. It should be a rule to dress how you would like people at your wedding to dress.
You would not like to see someone in old jeans and a t-shirt. Dress to show people that invited you that you care about this event, about them, and the beautiful promises they gave to each other.
A large purse should not be brought to a wedding. Carry a small cross-body bag or a clutch.
As mentioned before, women should avoid wearing a white dress and also matching colors or dress with bridesmaid party if you are not part of it.
Tips for People Attending a Wedding in Slovakia for the First Time
When you are attending a wedding in Slovakia for the first time, be sure to bring more comfortable shoes and maybe even clothes for the evening celebration.
These celebrations are very joyful with a lot of dancing and partying. Therefore, switching to more comfortable shoes or clothes is very advisable to avoid painful experiences in tight uncomfortable shoes or dresses.
If you want to make a good impression at a Slovakian wedding, you can dress formally but with a hint of traditional Slovak attire known as "kroj". This way you will show other people that you know something about Slovakian culture and history.
Conclusion
Weddings in Slovakia are very joyful and beautiful events. If you are attending it for the first time, be sure to follow this article and its advice to avoid any "faux pas".
Be prepared for a very long day of visiting various places and after that- celebration until late night so be sure to bring some spare clothing and good mood with you!