As an Amazon Associate, I earn from qualifying purchases with no additional costs for you.
This article covers the process of buying new and used cars in Slovakia. It also details the registration and insurance of vehicles after purchase.
Buying a car in Slovakia is as simple as visiting a dealership or looking online. The price of vehicles in Slovakia, whether used or new, is one of the cheapest in the European Union. You should check the documentation and the car's state if you are buying a used one. Registering a new vehicle in Slovakia is done on an Inspectorate or online no longer than 15 days after getting it.
The registration fees are between 33 and 3900 euros based on the engine's power. If you are registering a trailer or an electric car, you will only pay 33 euros. Vehicle registration plates are 16.50 euros. Slovakia has compulsory car insurance, which you can get from any of the Insurers listed here. 
There are specific websites such as AutoBazar.eu or Bazos.sk on which you can browse used cars and pick the right one. We also recommend you have a test drive before buying one. Continue reading to learn more about how to look for, purchase, and register your car in Slovakia and what fees you need to pay.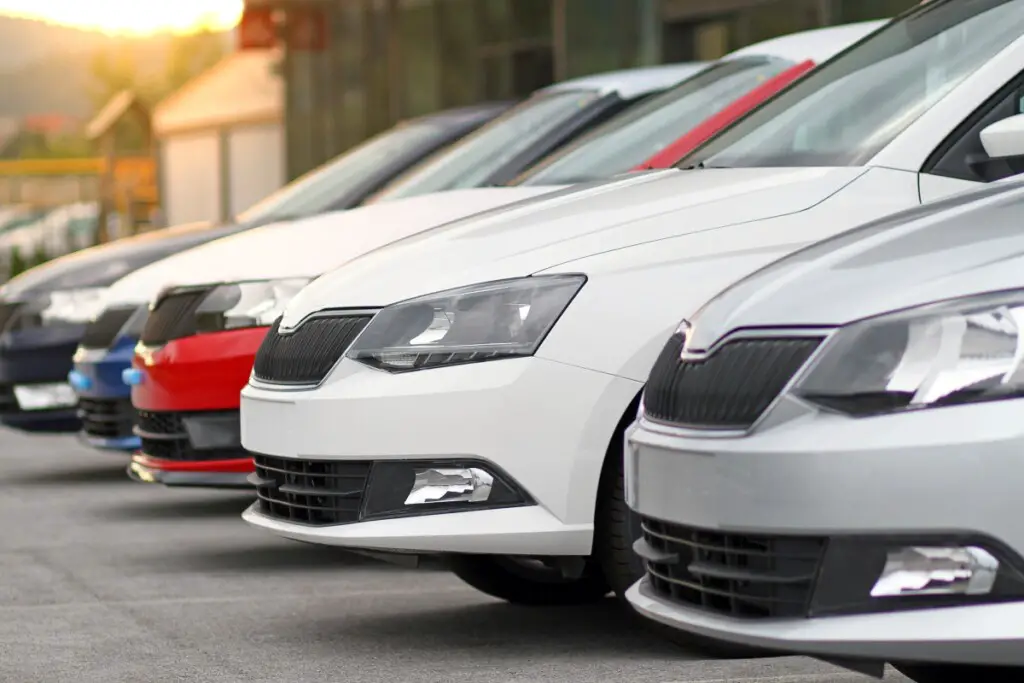 If you want to buy Slovak gifts or useful Slovak products, you can find them by clicking here (Amazon link).
Are Cars Cheap in Slovakia
As with almost everything, prices in Slovakia are usually lower than, for example, in Germany or Austria. Car prices are not an exception to this. 
The price of a brand new car is most likely on par with prices in Czechia or Austria, but probably a bit lower. 
However, you might be in luck if you are looking for used cars. In Slovakia, all used vehicles sold will be cheaper than buying them in Austria, Germany, and the rest of western Europe. 
According to AURES Holdings, the average price for a used car in Slovakia went up in the last two years. From 5999 EUR in 2020 to 6800 EUR in 2022. This is still a relatively low price, depending on what car you buy. 
Year
The average price paid
for a used car in Slovakia
2020
5999 EUR
2022
6800 EUR
These prices might seem like a lot, but let's check prices in Austria, for example, Slovakia's western neighbor. 
Year
The average price paid
for a used car in Austria
2019
19 722 EUR
2022
22 420 EUR
An average used car price in Austria is around 20 000 euros. This is a massive step from Slovakia's 6800 euros. So as it stands, Slovakia does have pretty cheap cars for sale.
What is the Most Popular Car in Slovakia
You can see the most popular cars in Slovakia in the table below:
Order
Model
Sold between
January – August / 2021
1.
Škoda Fabia
3 162
2.
Hyundai i30
2 439
3.
Škoda Octavia
2 414
4.
Škoda Kamiq
1 671
5.
Hyundai Tucson
1 545
6.
Škoda Scala
1 472
7.
Kia Ceed
1 440
8.
Škoda Karoq
1 241
9.
Kia Sportage
1 101
10.
VW T-Cross
1 096
The most sold car in 2021 was Skoda Fabia. The Czech brand of vehicles is trendy in Slovakia. Be it brand new or used cars. 
TIP: Like other countries, Slovakia is associated with certain products that belong to its hallmark. Check out these products and more in the article below:
What is Slovakia Known for Producing? Best Slovak Products
How to Buy a New Car in Slovakia
The safest bet on where to buy a new car in Slovakia will be the authorized car dealerships that you can find in all larger cities. For example, in Bratislava, you have official dealerships of brands such as Skoda, Fiat, Hyundai, BMW, and more. 
Some dealerships also offer an online shop where you can choose your brand-new car from the comfort of your home. This, however, is not always the best choice, as it is better to physically try out a vehicle before buying it.
While picking out a new car, you should focus more on its objective pros and cons instead of your subjective feelings. Find all critical technical parameters like fuel efficiency, reliability, and safety. 
Once you pick out a car you like, you can ask the dealership for a test drive. Doing this would be best as it gives you the best impression of the vehicle and solidifies how you feel about it. 
If you are unsure about something, the personnel at the dealership will be more than happy to help you with any questions you might have. After thoughtful consideration, you can buy a new car you love. 
TIP: Check out my list of recommended Slovak products. They are perfect as gifts, or you will use them during your visit to Slovakia (Amazon links)
How to Buy a Used Car in Slovakia
Buying a used car instead of a brand-new car in Slovakia is pretty simple. And the whole process is almost the same. 
You should consider getting a used car if you need a car and can not afford a new one. 
In Slovakia, there are many online used car sites to check for a used car you can buy. The largest is AutoBazar.eu, where you can find the highest number of listed vehicles for sale. But you can also check sites such as Auto.Bazos.sk which has its category for listings about cars. 
Now to pick the car itself, you should look more in detail about the vehicle's state, mileage, fuel efficiency, and overall cost.
Some vehicles might seem like a perfect deal for a small price, but the reality is that there is always a possibility of the car breaking down and needing a repair that can be very expensive. 
Regardless of where you get the car, you should be able, or at least ask for, a test drive. See how the car performs and if everything works as it should. 
After you find the perfect car you plan to purchase; you will sign a buy deed with the owner and receive all the necessary documents with the vehicle. Since you are buying a used one, it should have all the necessary documentation already done.
TIP: It is straightforward to get a taxi in Bratislava. However, some may try to take advantage of you by charging crazy rates, mainly if you hail a cab on the street. Find out more in the article below:
All about Taxis in Bratislava: Costs, Examples & Local Tips
How do I Register my Car in Slovakia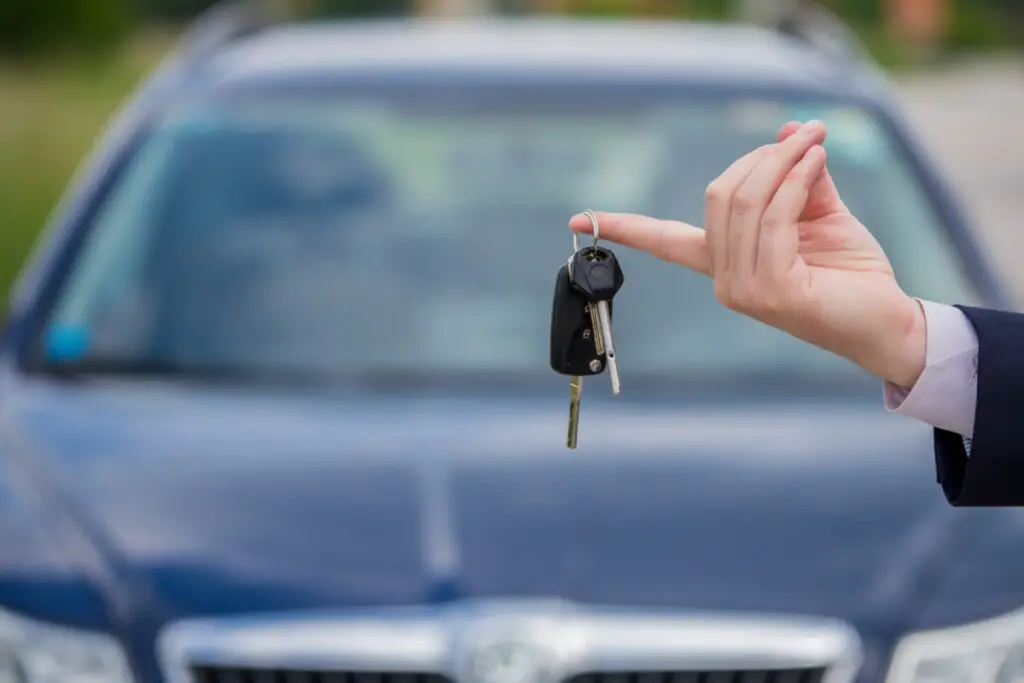 When you buy a new car you are obliged to register it at the district Transport Inspectorate related to your permanent residence (in the case of a company related to its registered seat).
You must do so within 30 days (in online registration, within 15 days). If you miss this deadline you have to submit also proof of identity of the vehicle and its history that is not older than 15 days.
The best option for purchasing a used vehicle is to visit the Inspectorate and fill out all the necessary forms with the previous owner.
Or submit these forms online in the application for the transition of the hold of the vehicle for another person – the previous owner and the application for registration of the new holder of the car – the new owner.
In that case, the new owner also has to submit the authorization for transit of the registration of the car – with this, he agrees with the car's transition to his ownership.
You will need these documents:
registration certificate part II.,
certificate of Motor third-party liability insurance,
authorization for transit of the registration of the car (it can be canceled online – only in Slovak),
fee,
other (mainly in the case of registration of a company car).
When the new owner is from another district of the Slovak Republic, it is necessary to change the vehicle registration plates during the registration.
For this registration, you will need the documents mentioned above, and you will have to pay a fee for the new plates of 33 EUR.
When your vehicle leasing has terminated, you are the new owner, and you must register your car. You can do so personally or online (only in Slovak).
For this, you will need these documents:
ID (in online application eID with electronic chip),
both registration certificates,
certificate of Motor third-party liability insurance and
certified authorization of the leasing company about the transmission of the ownership.
The process of buying a new car in a foreign country is complicated. First, you must acquire valid temporary plates until you are given new ones. When purchasing a new vehicle from a non-member country of the European Union you have to pay customs and VAT.
If you want to leave the country, you need the following:
proof of purchase or invoice,
proof that the car is not registered in the land of origin,
registration certificate,
temporary plates,
proof of roadworthiness and emission control.
| Act | Fees |
| --- | --- |
| Registration according to engine power | 33 – 3900 EUR |
| Vehicle registration plate | 16.50 EUR |
| Registration of electric car | 33 EUR |
| Registration of trailer | 33 EUR |
Car Registration Fees
TIP: Flying with a drone is allowed and legal in Slovakia. However, it is necessary to comply with the general and individual rules. Find out more in the article below:
Can You Fly Drones in Slovakia? All You Need to Know
Car Insurance in Slovakia
For a motor vehicle registered in the Slovak Republic, you must take out insurance if you are the motor vehicle holder, owner, or operator. This obligation must be met at the latest on the date the motor vehicle is used for the first time.
To take out compulsory contractual insurance, you need the following:
vehicle registration documents;
identity card (ID card or passport).
In addition to these documents, insurers may request other records for concluding an insurance contract, e.g., a liability claims history statement (used to grant a discount or surcharge on the premium).
When concluding an insurance contract, follow the insurer's instructions and submit all the required documents to determine the premium amount correctly.
In the event of a traffic accident, it is necessary, together with the other traffic accident participants, to complete the European Accident Statement (Accident Report – only in Slovak), if available, or to draw a sketch of the accident scene or take detailed photographs of the accident scene.
We recommend that you have the accident report with you every time you drive a motor vehicle, as this will make documenting the accident for the insurer easier.
If an accident occurs, at the request of the injured party, the insured shall be obliged to provide the data necessary for claiming damages, in particular:
the insured person's first name, last name and permanent address or trade name, and registered office;
the trade name and registered office of the insurer from which liability insurance was taken out;
the insurance contract number. 
The insured shall be obliged to report any traffic accident to the police if:
One of the motor vehicles, including the transported goods or other property, suffers damage most likely exceeding the amount of EUR 3,990;
a person is killed or injured;
road or utility damage occurs;
dangerous substances leak out.
If you are involved in a traffic accident where a claim occurs that may be covered by compulsory motor vehicle insurance, contact your insurer or the Slovak Insurers' Bureau.
Below is a table listing all available insurance companies in Slovakia. This list also has codes and websites, so feel free to browse them and see which offers are the most lucrative. 
TIP: Check out my list of recommended Slovak products. They are perfect as gifts, or you will use them during your visit to Slovakia (Amazon links)
Conclusion
Prices of cars in Slovakia, whether new or used, are generally cheaper than in western Europe. The car brands you will see the most in Slovakia are Skoda, Fiat, Hyundai, and BMW. 
Getting a car is a pretty straightforward process. You should check your local dealerships if you are buying a new one.
Most of Slovakia's larger cities have two, three, or more car dealerships. Bratislava, for example, has at least five official dealerships of brands like Skoda, Hyundai, Volvo, and more. 
Once you are looking for a new car, you should check the fuel efficiency, storage, and price. You also should ask for a test drive, whether you are buying a new or used car, as that will give you an exact feel of the vehicle and how well it drives. 
If you are looking for a used car, on top of what was mentioned above, you should also check that it has all the legal documentation it needs. And that the state of the car is good. You do not want to get a cheap car that can break down and cost tons of money to repair. 
To register a new car, you must visit an Inspectorate within 15 days of acquiring said vehicle. The fees are generally between 33 and 3900 euros for registration, based on the engine's power.
Then you can pay 16.50 euros for vehicle registration plates. If you are registering a trailer or an electric car, you will only pay 33 euros for registration.
Slovakia also has a compulsory car insurance policy. This means you will also need insurance from one of Slovakia's insurance companies. Some of these companies are:
UNION,
UNIQA,
Generali,
KOOPERATIVA,
Allianz,
and more. 
TIP: Slovakia offers many roads for motorcycles and cars, where you can enjoy the ride to the fullest. Check out the best roads in Slovakia in the article below:
Best Motorcycle Roads in Slovakia You Must Try (Maps Included)