As an Amazon Associate, I earn from qualifying purchases with no additional costs for you.
Are you a fan of riding a motorcycle? Then you should know that Slovakia also offers a large number of roads for motorcycles, where you can enjoy riding a motorcycle to the fullest. Here is the list of best motorcycle roads in Slovakia:
Gothic Road Slovakia
Road from Kysuce to Orava
Donovaly mountain pass
Road from Pezinok to Brezová pod Bradlom
D1 motorway under the High Tatras
Road from Podbrezová to Kráľová Lehota
Road from Liptovský Hrádok to Tatranská Lomnica
All of these routes offer wonderful views and motorbiking experience. In this post, I will show you where to find them and what is interesting about them. So keep reading, you will like it.
If you want to buy Slovak gifts or useful Slovak products, you can find them by clicking here (Amazon link).
7 Best Slovak Roads for Motorcycles
As you know, there are a large number of mountains in Slovakia. Many roads have been created through these mountains to improve the accessibility of individual parts of Slovakia.
Some of them are located in beautiful natural surroundings and therefore are among the popular destinations for motorcyclists.
In this post, I will describe the 7 most beautiful of them, so if motorcycles are among your hobbies, be sure to try at least one of them in person.
Gothic Road Slovakia
The Slovak Gothic Route is the first tourist route in Slovakia, created in 1996. Its intention was to create a thematic cultural and cognitive tour of the Spiš and Gemer region (eastern and central Slovakia).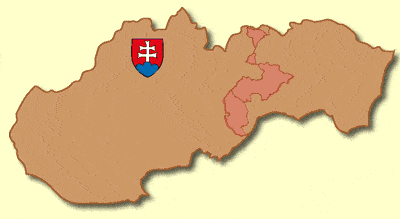 Currently, this route contains 4 individual circuits with a total length of 276 km and it is suitable for motorcycles. The 4 individual circuits are:
Spiš – Gemer Circuit (the biggest one in the middle of the map)
Spiš Circuit – Tatranský (the smallest in the middle of the map)
Spiš Circuit – Pieninský (the highest placed)
Gemer – Rimava Circuit (the lowest placed)
The advantage of this circuit is the number of interesting attractions in a relatively small area, while it is not only cultural but also natural monuments and attractions.
The installed monuments are pointed out by the installed brown and white orientation boards with a pictogram in the shape of a Gothic vault.
As we can see from the photos above, the Gothic road marked with brown pictograms and also the individual monuments on this circuit are marked in this way.
Road from Kysuce to Orava
A few years ago, the road between Nová Bystrica and Oravská Lesná was reconstructed, so lovers of two-wheeled riding will appreciate the quality surface of this mountain road.
The advantage of this route is low traffic and surrounding nature. If you are in this area and you will go through this route by your motorcycle, I definitely recommend making the whole circuit, which is marked on the map below.
The whole circuit is 72.5 km long and it pays to complete it in its entirety, mainly because there are two most beautiful traditional villages in Slovakia, Zázrivá, and Vlkolínec.
Donovaly mountain pass
The Donovaly mountain pass forms the main route from Banská Bystrica to northern Slovakia. As in previous cases, it is a road in a mountain environment, which offers beautiful views of the surroundings and an exciting ride on a motorcycle.
After passing this section, you have the opportunity to choose different directions from the town of Ružomberok. One is in the direction of Liptovský Mikuláš and Poprad, where you will find roads below the High Tatras.
Or the second direction to the Oravská priehrada dam, which will take you to the north of Slovakia, close to the Polish border.
This road from Banská Bystrica to Oravská priehrada dam is 103 km long and you will go through the Národný park Nízke Tatry national park.
Warning! Be careful and watch out for the weather forecast because dreams can be found in the Donovaly pass area even in the late spring months.
Road from Pezinok to Brezová pod Bradlom
This is the only road located in the west of Slovakia, near Bratislava. It is one of the most famous routes in Slovakia because it hosts the legendary Hillclimb car races of Pezinská Baba.
You can start this journey in Bratislava and continue to Penizok where you will connect to the road through Pezinská Baba.
As you can see from the map, the main part of this road goes through Pezinská Baba and I will enjoy riding your motorcycle there.
Since this section is not very long, it is worth continuing towards Brezová pod Bradlom on road 501. Here is the Milan Rastislav Štefánik Burial-Mound, who was a general in the French army and was responsible for the establishment of Czechoslovakia in 1918. It is definitely worth seeing this monument.
TIP: Check out my list of recommended Slovak products. They are perfect as gifts, or you will use them during your visit to Slovakia (Amazon links)
D1 highway under the High Tatras
The section of the Slovak highway (marked as D1 or E50) below the High Tatras is one of the most beautiful not only in Slovakia but also in Europe.
This section is newly built and therefore offers quality and suitable surfaces for motorcycles. It is also pleasantly wavy and full of small hills so driving a motorcycle is enjoyable.
The most beautiful part is the section from Liptovský Mikuláš to Poprad where it is possible to see the whole range of the High Tatras on the left side and the hills of the Low Tatras on the right.
Another interesting feature of this route is the part next to the Liptovská Mara dam when the motorway is surrounded on both sides by a water surface.
This section is 57.9 km long and takes about 40 minutes. I know that it is not a very long road and therefore it is worth continuing, either further along the D1 motorway to Spiš Castle or to Stará Ľubovňa, first on Route 66 and then on Route 77.
Road from Podbrezová to Kráľová Lehota
This is another motorcycle trip through the Low Tatras National Park. This time the main point is the crossing over the Čertovica saddle, which is located at an altitude of 1232 meters.
The road through Čertovica saddle is 41,4 km long and takes about 40 minutes. I recommend you to take a break at the Čertovica saddle and walk around. You can also find there a restaurant and a small grocery.
When you get over the Čertovica saddle, you will get amazing views of the surrounding hills of the Low Tatras and the first peaks of the High Tatras, especially the monumental peak of Kriváň, will appear in front of you on the horizon.
Road from Liptovský Hrádok to Tatranská Lomnica
Road number 537 goes directly under the High Tatras. This road is very similar to the D1 highway I wrote about earlier.
So if you prefer a more adrenaline-fueled motorcycle ride full of curves, this road is perfect for you. The reward on this trip will be beautiful views of the peaks of the High Tatras from the maximum proximity.
Interesting fact: The road under the High Tatras is known as the Road of the Freedom with starts at Podbanské village and ends at the Polish border in Lysá Poľana village.
Do I need a motorcycle vignette in Slovakia?
I have good news for you!
You don't need to buy a vignette for a motorcycle in Slovakia. Motorcycles are exempted from paying motorway tolls, they can use these roads free of charge and without registering anywhere for this purpose. But beware, this only applies to motorcycles with two wheels.
So if you want to try some Slovak roads on your or rented motorbike you don't need to worry about vignettes.
But if you will need the vignette for any other reason, you can buy it online from this official website or at or at any gas station.
Motorcycle rental in Slovakia
You can rent a motorcycle in almost all the big Slovak cities. It is easiest to rent a motorcycle in Bratislava. If you want to make an online motorcycle rental visit this trusted global rental company.
You can also rent a motorcycle from the website above in Liptovský Hrádok, a small city near to the High Tatras and Liptovský Mikuláš. This is the best location for renting a motorcycle when you want to try some of the roads listed above. Click here to use this location.
You can also find motorcycle rentals in other Slovak cities but they don't usually have websites in English. So the best way to rent a motorbike is to call them, they should speak English. Just write to Google: "pozicovna motocyklov near me".
Slovakia motorcycle tours
I wanted to find you a motorcycle tour in Slovakia but unfortunately, I didn't find anyone. I found two motorcycle tours where a short part of the tour goes through Slovakia. Adriatic Moto Tours organizes them, and you can check them here.
Therefore, I myself decided to create a motorcycle tour, which will be suitable for demanding motorcyclists and will show you the most beautiful of Slovak roads.
I actually created this tour from most of the above-mentioned most beautiful motorcycle routes in Slovakia. This circuit contains 6 of the 7 most beautiful road sections for motorcyclists in Slovakia.
So let's look at it on the map!
You can start this motorcycle tour anywhere you want because it is a circuit. I can start from some of the big cities on the tour, for example, Liptovský Mikuláš, Poprad or Banská Bystrica.
Or another option I recommend you, when you don't have your own motorcycle, is to start in Liptovský Hrádok where you can rent a motorbike online.
Example itinerary:
Start from Liptovský Hrádok and continue by Route 537 till its end. This section is part of the Road of the Freedom and Slovak Gothic Road.
At the end of Route 537 turn right to Route 66 to Poprad and then continue by E50 highway and Route 18 to Kráľova Lehota. This is the D1 highway under the High Tatras part.
Continue by Route 72 and then Route 66 to Banská Bystrica. This road goes through Čertovica saddle.
From Banská Bystrica continue by Route 59 and then Route E77 through Donovaly pass.
Route E77 will again change to Route 59 and when you come to Ružomberok, continue to Oravský Podzámok by Route 59.
From Oravský Podzámok turn to the Route 78 to Lokca and then by Route 520 to Stará Bystrica. This section is part of Kysuce – Orava road.
Then you continue by Route 2035 and then Route 583 to Párnica.
The last part is the way back to Liptovský Hrádok by Route 70 to Dolný Kubín, then Route 59 to Ružomberok, then finally by Route 18, E50 highway and Route 537 to Liptovský Hrádok.
The total length of this circuit is 457 km and will take you 2 – 4 days, depending on the number of stops.
Conclusion
So, will try you some of these roads in person? I hope you will try and maybe you try also the whole circuit I created for you. If so, please let me know how did you like it and it is worth it.
In the end, there are a large number of roads in Slovakia suitable for motorbikes and therefore I believe that you will find the one suitable for you and enjoy motorbike rides through beautiful nature and cultural monuments.