In this article, we'll focus on the Slovakian airports. Answering questions such as how many, where and what types of airports Slovakia offers.

Slovakia, even though it is a small country, has an incredible number of airports. In total there are around 130 airports throughout the country. It also has 6 international airports, most notably in Bratislava and Kosice. There is also a range of military, public and private airports.

Read more for a more detailed look into each of the international airports and others located within the country, as well as a few facts about them. 
If you want to buy Slovak gifts or useful Slovak products, you can find them by clicking here (Amazon link).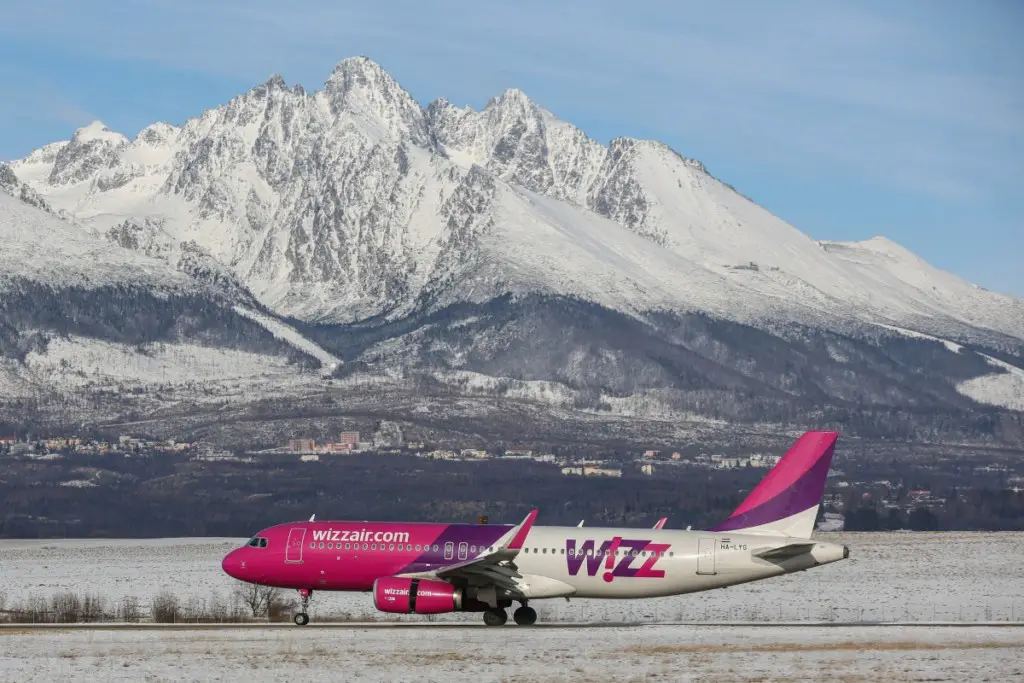 Does Slovakia Have an International Airport?
Regardless of its small size, Slovakia has a number of international airports. The most used airports are located in Bratislava and Kosice, as these are also the largest cities in Slovakia. Other than these, there are also a few more international and private airports in the country. 
Due to Slovakia being in Central Europe, you are only a short distance away from other huge cities with airports. If you cannot find a flight going directly to Kosice or Bratislava, do not worry. Vienna is only 45 minutes away from Bratislava, and Budapest is about 2 hours away from Kosice. Your options for traveling to our little big country are numerous and there should not be any problems. 
As part of the pandemic the Slovak government has issued numerous measures regarding travel in and out of the country. If you're planning a trip here, you should check out the official government website with the most up to date measures that are in place. Visit https://korona.gov.sk/en/ for more information about travel in Slovakia.
How Many International Airports are in Slovakia?
Slovakia has a total of 6 international airports. Located in the cities of Bratislava, Kosice, Poprad, Zilina, Sliac and Piestany. Largest of which are in Bratislava and Kosice. Those are also the most used ones, as their size allows them to offer longer flights, which go anywhere around the world. 
Airport
Region
City
Regural Flights
M.R. Štefánik Airport
Western Slovakia
Bratislava
Hurghada, Stockholm, Tel Aviv, Dubai, Bologna, Dublin, London
Košice International Airport
Eastern Slovakia
Košice
Burgas, Antalya, Larnaca, Zadar
Poprad-Tatry Airport
Eastern Slovakia
Poprad
Riga, Warsaw, London, Kyiv
Žilina Airport
North Slovakia
Žilina
Doesn't offer scheduled flights
Piešťany Airport
Western Slovakia
Piešťany
Berlin – Tegel , Antalya, Hurgada, Tel Aviv
Sliač Airport
Central Slovakia
Sliač
Burgas, Antalya, Burgas, Heraklion
International Airports in Slovakia
Kosice airport is located 6 kilometers from the city, and offers regular national, international and charter flights. Accessing the airfield is simple, you can either choose a taxi or the robust city infrastructure – bus or trams. 
Same goes for Bratislava, the airport is located 9 kilometers from the city. Due to Bratislava being so close to Austria, you can either choose to fly directly to Bratislava, or opt for a flight to Vienna. That will put you only a 40-minute ride away from the capital of Slovakia. 
TIP: It is always good to know ahead how expensive the country you are going to visit is. Check out the complete breakdown of prices in Slovakia in the article below:
Is Slovakia Expensive to Visit? A Locals Break It Down
How Many Airports in Slovakia?
Slovakia has an incredible number of airports for its size. In total there are 133 airports. These include public, private, military and airports designated for air work. All of the aforementioned airports are divided within the country.
For the purpose of simplifying the division, we'll list airports from the west, east, north and south of the country, as well as their use. 
Main ones are international airports in Bratislava, Kosice, Poprad, Zilina and more. Then we have military airports of Sliac, Presov and Malacky or "Kuchyna" (Kitchen) as it is located near the village of Kuchyna. All of the others are mostly unused public or private airports. 
We've also included a small table with each of the country's regions. Listing how many airports there are as well as the most important airport in the region. 
These numbers might look impressive, but bear in mind that most of Slovakia's airports are either small national airports or they are privately owned, which means you will most likely not see any flights to them. 
Region
Airports
Most Important Airport
Bratislava
7
M.R. Štefánik Airport
Banska Bystrica
20
Sliač Airport
Kosice
24
Košice International Airport
Nitra
26
Nitra Airport
Presov
19
Poprad-Tatry Airport
Trnava
14
Piešťany Airport
Trencin
15
Prievidza Airport
Zilina
9
Žilina Airport
Slovakia Airports by Region
Airports in Western Slovakia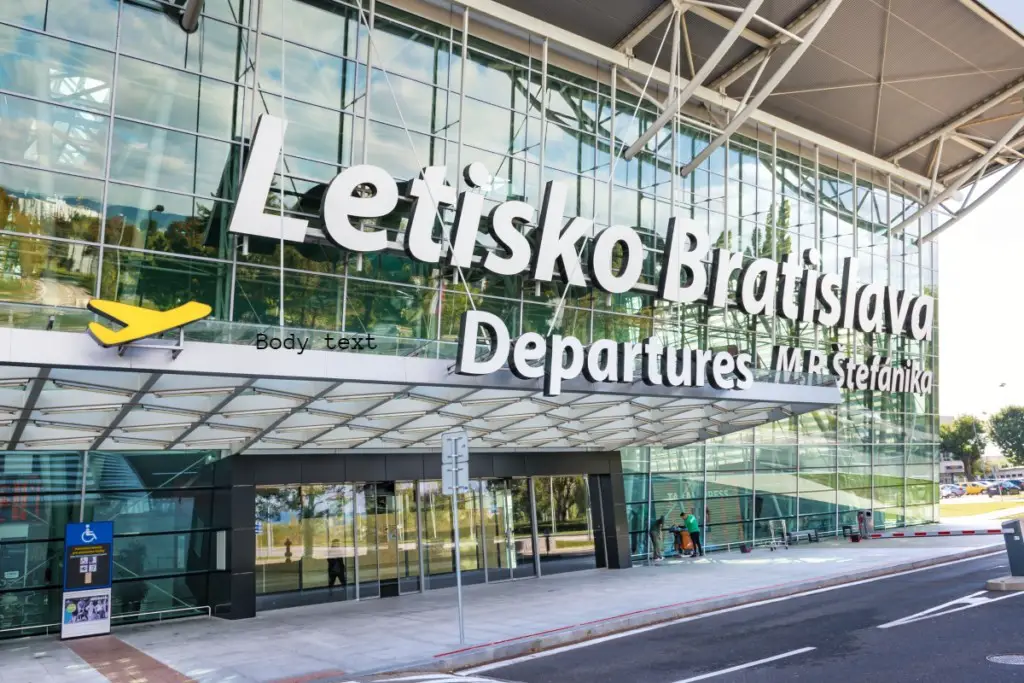 If you plan to travel to Slovakia via an airplane, you're most likely to see flights directed to the M.R. Štefánik Airport located in the capital city of Bratislava. Located in the most western part of the country. This is the largest international airport in Slovakia, and the main source of air travel in the country.
This airport was built between 1947 and 1951. It has been open ever since. Currently it offers regular flights from 7 airlines. Those being Ryanair, Flydubai, Wizz Air, Air Cairo, Cyprus Airway and Pobeda Airlines. 
Before this airport, there was actually a different one – nicknamed "Vajnory Airport" was located in Bratislava and built in 1923. It was used up until 2004 and closed in 2007. It offered mainly public flights between Slovakia and Czechia.
As well as this, there is another airport in the city of Piestany. This one however, is used primarily for transport of patients to the Piestany Spa and irregular transport of people and cargo. 
How to Get to and from Bratislava Airport?
You can easily access the airport via a taxi or you can even use Bratislava's robust public transport system. If you're going from the Main Station (Hlavná stanica) to the Airport, you can take a bus line 61.
If you're going later than 11pm, there's also a nighttime bus line N61. There is also a bus line 96 that goes from Petržalka (largest of Bratislava's boroughs) to the Airport.
SMART TIP: Use this discount code for Bolt Taxi and get a 3€ discount for your ride to or from the airport!
The Bolt Discount Code: HTPEZV
TIP: Taxis are often used for transportation from and to airports. Check out the article below where you find all you need to know about taxis in Bratislava:
All about Taxis in Bratislava: Costs, Examples & Local Tips
Airports in Southern Slovakia
Sliac airport is located just barely in the south of Slovakia. It is a mixed airport used for both public and military flights. It's located near the spa city of Sliac in central Slovakia. 
As an interesting fact, south-eastern Slovakia was also the location of Luftwaffe airfield in the 1940s. Built by the village of Vinné in the Kosice region, it was used for many air activities throughout the nation. 
Other than these, Southern Slovakia only has a myriad of smaller private and public airports and airfields. These are inaccessible and do not offer any regular flights. 
Airports in Northern Slovakia
When it comes to Northern Slovakia, the most known airport is in the city of Poprad. The Poprad-Tatry airport is the highest built airport in the country, as well as the highest airfield for cargo airplanes for short and medium distance flights in Central Europe. It only has a single regular flight from Poprad to London, by the Wizz Air airline. 
Another bigger airport can be found in Zilina. It is mainly used for national flights as well as private and company flights. It is located around 10 kilometers west of the city, near the village of Dolny Hricov. 
TIP: Have you ever thought what language to use when visiting Slovakia? Find out how good Slovaks speak english in the article below:
Do Slovaks speak English? Read This Before Your Arrival
Airports in Eastern Slovakia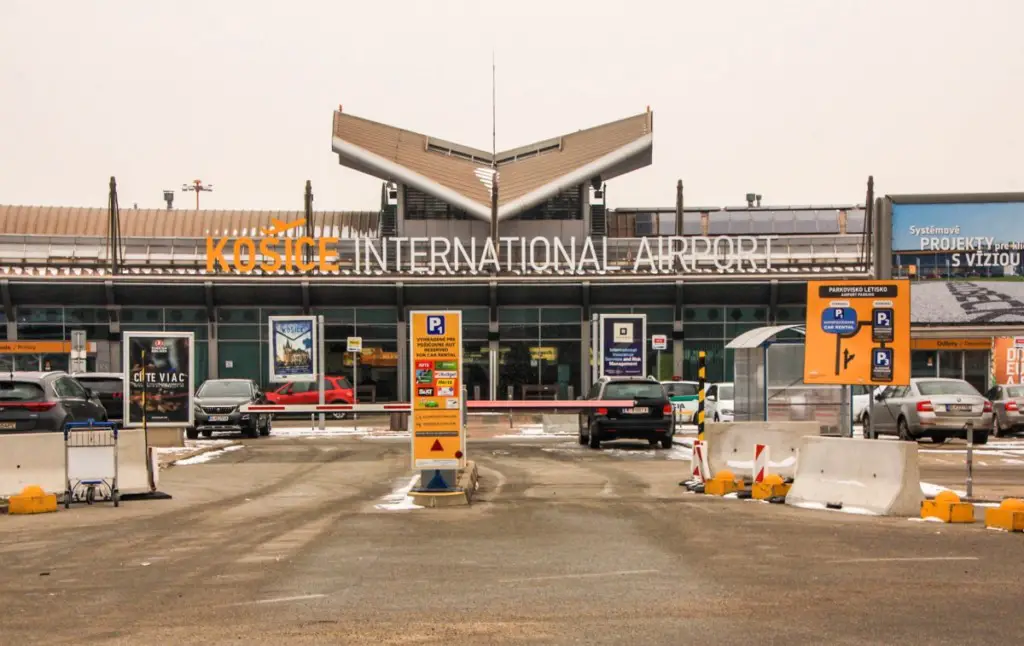 By far the most important airport in Eastern Slovakia, and second largest airport in Slovakia is located in Kosice. It's one of the few international airports Slovakia offers. Built back in 1950, this is an airport with the longest history in the country.
As well as that, this airport is the only one in the country that also offers flights from classic airliners. Such as Turkish airlines, LOT Polish Airlines and Austrian Airlines. It also offers regular flights from Cyprus Airways, Ryanair, Eurowings, Smartwings and more. 
After these, Eastern Slovakia doesn't offer any bigger airports that have regular flights. Included in these airports are Svidnik, Spisska Nova Ves and many more.
Only exception is an airport located near the city of Presov. This is used by the military and it is a part of Presov airbase of the Slovak military.  
How to Get to and from Kosice Airport?
As with Bratislava (and most cities in Slovakia) the city of Kosice offers a robust public transport system. Getting to and from the Airport is really easy. You can use the bus line 23, which will get you to the Main bus and train station from the Airport. Other than that, there is also an option of taking a taxi. 
But if you want to save some money, we definitely recommend using public transport, the combination of trams and buses will get you anywhere within the city.
TIP: Check out my list of recommended Slovak products. They are perfect as gifts, or you will use them during your visit to Slovakia (Amazon links)
Conclusion
Slovakia, despite its size offers up to 130 airports. As a tourist, you are most likely only interested in international airports.
The main ones are located in Bratislava and Kosice. These offer regular flights all over Europe by many airlines such as Ryanair, Flydubai, Wizz Air, Air Cairo, Cyprus Airway and Pobeda Airlines. 
These airports can be easily accessed by city buses or taxis. If you are not able to get a direct flight into Slovakia, do not worry.
Since the country is in Central Europe, you can opt for flights into Vienna or Budapest. Both located within 2 hours of a car drive from Slovakia. 
The country has an abundance of smaller private and public airports. As well as smaller military airports. These are located in Presov, Malacky and Sliac. 
Don't forget to check the current pandemic measures at https://korona.gov.sk/en/ if you plan to travel here.
Overall, traveling to Slovakia is not as hard as one might think. Air travel is highly developed, and Europe as a whole has an abundance of well-connected flights. Its high density of cities also means that even if you can't find a direct flight, you are never running out of options.
TIP: Flying drones are really popular these days but do not forget that you need to follow the state rules for flying drones. Check out all rules and tips about flying drones in Slovakia in the article below: